CapitalSource (NYSE:CSE) is a leading commercial lending, investment and asset management business focused on the middle market. CapitalSource manages an asset portfolio which as of December 31, 2007 was approximately $20.9 billion. We just listened to the Q4 2007 Conference Call and reviewed the Earnings Report. Our conclusion is that CSE is in a bind.
Through most of last year this financial company REIT managed to keep the gap between its Adjusted Earnings Per Share (go to the Earnings Report for a definition) and its dividend in a narrow band. For the entire year, in fact, Adjusted Earnings were $2.32 and the dividend $2.28. However, in the last couple of quarters the dividend has outpaced the earnings. Let us illustrate: in the just closed Q4 2007 the dividend outstripped the earnings by 60 cents to 51 cents.
Sticking with the Dividend: Management's apparent rationale in maintaining the 60 cent a share dividend (which has just been confirmed for the next quarter) is that earnings will shortly catch up. This is preferable to cutting the dividend which would just spook the market. We agree. The problem is that earnings are stuck in neutral, judging by the quarter's results. All the Company's main business lines are flat or slightly down.
Commercial lending, which represents 60% of total revenue, was down over the prior quarter by 2.5% despite higher loan volumes and pre-payment fees due to the lower yields brought on by the Fed rate cuts and the attendant drop in LIBOR reference rates on most loans in the portfolio. Looking a quarter or two forward: While management sees great lending opportunities in its marketplace on a profitability basis the volume of business will probably be flat or lower (blame the economy) and yields should continue to drop (blame the Fed). Pre-payments are also likely to drop, which will reduce yields further. (On the positive side, we expect CSE's funding costs to improve over the exceptional conditions of the last few months. CSE's cost-of-funds jumped to 1.5% over LIBOR from 1.0%. We expect that it might drop back to 1.25%). So don't expect commercial lending to do any better than tread water in 2008.
The residential loan business continues to be a major part of CSE's assets (one-third), but after funding costs contributes little to the bottom line. We are not concerned about the unrealized depreciation taken in the Q4 of 2007 of ($25mn) given that CSE owns rock solid Agency (i.e. Government insured) mortgage assets. However, this is a deliberately shrinking part of CSE's business and will not contribute anything to higher earnings in 2008.
The Healthcare funding segment (typically triple net financing on medical facilities), which accounts for 7% of revenues and which is being separately broken out for the first time, also recorded slightly lower income and assets. This is not surprising given the general economic conditions and CSE's perceived credit conservatism. This segment may yet grow in 2008 as terms improve, but the incremental contribution to earnings will be minimal in 2008.
You get the idea. With a recession (most likely) in our future, there does not seem to be much possibility that CSE will be able to raise its Adjusted Earnings (let alone GAAP earnings) to its announced dividend for several quarters. If anything, the Company's successful Dividend Reinvestment Program, which raised $715mn last year, and increased share count by over 20% may continue to dilute earnings. CSE has nearly 221 million shares outstanding. Raising just $500mn could add 30 million shares. It's unlikely CSE would be able to deploy the new funds fast enough to keep earnings per share at today's level. The ironic result might be a less levered balance sheet, even more liquidity than the $3.4bn at year end and an even bigger gap between Adjusted Earnings Per Share and the dividend. Management has not provided earnings guidance for 2008, and this may be the reason why.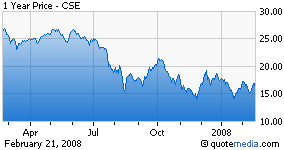 Don't Mind the Gap: We're still believers in CSE despite what we shall call "the Gap". Our Fund is long on the stock, and we'll be buying more if the stock drops below $16.0. Our reasoning is that CSE will eventually (i.e. within the next two to three years) get its earnings and dividend back in sync, even in the face of a recession. In the interim, an investor who has bought at $16 or lower is being paid 15% per annum to sit and wait. Specifically we are reassured by the following:
1. CSE's credit quality on its commercial portfolio remains excellent. Non-accrual loans were unchanged as a percentage of the commercial portfolio in the Q4 2007 at 1.5%. Given that CSE is predominately a senior secured lender, with a diversified base of borrowers, we expect "bad debts" to remain manageable even in the worst of economic times. If 5% of commercial loans go to non-accrual the impact on Adjusted Earnings Per Share would be 4-6 cents a quarter, and actual write-offs half or less than that. Not nice but not the end of the world.
2. Management is cost conscious, and expenses remain under control. One of the metrics we like to look at is cash operating expenses as a percentage of total revenues. For 2007 that was 15%, and amounts to about 1.3% of assets.
3. CSE has plenty of dry powder for when the commercial and health care markets rebound (and perhaps the home loan market). We've already mentioned the Company's liquidity. Moreover, management is making some headway reviving the CLO market for its commercial loans, which will help liquidity and (presumably) cost of funding.
4. Some day CSE is going to spin off its Healthcare segment (management was hinting as much on the Conference Call), and this will probably receive a higher valuation than CSE is currently receiving . On today's $16.31 stock price and $2.04 in Adjusted Earnings Per Share from annualizing the Q4 2007 result, the Company is trading at an 8X multiple. The Healthcare business should get a substantially higher valuation.
We have not said anything about the CSE acquisition of TierOne, which is intended to give the company access to a cheaper funding source. The two parties are being tight lipped so we'd be guessing at the outcome. What is reassuring is that CSE has had plenty of time to consider its acquisition and the ability to make adjustments in the purchase price to reflect the slowing economy.
Whether as a stand-alone or in combination with Tier One, Capital Source remains a profitable long term play, underpinned by a high current yield.
Disclosure: Long CSE