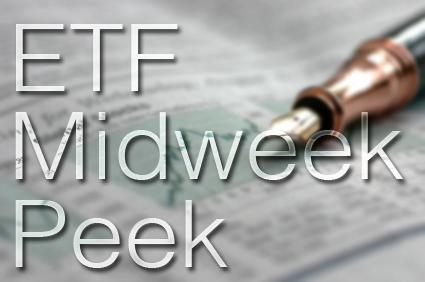 The market has delivered G-forces of volatility to traders this week despite the VIX remaining relatively low. Triple digit daily reversals on the Dow are fueled by the media on good/bad news out of Europe and hope/rumors of the Fed enacting another QE. It's almost a comic irony that rumors of another round of QE pumps the market, and as the market rises, the Fed sees less need for QE. And then, there are of course, the Europe-Didn't-Implode-Today rallies. I don't think I've written a report without using the word "dangerous" over the past two months. Maybe I need to change my verbiage to "ridiculous".
Economic data has come in generally weak overall this week, but daily news events trump data. "Risk-on" is now considered holding any position (bull or bear) for more than three days. Let's get to the tables.
Top Performers This Week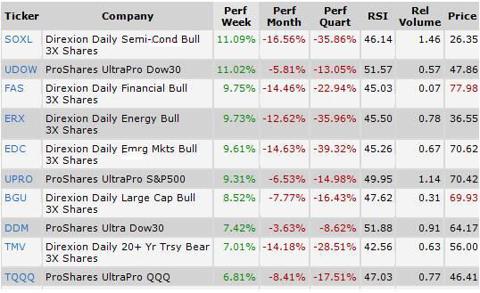 Click to enlarge
(Click to enlarge)
Semiconductors "megabull" at the top of the chart would indicate the highest level of "risk-on". But that's this week when they were the biggest loser last week. The most valuable information this table reveals is that the major indices are what is being traded, and to a lesser degree the most volatile sectors of financials and energy.
The 10 Year Note yield whips 20 pips in a week wearing out the bearings on the revolving door at the Treasury. Even the mighty Apple (NASDAQ:AAPL) has faded as a market mover. (NYSEARCA:SPY), (NASDAQ:QQQ) and (NYSEARCA:DIA) are running the show and they're subservient to the Dollar (.DXY) and the media.
New Highs
None
New Lows
None
The fact that there are no new highs and no new lows is also valuable information indicating the market has no defined direction at this time.
Overbought
Click to enlarge
(Click to enlarge)
The most highly defensive sector of utilities is being "held" (as opposed to bought) largely for its dividends. Oil, the last commodity holdout against the rising Dollar, finally collapsed and had the fierce focus of the only commodity left to short.
But even that is waning in enthusiasm as crude approaches strong support at $75/bbl and hopes of QE.
Oversold

Click to enlarge
(Click to enlarge)
The short crude play has exhausted itself. Relative volume is non-existent as no new buyers are coming in and even most sellers have already taken profits and just holding small positions in the event of a crash.
Unusual Volume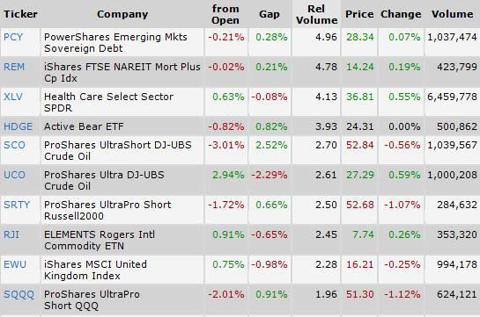 Click to enlarge
(Click to enlarge)
As we move into the close of European markets this morning, relative volume indicates some moving into safety of health care. Yet, we see some decline in the Active Bear ETF (NYSEARCA:HDGE). Minor short covering in oil on a sharp Dollar decline at the open (courtesy of guess who?) creates another daily portfolio repositioning. The Nasdaq rising on hopes of AAPL being it's salvation brings minor short covering on the Nasdaq "megabears". QE or no QE, don't kid yourself - the Fed is still an active daily participant in controlling the Dollar (and thus, the market).
There have days when the flight to safety into treasuries has overwhelmed the Fed, but in low volume, this is one man's market - Ben Bernanke. Bernanke would far prefer minor "fixes" in the Dollar than the political outfall of another major QE program. So far, rumors have had sufficient effect.
Trending Up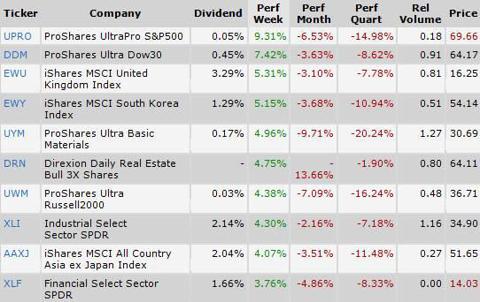 Click to enlarge
(Click to enlarge)
Leveraged ETFs moves are exaggerated and are not always a direct reflection of their underlying indexes. In some cases, this can be an indication of a trend reversal. But in this case, with no new highs and no new lows to confirm and relative volume anemic, it's more of an anomaly than an indicator. It may show us what sectors want to breakout in the event of an actual significant move up in the market.
The United Kingdom (NYSEARCA:EWU) earning the #3 slot on the up trending table is due to its non-membership in the European Union. But that also equates to a flight to the town next door to Chernobyl as a flight to safety.
Trending Down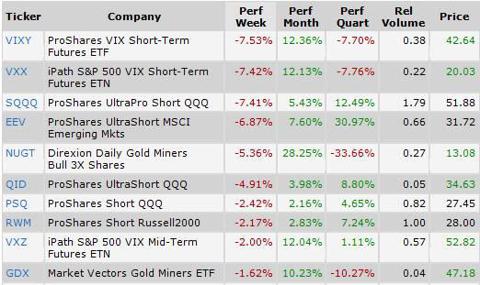 Click to enlarge
(Click to enlarge)
This table is another indication of lack of conviction by the relative volume. After the collapse of (NASDAQ:TVIX), and with (NYSEARCA:VXX) in a down trend while the market is in triple digit daily swings brings into question the validity of volatility ETFs and even the .VIX index, for that matter. The gold miners have been in a long down trend, with occasional rip-your-face-off rallies that immediately collapse. Catching these moves can glean astronomic profits only to see them demolished in a single market session. Gold has been in intraday rallies and crash cycles as the market can't decided if it's a "risk-on" play or an alternative currency.
In summary, there's little point in watching anything but for daily market direction. Other charts to watch closely are the Dollar index (.DXY), which drives and the 10 Year note yield (.TNX) which indicates the market's sentiment for safety. Options expiration at the end of the week, in this case a "quad witching", is likely to create even higher volatility in the market. We are also coming into the end of the 2nd Quarter when fund managers perform their magical window dressing and the market rises dramatically regardless of any fundamentals or even news. We've got a wild (should I say "ridiculous") ride ahead. Hold on to your hats.
For comic relief, tune into the congressional hearing as Congress "grills" their largest campaign contributor, Jamie Dimon of JP Morgan (NYSE:JPM). It should look like the mating dance of Dodo Bird with fluffing feathers and erratic gyrations.
Disclosure: I have no positions in any stocks mentioned, and no plans to initiate any positions within the next 72 hours.