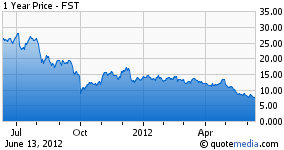 Very few sectors of the market have been hit harder than the oil & gas exploration companies over the last six months. Historically low natural gas prices and falling oil prices have hit the area hard. Several stocks that have heavy exposure to natural gas production have been decimated. Forest Oil (NYSE:FST) is one those unlucky equities. It has been hit by cheap natural gas prices, concerns over a heavy debt load along with a couple of fairly dismal earnings reports. The stock is down some 80% from its highs of last year. However, for investors looking for a speculative turnaround play in the sector, it offers low valuations as well as some corporate efforts that have a good chance of righting the ship over the longer term.
7 reasons FST is a solid long term speculative pick at $7 a share:
The stock was just upgraded last week to Buy from Hold at Canaccord, which notes the underperforming stock now offers an over 50%-plus potential return to its $12 target price.
The company is selling for just 73% of book value.
The stock is selling at near the bottom of its five year valuation range based on P/E, P/S, P/B and P/CF.
Forest Oil goes for just over 8 times forward earnings, a solid discount to its five year average (13.5).
The 17 analysts that cover the stock have a $14 a share median price target on the stock.
Low natural gas prices have decimated this stock which was selling at $40 a share less than a year ago. However, it is migrating its production plan to produce more oil & natural gas liquids (100% of this year's budget is allocated to oil & liquid production). In the last quarter, 32% of production came from oil & liquids, the highest percentage in five years. Look for production ratio to continue to increase in the coming quarters which should buoy earnings.
The company has a program in place to sell non-core assets to de-lever its balance sheet which should remove a headwind from the stock price as debt levels go down and cash flow goes up to as more oil & liquid production comes on line. It expects a 10% increase in oil & liquid production this year.
Disclosure: I have no positions in any stocks mentioned, but may initiate a long position in FST over the next 72 hours.