Market and Business
The demand for electricity has no intention of slowing anytime soon; consider these facts from the EIA Energy Outlook Report for 2011:
In the IEO2011 Reference case, electricity supplies an increasing share of the world's total energy demand, and electricity use grows more rapidly than consumption of liquid fuels, natural gas, or coal in all end-use sectors except transportation.

From 1990 to 2008, growth in net electricity generation outpaced the growth in delivered energy consumption (3.0 percent per year and 1.8 percent per year, respectively). World demand for electricity increases by 2.3 percent per year from 2008 to 2035 and continues to outpace growth in total energy use throughout the projection period (Figure 72).
Click to enlarge.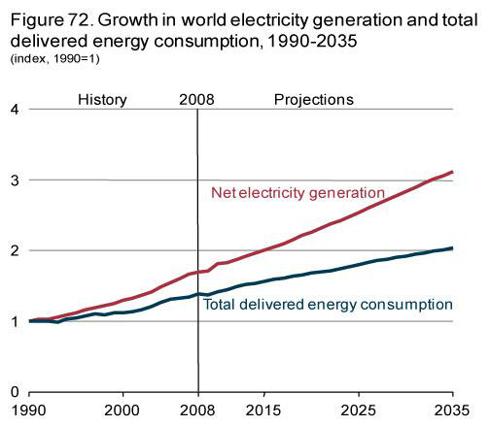 Click to enlarge
Also, growth varies by country. Those countries with an established grid and infrastructure sustain continued electricity growth and upgrades but are quickly outpaced by countries that have off grid locations that are being developed.
The chart below shows the expected generation growth through 2035 by country: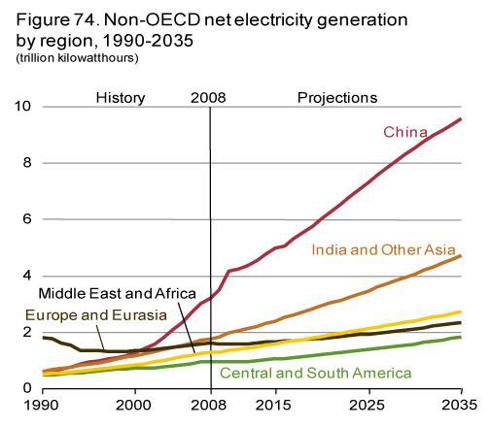 Click to enlarge
This is where Jinpan International comes into play. Jinpan is a manufacturer of cast resin transformers, switchgear and unit substations. Also, over the past eight years JST has grown its exposure to wind energy distribution products and entered into the OEM market for wind farm suppliers.
JST is one of only two cast resin transformer manufacturers in the world to achieve UL recognition.
Working in the Electric Generation Industry myself, I can vouch for the cost of ownership advantages of cast resin transformer vs. oil filled and VPI type as listed on the JST web site:
"Lower cost of ownership than oil-filled
Less maintenance - Cast resin transformers don't have oil that needs to be checked or refilled, or seals to replace.
Lower up-front construction costs - Cast resin transformers don't need expensive catch basins.
Cheaper to decommission - Cast resin transformers contain no hazardous waste, and thus cost less to decommission."
JST clearly states the key elements of its business strategy in the annual report and provides proof of adherence of this strategy:
Continue to focus on China's growing electric infrastructure market.
In fact, China was the largest market for JST in 2011, accounting for 88% of revenues. China represents the largest expanding market for power generation and infrastructure expansion in the coming future.
Invest in new, state-of-the-art facilities to increase our manufacturing capacity and efficiency.
JST has been expanding its production facilities steadily since 2006. With the completion of the latest facility (scheduled for late 2012) JST will have grown production capacity from 14 to 26 Million Kva for the Cast Resin Transformers.
Promote and develop high-margin products for new markets.
R&D for JST is proving to be a business driver for the future. An example would be the latest news for JST "Jinpan International Successfully Develops Large-Scale Cast Resin Dry Type Transformer." (I especially like the 'high margin' part of this goal.)
Leverage our relationships with major OEM customers to expand our global reach.
By qualifying to be OEM manufactures for global power generation products JST will expand its global reach. Currently a qualified suppler for 3 OEM manufactures JST is aggressively pursuing more opportunities for the future.
The Numbers
JST vs. the BWB Graham 7 Screen:
Revenue greater than 100M - JST comes in above this requirement since 2007, with the 2011 year at 224M. Revenue has grown at a clip of 23% annually over the last 10yr period with an average margin of 38%.
Current Ratio greater than 2 - As of this writing JST has a ratio of 2.29
Price to Book Ratio of less than 1.5 - As of this writing JST is at 0.62
P/E Ratio - Using the last three year average EPS the P/E ratio comes in at 5.4, well below the required 15.
Dividend Growth rate - 3% (5 year average.) JST has paid dividends since 2003 and currently yields approximately 2%
EPS Growth and positive earnings in the last 10yr period - JST has been in the black for the past ten years and grown at a 20% CAGR, well above the required 3%.
JST Price Data and Estimates:
| | |
| --- | --- |
| Method of Estimate | Price |
| 20x Avg EPS | $16.10 |
| Using the Graham avg P/E | $8.04 |
| Graham Value Equation | $20.73 |
| Fair Value DCF | $28.07 |
| Price on OE Estimate | $36.27 |
A price range of $8.04 to $35.08 has been established by the above methods of calculation. Price history of JST ranges from a low of $0.76(2002) to $24.51(2010) in the last ten year period.
Investment Thesis
I believe JST to be a solid investment opportunity in a growing market at the right price.
Strong, consistent revenue growth coupled with the highest margin vs. industry competitors (ABB and SI) puts JST in a positive light.
Also, JST has set itself apart based by being one of two producers with UL recognition and the superiority of its cast resin products vs. traditional oil filled. Successful development of new large scale cast resin transformers, and continued R&D projects seeking high margin product look favorable for the company.
Although the bulk of the revenues come from the China market (which is the largest growing market), JST continues to present its products globally. In 2011 The main Revenue sources were China at 88% the United States at 9% and Europe at 3%. By becoming an OEM manufacturer for wind energy products it has successfully exposed itself to countries with established electrical infrastructures that are now looking to alternative generation methods.
Inventory and Net earnings have had a corresponding rise (26% and 23% respectively) over the last ten years, while accounts receivable has only grown at a CAGR of 3% vs. revenues.
Retained earnings have grown at 27% annually over the last ten and Treasury Stock is Present.
The latest ROA and ROE on owner earnings are 19% and 13% respectively.
At current prices (Sub $8.00) and a long term growth estimate of 8%, which I consider to be very conservative, JST could provide a 14% annual return over the next ten years if it were to reach its FVDCF price of $28.07.
Disclosure: I am long JST.