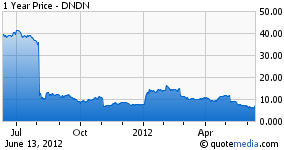 Dendreon's (NASDAQ:DNDN) Provenge approval in 2010 was a huge step for medical science and the treatment of cancer. Gone were the days of using only treatments of an external origin to fight one of man's biggest killers. Resection, radiotherapy and chemotherapy now have a partner via an immunotherapy approach to fighting cancer. Dendreon developed and is now marketing a therapy that "teaches" the human immunity system what cancer cells look like and that they, like viruses and bacteria, should be attacked and eliminated. The approval and hype around the company drove its stock price to over $54 per share on April 30th with the company making headlines in the medical and investment world touting the company's great promise with them leading the way in a new approach to fighting cancers. The sky seemed to be the limit with the hope this brought to cancer treatment with the possibilities that Dendreon and other biotechs working with the same approach could do for cancer treatment. The PAP antigen that is present on many prostate cancer tumor cells was Provenge's target and kept the investment community guessing as to which therapy would be next with a different antigen targeted for other types of cancers.
Reality
Investors in Dendreon's common stock enjoyed a wild and volatile ride from less than $3 per share in early 2009 to the spike on April 30th 2010 to $54. The stock remained above $30 per share for over a year as the company ramped up production and marketing of the heavily touted therapy costing over $90,000 per treatment regimen that was expected to provide the company with huge revenue. On August 3, 2011 reality for Dendreon investors finally set in with a dismal update on the company's finances with the company losing $226 million the first 6 months of 2011. Dendreon cited reimbursement issues for physicians who were expected to pay upfront fees for the therapy and then get reimbursed some period of time later, a large financial burden that many healthcare providers were wary of dealing with. The "nail in the coffin" for the stock price, however, was the company's withdrawn previous guidance of $350-$400 million for 2011 that was replaced with "modest quarter over quarter growth for the remainder of the year". The stock closed at about $10 per share on August 12, 2011 and has remained weak with a few spikes here and there and is now currently trading at its 52-week low of about $6 per share.
Ultimately, two huge problems have plagued Provenge. Initially, the efficacy for the drug increased the life of its patients by "only" 4 months. A recent update on the data analysis at ASCO 2012 did show improvements over the original data set with regard to subsets of PSA levels in the affected patients. Median Overall Survival for patients with PSA < 22.1ng/ml was 13 months over the control, for PSA > 22.1-50.1ng/ml the improvement was 7.1 months and for PSA >50.1-134.1 improvement was 5.4 months. This data underscores the fact that, like most treatments for most diseases, early detection is key as the data indicated. The second major problem with Provenge is sales, and this is linked directly to the cost of the therapy and the likely need for more aggressive marketing. Perhaps high-lighting the ASCO 2012 data for physicians will be in the future marketing strategy? Ultimately, money does talk and the high cost will continue hurting sales. The manufacturing process needs to be further streamlined and any other areas of change affecting the production costs will need to be made. 1Q 2012 financials, although indicating improvement, are still lackluster with the company losing $112.8 million with revenue of $82 million (although an improvement over 1Q 2011 revenue of $27 million).
Getting Back Into the Game:
Judging by Provenge sales and the struggling share price with Dendreon's market capitalization now below the $1 billion level, Dendreon has much room for improvement. Their success with the FDA's marketing approval was indeed a landmark decision, but the company has a great deal of work in order to attain profitability. They have begun work on expanding their market with a European marketing clearance decision coming soon and additional Provenge trials underway to increase the labeling and thus market potential for Provenge. The main issue with European strategy is difficulty in getting similar levels of reimbursement as other expensive drugs have been denied coverage before. Dendreon's pipeline has also expanded somewhat with a phase II trial underway for DN24-02 targeting the HER2/neu receptor for bladder cancer and a couple of other preclinical developments underway. However, bladder cancer typically has very long survival so any meaningful clinical data may be years away. In order to rebuild shareholder value it's the author's opinion that the company needs to turn things around more quickly to reduce the need for a stock offering or other drastic measures.
A Solid Possibility
Dendreon currently has manufacturing facilities located in New Jersey, California and Georgia. These state of the art facilities have met the FDA's requirements to be able to produce the vaccine and are at full manufacturing capacity. With sales faltering somewhat, a reorganization of these facilities with one being used either partly or solely for outsourced work for other biotechs could represent welcome revenue in the coming years until the facilities are needed for more internal manufacturing needs. In particular, the GA and NJ facilities both serve the East Coast and a decision could also be made to contract out work in one of these two facilities without sacrificing drug turnaround time for physicians (Provenge is manufactured as needed from the patient's own cells and must be used within 18 hours of production). Although this might give better capacity utilization, it would only have a marginal impact on the top line and not bring a level of excitement on its pipeline especially in the light of competitive landscape changes in Prostate cancer from J&J and Medivation drugs. Without more information on how exactly these facilities are being utilized currently, the author is only investigating the possibilities, however.
Alternately, a solid acquisition at this time of another biotech with a synergistic technology and pipeline could quickly turn the company around and place it back into the spotlight again. The company already has the manufacturing capability at its disposal but could certainly stand to increase its patent portfolio and pipeline with a promising product line via an acquisition or licensing agreement. ImmunoCellular Therapeutics (NYSEMKT:IMUC) has been receiving a lot of attention from bloggers, investors, healthcare providers and large pharmaceuticals after a follow up presentation of phase I data for ICT-107 indicated highly impressive results for newly diagnosed glioblastoma. Data indicated a median overall survival rate of 38.4 months with 6 of 16 patients showing no recurrence of the cancer at 44-63 months, both phenomenal improvements over historical norms in which median overall survival is 14.6 months and 5 year survival is roughly 5%. The company began enrollment of their phase II follow up trial in January of this year, and investors will be closely watching for updates on that trial as it is nearing end of its enrollment phase.
A recent article discussing the growing pipeline and intellectual property portfolio of ImmunoCellular Therapeutics (IMUC) outlines the potential for ICT-107 and ICT-140 with a large number of targeted antigens and thus cancer types. ICT-107's success in its phase II trial would quickly legitimize the company's novel 3rd-generation dendritic cell approach to stimulating an immune response against a host of other cancers including, but not limited to, melanoma, breast cancer, ovarian cancer and colorectal cancer. Provenge and its use of dendritic cells (first generation activated monocytes) to target the PAP antigen was a huge step for the field in early 1990s. However, improvements made to the technology since then have left Dendreon behind on the curve somewhat. ImmunoCellular's vaccines contain purified dendritic cells with high IL-12 (a cytokine) which facilitates a stronger T-cell response against the targeted antigens. This is a technology that Dendreon could rapidly adapt to both its pipeline and the furtherance of ImmunoCellular's pipeline with its own expertise in cell therapy manufacturing.
At market close on June 8th, IMUC's market cap was roughly $130 million. As of March 31, 2012 Dendreon had approximately $338 million in cash. A 40% premium above Friday's close would cost Dendreon about $182 million for the undervalued ImmunoCellular Therapeutics pipeline and intellectual property leaving Dendreon about $156 million in cash. However, stock deals made between the two companies could dramatically lessen the financial impact and greatly shore up Dendreon's pipeline.
A biotech company's stock value is based on more than earnings and the current financial climate. It is based on the company's pipeline potential both in terms of chances at success and potential marketing of the therapies once approved. Dendreon's need for a more diversified and advanced pipeline and intellectual property portfolio combined with ImmunoCellular Therapeutics' need for its own manufacturing facility and name brand recognition could both dramatically help each company. A synergistic partnership between these two class-leading immunotherapy companies could be a marriage made in heaven.
Disclosure: I have no positions in any stocks mentioned, and no plans to initiate any positions within the next 72 hours.