By Joey Vazquez
We continue our search for the most attractive companies to buy and sell right now. The markets have been mainly neutral for today, absorbing the weak retail sales figures and watching J.P Morgan Chase (NYSE:JPM) CEO Jamie Dimon take the stand before Capitol Hill. Today, I strive to find attractive companies with strong or weak fundamentals and technicals that will outperform or underperform the markets. Should you buy or sell these companies?
(Click charts to enlarge)
Biogen Idec Inc. (NASDAQ:BIIB):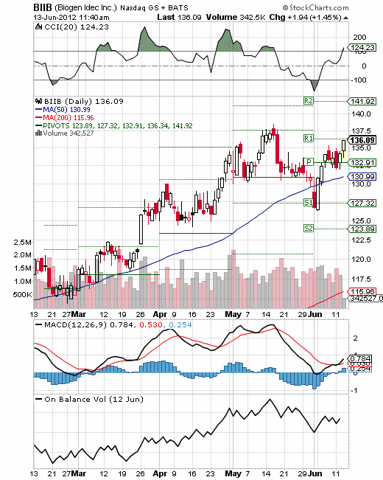 Click to enlarge

Biogen continues to outperform this year up over 20% for the year and the stock looks poised to make a new 52-week high. Today, Oppenheimer reiterated its outperforming rating on BIIB and raised its target to $145. BIIB also received an upgrade to Buy from Hold over at UBS AG about a month ago and it raised its price target to $148. Analysts are getting behind this company as the pipeline strengthens, and they are seeing great growth from new products being offered to the public. BIIB was facing some weakness but its support at $127 was able to propel the stock back up. BIIB recently retook its 50- day MA and its pivot point creating new support lines. BIIB will now look to break its resistance at 136.34 and its MACD is suggesting it will as it just crossed over its signal line. Its CCI indicator just entered the favored +100 area confirming our bullishness for stock and giving us hope it will break its second resistance line.
Trade Idea: Go Long BIIB
Entry Range: 134.05- 134.70
Targets: 135.69, 137.04
Stop Loss: 131.65
Our Entry: 134.35
Hershey Co. (NYSE:HSY):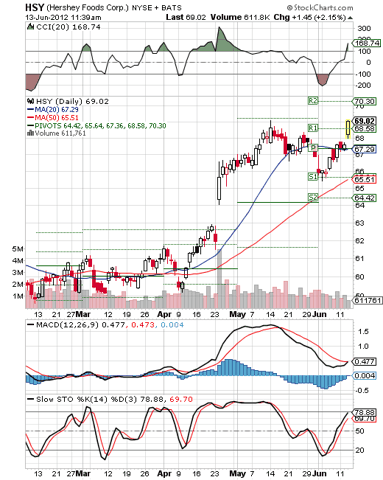 Click to enlarge
Hershey`s caught a bullish upgrade from analysts at Goldman Sachs today. GS upgraded HSY to its prestigious Conviction Buy list and raised the HSY price target to $76. We feel the upgrade was well deserved, as HSY has been stellar as of late and it is also pushing for a new 52-week high. The company is performing well, despite slowdowns in Europe, due to strong growth in emerging markets. HSY has great support at the $67.29-$67.36 area, as its 20-day MA and its pivot point lie right around there. HSY MACD indicator is giving us a bullish indicator as it is on the verge of overtaking its signal line. Its CCI indicator just recently entered the +100 area, signaling the start of a new bullish trend. HSY stochastics are also headed higher confirming our bullishness in the stock.
Trade Idea: Go Long HSY
Entry Range: 68.90- 69.25
Targets: 69.72, 70.41
Stop Loss: 67.65
Our Entry: 69.03
Noble Corp. (NYSE:NE):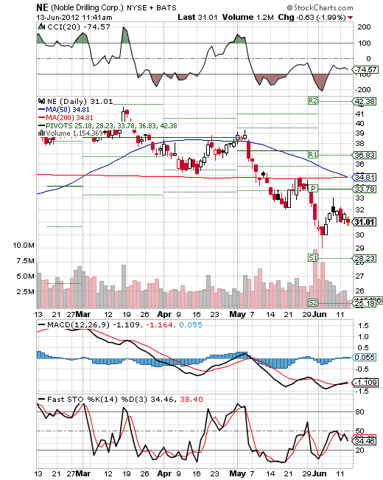 Click to enlarge
The energy sector remains weak and in particular oil & gas drilling companies such as NE, Atwood Oceanics (NYSE:ATW) and Transocean (NYSE:RIG). They have been weak as oil prices have weakened and economies have slowed down, which may eventually press for less oil production if sustained. NE also received a downgrade to Hold from Buy from TheStreet for the disappointing ROE and disappointing stock performance. A death cross has just formed on the chart of NE giving us strong bearish indicator. NE CCI indicator is at -74, but its looks poised to continue lower especially now that the death cross has finished forming. Its stochastics have turned back around and are headed lower confirming our bearishness in the stock.
Trade Idea: Go Short NE
Entry Range: 30.96- 30.30.81
Targets: 30.60, 30.29
Stop Loss: 31.53
Our Entry: 30. 91
Progressive Corp. (NYSE:PGR):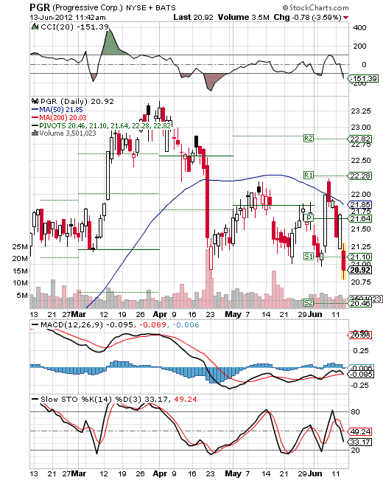 Click to enlarge
Progressive has continually struggled since the beginning of April and its woes continued today as it received a downgrade by Evercore Partners Inc.. EVR downgraded PGR to underweight rating from its equal weight rating. This is not the first downgrade PGR has received in the last quarter as Citigroup Inc. and Morgan Stanley downgraded PGR in late April as well. Insurance companies are extremely weak right now due to lower demand as well as higher payouts to customers. PGR recently tried to rally but its 50-day MA proved to be too strong of resistance and it shot it back down. PGR broke down through its pivot point and support line on the way down creating new lines of resistance for itself. PGR MACD is on the verge of submerging beneath its signal line giving us yet another bearish indicator. Its CCI indicator is at -151, telling us PGR is ready for another bearish run.
Trade Idea: Go short PGR
Entry Range: 20.88- 20.77
Targets: 20.63, 20.42
Stop Loss: 21.26
Our Entry: 20.84
Disclosure: I have no positions in any stocks mentioned, and no plans to initiate any positions within the next 72 hours.