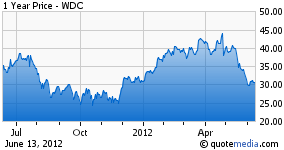 Many authors on Seeking Alpha are increasingly bullish on Seagate (NASDAQ:STX) (here, here, here, and here) given its depressed valuation relative to the business growth prospects. Despite the fact that the whole HDD sector is facing substantial headwinds posed by the growth of SDD technology and mobile devices and diminishing demand for PCs, exploding demand for cloud computing storage is somewhat offsetting those headwinds. Being the largest player in HDD sector and also STX's major competitor, Western Digital (NYSE:WDC) should also deserve a look from value investors. The stock has declined 9.08% on 1-year basis, but plummeted 23.94% over the past 3 months primarily driven by overall equity market softness. I am bullish on the stock for near/medium term based on the following reasons:
Analysts expect top line to grow at 26.6% and 47.8% in the current and next fiscal years, and EPS to rise by 165.0% and 20.1% over the same horizons. Taking those growth prospects into consideration, the stock is currently trading at a ridiculously low 3-year expected PEG of 0.20x, suggesting a substantial discount to the future growth.
At the current price of $30.69, WDC is trading at 4.0x the current fiscal year estimated EPS and 3.8x the LTM EBITDA. The valuations are in line with STX, which are considered compelling by many investors. Based on the comparable analysis performed below, although STX has both higher growth prospects and profitability metrics, WDC has done a better job in generating free cash flows and managing its balance sheet leverage.

Click to enlarge
(Click to enlarge)
WDC has a solid and healthy balance sheet. As at Q3 2012, the firm is sitting on $3,377M cash and $2,743M debt, amounting to a net cash position of $634M or 8% of the current market capitalization. Its current and quick ratios are very healthy at 1.64x and 1.27x, respectively.
According to below, besides a very slightly downward revision for current fiscal year estimated EPS within the past 7 days, the estimates for current and next fiscal years have multiple upward revisions over the past 90 days, indicating market's growing confidence in the firm's business prospects.

Click to enlarge
(Click to enlarge)
WDC has also consistently beaten both revenue and EPS estimates by substantial surprises over the past 4 straight quarters.
Of the 21 analysts' rating for WDC, there are 7 strong buys, 4 buys, 9 holds, and 1 underperform. The mean target price is $48.59, implying a solid 58% upside potential.
According to the chart below, there has been a technical support level at around $25 since August 2010, and the current stock price is just 15% above this support level.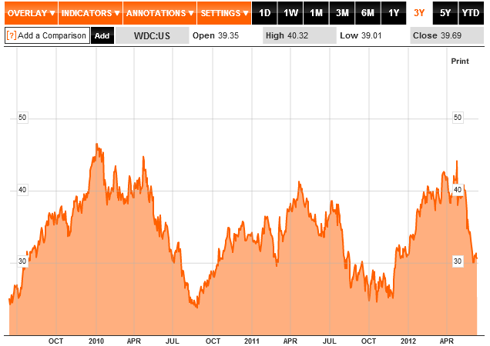 Click to enlarge
(Click to enlarge)
Comparable Analysis table is created by author, EPS table is sourced from Yahoo Finance, Price Chart is sourced from Bloomberg, and financial data is sourced from company 10-Q, 10-K, press release, Yahoo Finance, YCharts, Wall Street Journal, Thomson One, Bloomberg and Morningstar.
Disclosure: I have no positions in any stocks mentioned, but may initiate a long position in WDC over the next 72 hours.