Verizon Communications Inc (NYSE:VZ) has had a good run, and while it is still a strong company, with a good dividend, I think it could be in for a short term pullback. I am suggesting getting short Verizon for $0.82 by buying one September 43 strike put at $1.74, then selling two September 40 strike puts for a total of $1.50, and finally buying one September 39 strike put for $0.58. Below you can see the profit diagram at expiration on September 21st. This trade starts making money when Verizon reaches $42.18 and the most you can lose is $0.82 when Verizon is at $43 and above. The maximum this trade can make is $2.18 if Verizon is at $40 per share at expiration.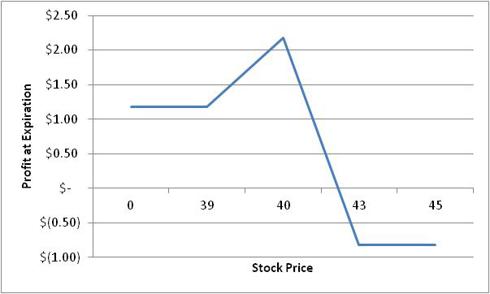 Why short Verizon?
Here is a story on why Verizon's short term run may be ending. I also believe that $43 per share Verizon is fully valued. It is trading at over 15 times 2013 estimated earnings, and has a PEG Ratio of 1.6. The highest analyst price target on Verizon is $45 and the mean price target is about $40.50. Analyst earnings estimates have changed little over the past 90 days. I also think part of the move up in Verizon is tied to the fall in bond yields.
On the chart bellow, the lower white line is a long term up trend in Verizon that has been in place since summer of 2010 taking the stock from $26 per share to $43. The steeper white line shows the accelerated uptrend from the beginning of April, taking Verizon from $36.80 to $43. This move has put Verizon 3.5% above its 20 DMA, 7.4% above its 50DMA, and 14.3% above its 200 DMA. I think the current move could go as high as $45 per share; however I think it will be sooner rather than later that the stock reverses to the longer term uptrend. I also think that Verizon showed some resistance getting above $40 per share, and I think the $40 per share level could provide support on the way down. That is why I am using this structure that has a maximum profit at $40 per share.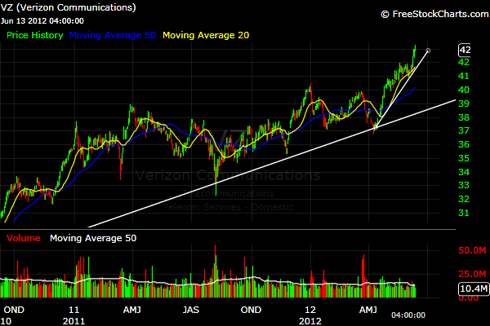 Data sourced from: Yahoo!Finance, and Finviz.com. Chart from: Freestockcharts.com
Disclosure: I have no positions in any stocks mentioned, and no plans to initiate any positions within the next 72 hours.