Many articles, and a great deal of investor attention, focus upon the biggest names in smartphones. The majority of the biggest names in mobile phones use a myriad of components, parts, and microchips from many other companies. In this article, we will take a brief look at the companies that make the parts that make smartphones possible, and how their revenues may be affected by the continued growth of smartphones. There is a great deal of attention paid to the smartphone operating systems and app development, but the hardware behind smartphones often gets less attention.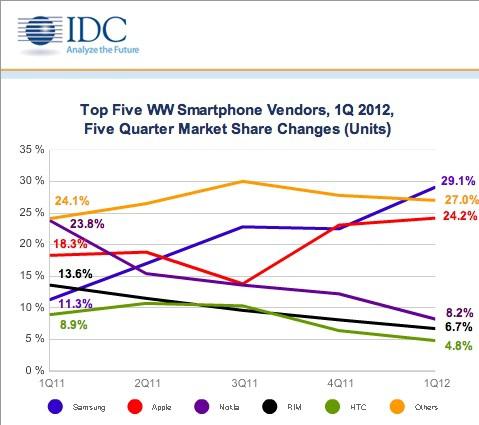 According to the International Data Corporation Worldwide Quarterly Mobile Phone Tracker, vendors shipped 398.4 million units in 1Q12 compared to 404.3 million units in the first quarter of 2011.The worldwide smartphone market grew 42.5% year over year in 1Q12, as Samsung overtook Apple for the smartphone leadership position. Vendors shipped 144.9 million smartphones in 1Q12 compared to 101.7 million units in 1Q11. The 42.5% year-over-year growth was 1% higher than IDC's forecast of 41.5% for the quarter, and lower than the 57.4% growth in the fourth quarter of 2011.
Walk into an electronics store, or mobile phone carrier store, and you are likely to see several vendor names on a wide variety of mobile phones. Currently most of those will be associated with smartphones in the U.S. The basic layout and architecture are becoming somewhat standard, with a large slab touchscreen in a rectangular shape, and only a few designs that still have some form of keyboard. Japanese financial holding company Nomura (NYSE:NMR), using some Gartner Group information, put out a great research paper recently that covered the parts that make up a smartphone, and which companies supplied what percentages of those components. They also included a cost basis analysis for each of those parts, which can help us determine revenue potentials.
There are several companies tracking the growth potential of the smartphone market. Currently, we have strong growth projections for 2015/2016 being the top of smartphone sales period. The market is expected to be near saturation, or experience very slow growth past that time. Using one set of research from Synergyst we might expect a billion smartphones sold world-wide in 2015. Credit Suisse analysts expect a billion smartphone sales by 2014. So if we use that billion smartphone market with the research we have now, and assume that component sales may remain somewhat proportional, this gives us some revenue potential figures. Based upon 2011 unit smartphone shipments near 400million, the sales volume increase to get to a Billion smartphone represents smartphone shipments more than doubling over the next few years.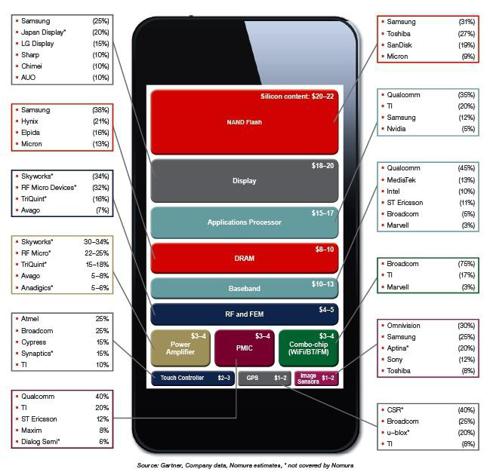 If we look at the most expensive components first, we will find that the companies making memory chips, displays, and application processors provide the most expensive parts. Using the figures researched by Nomura, we find the parts of most smartphones can be expected to run in the range of $115.00 to $150.00, not including the physical case for the smartphone. Obviously better contracts, volume discounts, or in-house component manufacture, could move that range around slightly. It would be safer to assume the lower revenue figures per component, though competition or currency valuation changes might skew those numbers further from our estimates. So smartphone component makers stand to bring in $115Billion to $150Billion annually in revenue by 2015/2016.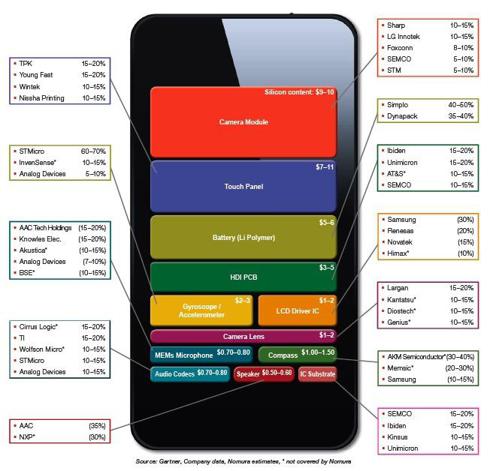 Rather than run down every name mentioned in the Nomura report, I will concentrate on the most prominent and largest companies. Some of these companies are not listed in North American markets, or only appear on Pink Sheets. However, there are a few companies investors may find of interest, which may see greatly increasing revenue from continued growth in smartphones.
Samsung (OTC:SSNLF) appears to have the bulk of components within smartphones, which can also be seen in its ability to make numerous versions of its own branded smartphones. Even when other smartphone companies sell competing devices, Samsung is very likely to have parts in those smartphones from which it can generate more revenue and profits. LG Display (NYSE:LPL) is the only other company in this research report that appears able to capitalize on other companies smartphone sales, while also selling its own LG branded devices. Sony (NYSE:SNE) and Japanese listed Toshiba could make similar claims, though they appear to be small players in the overall smartphone component market.
We can see that Samsung 31% of the NAND Flash Memory market share, 25% of the Display market, 12% of the Application Processor market, 25% of the Image Sensors, 30% of the LCD Driver Integrated Circuit chips, and 10% to 15% of electronic compasses in smartphones. Samsung would stand to gain revenue of $54.00 to $75.00 per smartphone, if all the components it makes were in use in a given smartphone, not branded as a Samsung. Just to look at the top four components, and the market usage percentage, we may reasonably expect around $15Billion in annual revenue by 2015/2016, just from NAND Flash Memory, Displays, Image Sensors, and LCD Driver ICs, based upon an overall market of a Billion smartphones.
LG Display currently make 15% of smartphone Displays, and a small portion of Camera Modules through a subsidiary called LG Innotek. It can reasonably be assumed to generate $2.7Billion to $3Billion annually on Display sales, not including its own branded smartphones, by 2015/2016. This is a small portion of its overall revenue from numerous electronic devices, and not a significant driver of revenue. My feeling is that it may find greater revenue and profits from its own branded devices, especially by leveraging its penetration of the smartphone market.
Japanese listed electronics maker Sharp has an annual revenue potential close to that of LG Display. However, with a rumored shift of suppliers by Apple (NASDAQ:AAPL) from Samsung and LG to Sharp for smartphone displays, and displays in other products, this could be a major boost for Sharp, if Apple continues to sell higher volumes of iPhones over the next few years. I would watch for similar component supplier announcements from Apple and other smartphone vendors, if I held any shares of component makers; that news might imply a future change in revenue.
Screen sizes on smartphones may be near a practical physical limit, implying future pricing trends on displays may not see much of any change over the next few years. Memory requirements both for data storage and for mobile operating system functions can be expected to increase, especially as smartphones become used more often for mobile commerce. Processor efficiency or changes in battery technologies, or power usage, may also greatly change the map of current component suppliers. I wrote an earlier article that went more in depth on what my research indicated may become future trends in smartphones.
Micron Technology (NASDAQ:MU) is one of the top semiconductor manufacturers in the world. In smartphone components, it provides 13% of DRAM and 9% of NAND Flash Memory. Using the cost figures for these components and an expected Billion smartphones annual market by 2015/2016, we can reasonably expect $2.8 Billion to $3.3 Billion in revenue, which would be a significant revenue increase over current smartphone derived revenue. Micron is currently under-represented in these components relative to their competition, so increasing its penetration into this market could allow for better revenue growth.
RF Micro Devices (RFMD) is one of the smallest component makers in the smartphone market. It is one of the leading providers of one of the most important components in smartphones, the Radio Frequency module, with its current offerings supporting CDMA, CDMA 2000, EDGE, GSM/GPRS, GSM/WCDMA, LTE, TD-SCDMA and WCDMA standards. It is also one of the primary suppliers of Power Amplifier components. Together with Skyworks (NASDAQ:SWKS), it provides over half of the market for these components. RF Micro is the smaller of these two companies in revenue, so it may see a greater percentage increase in revenue than Skyworks, which may be assumed to be in the range of $1.9Billion to $2.6Billion, compared with Skyworks' potential of $2.26Billion to $3.0Billion annually by 2015/2016.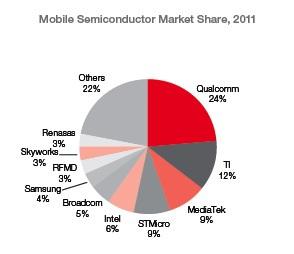 Qualcomm (NASDAQ:QCOM) is probably the best known component chip maker in mobile phones amongst investors. It currently provides 40% of PMICs, 35% of the Applications Processors, and a huge 45% of Baseband Modules. Research firm Strategy Analytics has a great overview of the strength of Qualcomm components in these component market segments, which it projected hit $4.52Billion in 2010. Using the assumption of a Billion annual smartphone sales volume by 2015/2016, if Qualcomm can remain dominant, that annual revenue should increase to around $11Billion to $13.4Billion. Qualcomm held 24% of the mobile semiconductor market share in 2011.
One of Qualcomm's largest competitors in smartphone components is Texas Instruments (NYSE:TXN), which provides 10% of Touch Controllers, 20% of PMICs, 20% of Applications Processors, 17% of Combo [WiFi, Bluetooth, and FM] chips, 8% of GPS components, and 15% to 20% of Audio Codecs. We can assume that its 2015/2016 annual component revenue may be in the range of $4.5Billion to $7.6Billion.
The largest provider of the Combo [WiFi, Bluetooth, and FM] Module is Broadcom (BRCM) with Nomura noting it as supplying 75% of these components. It also provides 25% of Touch Controllers, 5% of Baseband, and 25% of GPS components. We may expect to see 2015/2016 smartphone component revenue of about $3.5Billion to $4.9Billion. Maintaining its strong position and component pricing levels may alter that potential.
STMicroelectronics (NYSE:STM) provides the majority of the Gyroscope/Accelerometer components, with 60% to 70% of the market, as estimated by Gartner Group and Nomura. It also provides 10% to 15% of the Audio Codecs components. We can reasonably expect 2015/2016 smartphone component annual revenue in the range of $1.27Billion to $2.22Billion if it can maintain dominance. Smartphone components are not now a major portion of its overall revenue.
Intel (NASDAQ:INTC), Marvell Technology Group (NASDAQ:MRVL), and Nvidia (NASDAQ:NVDA) are currently very small players in the smartphone component market, though they have shown more recent interest as the smartphone market continues to grow. I suspect all these companies may do better in the tablet market than in smartphones. Intel may gain the most traction of these three in smartphone and tablet components, based upon their expertise in chip making, and the hiring of Mike Bell, who has recent experience with PALM and HP (NYSE:HPQ), and prior to that spent 16 years at Apple computer.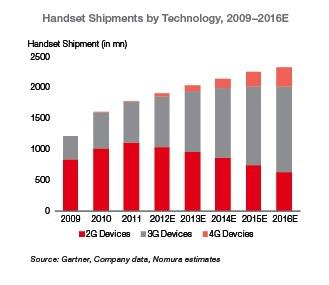 Despite U.S.-based carriers pushing vendors to provide 4G ready smartphones in 2012, deployment of 3G in the rest of the world is expected to continue to be the primary technology. Some may expect tablet trends to somewhat follow smartphone trends, which is a safe assumption for some components makers, but so far sales volume data suggests most tablets make use of WiFi, and not 3G nor 4G technology. Sales of 3G tablets lagged WiFi tablet sales last year, which some analysts blame on carrier data plan pricing structures for tablets. The tablet market is expected to expand at the end of this year, and may see strong growth beyond a peak in smartphone growth, but the component trends may follow previous computer trends more than smartphones. Hopefully we will learn much more about the longer-term growth of tablets in early 2013.

The smartphone vendors currently get the most attention of the media and investors, but some of the companies in this article may see better growth than some smartphone vendors. If a pricing war emerges amongst smartphone vendors, the component makers may come under some pricing pressure, though I feel they will be able to remain profitable. Economies of scale may change the pricing points of some components in the future, either higher on demand from one company, or lower due to efficiency. Competition may see some of these companies lose their component dominance. I would not bet against Intel gaining ground in some of the component areas. Some of these companies generate more revenue in other markets, so a change in their smartphone component market share may have little impact on overall revenue. Technology changes may allow for various components to be combined in the future, though I would expect Qualcomm and Intel to be the innovators in the future, based upon their current capabilities and past performance.
Disclosure: I have no positions in any stocks mentioned. I may initiate a long position in AAPL or INTC this summer.