Finally, Dell Inc. (NASDAQ:DELL) has come around to paying dividends. Last night, Dell announced that it was initiating an $0.08 per share quarterly dividend. This dividend represents a 2.6% yield based on Dell's June 13th premarket opening price of $12.28. Investors received the news positively by bidding up the stock price by nearly 2.6% before the market opened versus its June 12th closing price of $11.97. Dell also announced that it was looking to rationalize and reduce its cost structure to eliminate $2B of annual costs and we believe that the combination of both news stories resulted in a 5% increase in June 13th trading before settling down with a 2.5% increase at the end of the day. Trading Volume has more than doubled on June 13th relative to its average 13 week trading volume.
We are glad that Dell came to its senses and realized that the heady days of 1980s and 1990s go-go growth have come to an end. Dell's growth began to slow in FY 2002, when its sales stagnated in the wake of the dot-com bust, the 9/11 terrorist attacks and the corporate accounting scandals, which helped trigger the 2001 recession and the slow recovery that followed.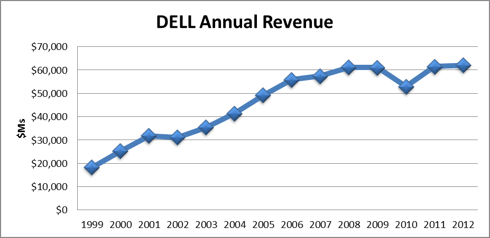 Source: Dell 1999-2012 Annual Reports
Earnings and revenue growth resumed in 2003 and kept up until 2006, then began to decelerate in 2007 and afterwards. Dell's FY2012 revenue is only 2% higher than its previous cycle peak achieved in 2008. Net Income has increased by 18% since 2008 and EPS has increased by 43%. Dell's growth since 2008 was partially aided by $6.5B spent on the following acquisitions:
2009, $3.9B for Perot Systems, an IT services provider founded by EDS Founder and two time Presidential Candidate H. Ross Perot.
2010, KACE Networks, a computer systems management solutions provider, terms not disclosed
2010, Boomi, a Software-as-a-service integration leader, terms not disclosed
2011, $960M for Compellent, an enterprise storage systems solutions specialist,
2012, AppAssure, a disaster recovery and backup software solutions specialist, terms not disclosed
We're glad that Dell has joined the ranks of dividend-paying technology titans from the 1990s and 2000s, like Apple (NASDAQ:AAPL), Microsoft (NASDAQ:MSFT), Intel (NASDAQ:INTC), Oracle (NASDAQ:ORCL) and Cisco Systems (NASDAQ:CSCO). We think that Dell's dividend announcement dulls the pain its shareholders felt when the company announced a Q1 sales decline and a sharp decline in EPS. We also take note of the fact that despite the massive cash and security balances held by the tech titans, those cash balances are not necessarily available to be paid out as dividends. This is due to the fact that these companies hold most of the corporate cash holdings in foreign subsidiary bank accounts and face an up to 35% tax on repatriated corporate profits. Dell has the third highest dividend yield of the six tech titans that we have compared it against.
We remembered the Modigliani and Miller Dividend Theory that stated that a company's dividend policy should be irrelevant to its value given a firm's capital investment and acquisition policy and strategies. We believe that Warren Buffett's maxims on dividends and to a lesser extent for share repurchases are more appropriate for mature companies that generate excess cash flows such as Dell and the other technology titans. As a matter of principle, we at Saibus Research expect that our companies will be able to return our principal. Companies that generate excess cash flows can return our principal to us in the form of dividends and share repurchases while enabling us to maintain or expand our share of the company's stock. We believe that companies that generate excess free cash flows and have management that isn't ego driven about company growth prospects can benefit from paying dividends and buying back shares. We see that Dell has the third highest price appreciation after its initial dividend announcement in the six company sample that we analyzed and evaluated.
In conclusion, we are glad that Dell is realizing that its best days are long behind it and taking steps towards transforming itself away from a PC hardware company and into a leading IT services and solutions provider. Even if Dell ends up reducing its share repurchase program by the $563M it will be paying for shareholder dividends, we expect that this will add value to Dell shareholders because Dell would not be buying back stock at overvalued prices and investors can harvest value from Dell without having to sell shares. We are glad that Michael Dell has said to shareholders, "Dude! You're getting a dividend from Dell!" We only wish that Ben Curtis was here to spread the news to Dell's long-suffering shareholders.
Disclosure: I am long AAPL.
Disclaimer: Saibus Research has not received compensation directly or indirectly for expressing the recommendation in this report. Under no circumstances must this report be considered an offer to buy, sell, subscribe for or trade securities or other instruments.