This is the third article in a series of four. To see the second article click here, to see the first click here.
With services, my conglomerate and tech represented in my dream retirement portfolio now its time to focus on consumer and industrial goods.
For my industrial good stock I've decided to include a diversified machinery company, Illinois Tool Works Inc. (NYSE:ITW). While China has taken most of the simpler manufacturing away from our shores and companies like Foxconn have had success making tech products, I am a firm believer that true manufacturing genius remains here in the USA. This 100 year old company is now so diversified it can be considered a conglomerate itself with over 65,000 employees and $18B in TTM revenues. Quarterly revenue growth has taken a hit recently providing a pause in the rise of the shares currently trading at 55.02, up over 18% YTD. The 2.6% yield provides income now or an ample payout to reinvest in the shares for even greater gains in the future. Over the past 10 years the earnings multiple that ITW has traded has ranged from the lower 30's to just above 10x earnings. The shares currently trade at 14x trailing earnings and 11.5x forward earnings. We can never assume that earnings multiples will revert but knowing we are getting in at the lower end of the range does provide some comfort.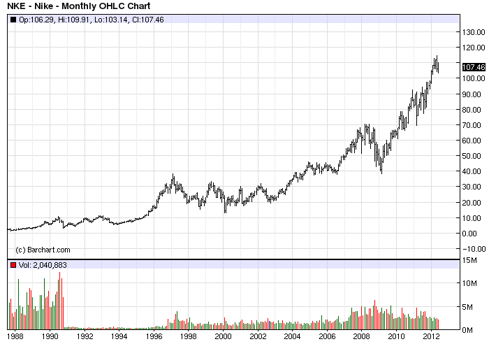 The first consumer goods equity in my dream retirement portfolio is Nike Inc. (NYSE:NKE). The footwear, clothing and accessory maker has grown to be the largest footwear retailer in the world. Sales have grown 15% Q/Q and are over $23B in the past 12 months. EPS is expected to grow at about 13% per year over the next 5 years, leaving the stock trading at a premium multiple considering recent growth. I am willing to pay more per share of earnings if I believe a company has the staying power and ability to leverage its marketing power to crush competition and regain any lost market share to newcomers like Crocs, Inc. (NASDAQ:CROX). Nike's trailing earnings multiple has been in a 15-20 range since 2004 and is currently 22.5. This could signal growth on the horizon or re-inflating of the companies earnings multiple by the market. I like that entering into a position over many years will enable me not to worry about the reason for the current multiple and lets me focus on owning a great company.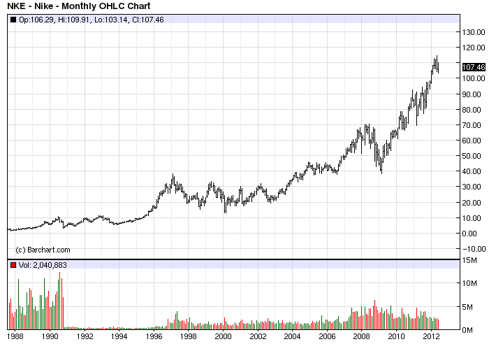 The next equity in my dream retirement portfolio also comes from the consumer goods sector, Tyson Foods Inc. (NYSE:TSN). This selection is based on the simple assumption that people need to eat and would prefer to do so cheaply. Tyson enjoys an almost monopoly on chicken products and with its power (both in business and in politics) can take over the entire industry whenever it pleases. The shares are trading at a paltry 8x forward earnings and offer an almost 1% dividend yield. Trading at around $19 per share with revenue per share of over $90 shows just how large the company's footprint is. Profit margins are really low almost touching 2% and its PEG ratio is a pedestrian 1.7. Competitors like Hormel Foods Corp. (NYSE:HRL) and Smithfield Foods Inc. (NYSE:SFD) have created good brand names and have eaten into Tyson's profitability. Ultimately the reasoning for owning Tyson is the same as Nike, the brand name and recognition. There will be competitors at times like Hormel who seem to have the whole industry at their fingertips but I'd rather pay 8x forward earnings for Tyson than over 15x forward earnings for Hormel any day.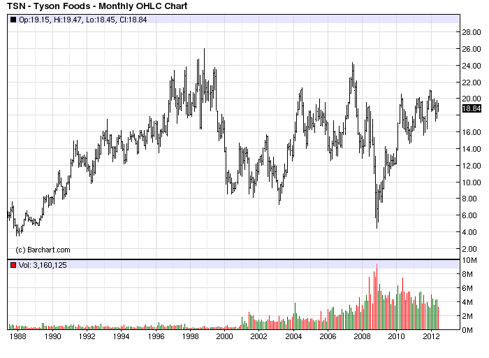 These 3 stocks represent 30% of my dream portfolio. Look out for the upcoming final edition of the series to see how I would address healthcare in Managing My Portfolio Is A Dream.
Disclosure: I have no positions in any stocks mentioned, and no plans to initiate any positions within the next 72 hours.