The Buckle (NYSE:BKE) recently caught my interest because the current P/E ratio of 11.55 is below the current year-over-year growth rate of 12.97%, suggesting that it's a buy at current prices. In addition, its P/E ratio is lower than the average of 16.20 for apparel stores.
The Buckle has traditionally avoided the highly competitive markets of the Northeast, in order to cater to the lower supply, lower demand markets in the middle of the country. The top 10 states for Buckle locations are located mostly in the Midwest and South.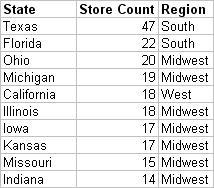 (Source: BKE 10-K)
The Buckle has carved out a niche in these states for high-fashion denim and tops. Jeans constitute 47% of sales, a figure that has been growing for the past three years. Tops are 32% of sales, and accessories, like custom Buckle brand watches made by Fossil (NASDAQ:FOSL), make up 8% of sales. The remainder is a mix of shoes, jackets, and non-jean bottoms.
The Buckle's management has been able to consistently raise profit margins and return on equity year after year - without issuing a dime of debt. Its profit margins just hit a new high last quarter (Fiscal Q1 of 2013).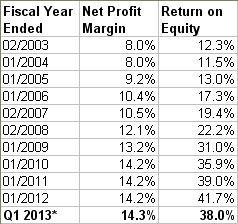 (Data Source: MSN Money)
*The annualized Return on Equity was lower than Fiscal 2012's figure because of the seasonality of the business - Buckle does not sell as much in Q1 as it does in Q4.
The Buckle currently boasts a higher net profit margin than all the public companies that management lists as its peer group, and a higher gross profit margin than every company except for Abercrombie & Fitch (NYSE:ANF):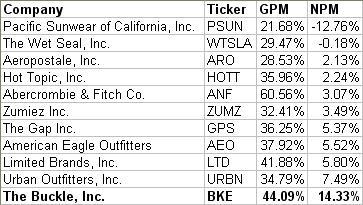 (Data Source: Latest Quarterly/Annual Filings)
A key private competitor, Metropark, filed for bankruptcy last year, so we can assume that it had negative profit margins.
The Buckle now operates 431 stores, and it's beginning to reach a saturation point in the Midwest and South. It is now expanding into the Northeast, but it is opening stores at a slower rate than it was in the 2007-2010 stretch.
I am a little cautious on stores in the Northeast - there is no guarantee that these stores will enjoy the same level of success that previous stores did because the Northeast is a more competitive market than the Midwest or South for fashion jeans.
However, because the company is opening stores at a slower rate, it is spending less on capital expenditures. At the same time, a higher number of stores are contributing to the net income figure. This resulted in a growing free cash flow last year - a trend I expect to continue.
(Free cash flow highlighted in green)
In Fiscal 2012 the free cash flow figure was 14% higher than net income. Management can then use this free cash flow for shareholder rewards. For the past four years, The Buckle's management has elected to use the free cash flow to fund a special dividend. During The Buckle's fiscal year 2012, management paid out $2.85 in dividends, which would be a 7.5% yield at current prices.
Given that this year's capital expenditure budget of $32-36 mm is slightly lower than last year's, the company should be able to pay out a similar special dividend this year, even if income was unchanged. However, I expect income to grow, albeit at a slightly slower rate than last year.
Last year's 12.97% growth was attributed to 11 net new stores (13 openings and 2 closures), a same-store sales increase of 8.4%, and online sales growth of 25%.
Management is opening 10 stores in 2012. The figure of 10 openings is less than the 13 that were opened in 2011, which would mean a slower growth rate contribution from new stores.
Same-store sales results for the first 5 months of 2012 are up by 8.3%, which is comparable to last year's same-store sales growth.
While The Buckle has been able to keep its growth in same-store sales at the same level this year, the rest of the retail sector has been slowing down its same-store sales growth. The total retail sector had same-store sales gains of 5.2% this year, as compared to 2011's 6.1% same-store sales growth.
I believe there are two key national trends that are sustaining The Buckle's same-store sales growth: the return of U.S. troops stationed abroad, and high commodity prices.
22,000 more troops are scheduled to return from Afghanistan during 2012, in addition to the 11,000 that have already returned. These troops are mostly in The Buckle's key 15-30 age group, and are overrepresented in The Buckle's key areas - the South, Midwest, and West.
The U.S. military is 86% male, and sales in The Buckle's men's business were up 6.5% in May, compared to flat sales for the women's business. This evidence suggests that the return of U.S. troops is increasing the number of male customers at The Buckle.
In addition, high prices for grains are raising farm values in the Midwest and high oil prices have led to a lower unemployment rate in Texas and neighboring states. This influx of money to the region will continue to boost demand for The Buckle's clothing.
Growth in online sales is an additional bonus, probably resulting from general trends in internet usage and high gas prices. Online sales are about 7% of total sales, and they grew at 25% last year. This growth expands the profit margin of The Buckle, since online sales have fewer overhead costs.
I expect same store sales to contribute a growth rate of 8%, online sales to contribute 2% and new stores to contribute an additional 2%, giving an overall forward growth rate of 12%, which is still lower than the P/E ratio of 11.55.
The Buckle will likely yield close to 8% this year, and will likely give additional capital appreciation from growth in earnings. This leads me to think that it will significantly outperform the broader U.S. stock market, and represents a buy at current prices.
Disclosure: I have no positions in any stocks mentioned, and no plans to initiate any positions within the next 72 hours.