Priceline.com (NASDAQ:PCLN) embodies the Godfather mantra, "it's nothing personal, just business." Priceline.com over the last few years has been a monster of a stock, buying competitors, taking market share, and handing investors gains of more than 900%. The company has grown revenues and earnings at a breakneck speed helped along by both the smartphone/tablet super-trend of online booking, and through big acquisitions in Europe and Asia.
Acquisitions:
Booking.com was acquired by Priceline.com in July of 2005. Booking.com is based in Amsterdam and is the world's leading online hotel reservations agency by room nights sold. Booking.com offers over 215,000 hotels, in 167 countries, and is available in 41 languages.
The second valuable add-on is Agoda.com, acquired by Priceline.com in November of 2007. Agoda.com went on to grow into one of the leading booking websites in the Asia-Pacific region, building a network of 27,000 hotels, and more than 168,000 worldwide. In May of this year the company won the "Favorite Online Travel Site" Award, a prestigious award in Asia, reaffirming Agoda's position as an industry leader in its market.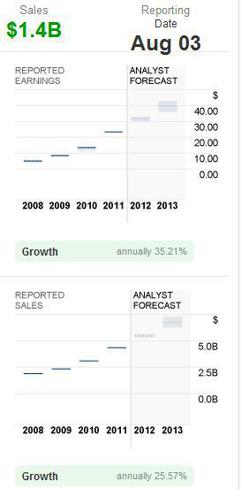 Earnings:
Priceline.com is a fast growing franchise in the fast growing online travel booking industry. Priceline.com earnings growth has exploded from $5.10 per share in 2008, to an estimated $39.70 per share in 2013. Trading at $628.44, 28x earnings, Priceline.com shares are 17% off their 2012 peak; despite reporting a strong Q1, including revenues that rose 29%. The earnings multiple of 28x is a little rich for my liking, but long-term earnings growth looks to be +35% this year and next; leaving the shares trading at 16x 2013 earnings. Priceline.com is a great addition to any portfolio looking for growth, or technology exposure.
Concerns:
Priceline.com is very exposed to Europe via the Booking.com arm of the company, and a fiscal implosion in Spain or Greece would send Priceline.com shares to the low $500 range.
Conclusion:
Long-term the global middle class will continue to emerge and travel/vacation spending will increase dramatically. Priceline.com is well positioned in the USA, Europe, and the behemoth that is the Asian market. Also the global smart phone revolution favors electronic bookings, and gives the company access to new markets/customers everyday. Priceline.com should be bought on dips, and held until global consumers no longer wish to go on vacation. If lucky the shares will fall to the $550 range; if not I will accumulate shares on the way up.
Buy on dips, always do your homework, and also see Priceline.com SEC filings.
Disclosure: I have no positions in any stocks mentioned, but may initiate a long position in PCLN, EXPE over the next 72 hours.