In late 2008, the pillars of the financial markets shook and the whole world held its breath in anticipation of was what to come. Since those dark days there has been a constant string of bad economic news on a worldwide basis. Runaway debt, massive quantitative easing, bank failures, and sky-high unemployment have become the standard headlines in today's media. What proved interesting was the sudden demand for all things gold. Top commodity traders, all the way down to the layman on the street, clamored for the perceived safety of gold. As a result, the price of gold has risen at a dynamic rate over the last five years, as shown by the chart below for the SPDR Gold Shares (NYSEARCA:GLD).
Click to enlarge all images.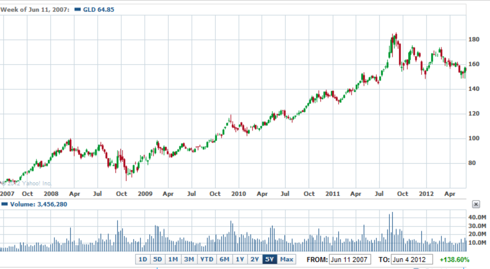 Fast forward to today and we still see the gold frenzy in play. You cannot turn on your television or radio without hearing a steady stream of commercials offering to buy or sell gold. Problems in Europe and looming debt issues in the U.S. still fuel the gold fever. While many have invested already, there still is a whole new group of novice investors ready to jump into the trade. Their biggest question, and one that I am often asked, is how to invest in the stuff. An investment in gold can take many shapes. For example, one could hold the actual physical metal, an exchange-traded fund, a closed-end fund, or even the miners that dig for the stuff. So let's see which strategy has worked the best so far.
Physical Gold
Holding physical gold is a very popular way of investing. One has to make sure to use a reputable dealer to initiate the trades, but that is rather easy to do. Another major concern that comes into play is storage and security. Holding physical gold dictates you had better have the means to protect it. Theft will always be an issue, and the more one has the harder it becomes to manage. That being the case, holding physical gold might not be the best option.
SPDR Gold Shares
Probably the easiest way to invest in gold is to do it through an exchange-traded fund. One of the most popular is GLD. GLD shares are listed on the New York Stock Exchange and can be bought and sold throughout the trading day via an ordinary brokerage account. GLD is the world's largest gold ETF and the second-largest of all ETFs. The shares of GLD track the spot price of gold because they are backed by physical gold bullion held in a vault in London.
Taking a look at the five-year chart for GLD (see above), it's clear that an investment in GLD has proven to be very profitable in this timeline. With no worries about security and storage, this investment comes close in performance to actually holding physical gold. That being the case, let's use it as our benchmark for comparison with the other gold investments.
Closed-End Fund
One possible alternative for gold investments is to hold shares in closed-end funds that try to mirror GLD. Central Gold Trust (NYSEMKT:GTU) is one such fund. Central Gold Trust is a passive and self-governing closed-end fund. Its purpose is to acquire, hold, and secure gold bullion on behalf of its unit holders. According to its charter, the trust is required to have at least 90% of the total net assets held in physical gold bullion at all times. This cannot be changed without the approval of the unit holders. GTU's physical gold holdings may not be loaned, pledged, subjected to options, or otherwise encumbered in any way. The gold bullion is stored on an allocated and segregated basis in the underground treasury vaults of the Canadian Imperial Bank of Commerce, which is one of the largest banks in Canada.
So how does GTU compare to GLD over our five-year period? See the chart below.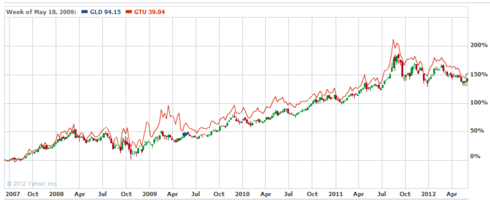 Obviously, both GLD and GTU had good showings and owning either would have made investors happy. If there is a problem it is that GTU, being a closed-end fund, has unique characteristics. One characteristic is that the unit price is based on demand and not on the net asset value of the holdings. That being the case, the shares can trade well above or below the net asset value. GTU has a tendency to often trade at a premium, and sometimes that premium can really be substantial.
With the recent volatility in gold prices, though, the shares are currently trading at a 3.5% premium. And it will trade even higher than that at times. To see the disconnect take a look at the two year chart below and see how GTU seems to lag behind GLD.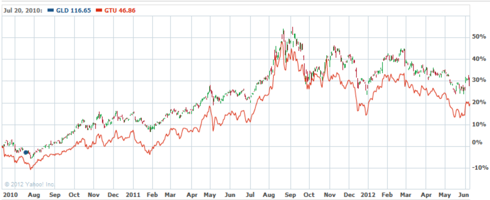 Next, let's see if an investment in the gold miners would be a good choice for our new investors. For our comparison we will take three well established miners that have good records of successful mining programs.
Miners
First, let's look at Barrick Gold Corporation (NYSE:ABX). This company is one of the gold industry leaders in production, reserves, and market capitalization. It operates on a global basis with 26 operating mines and advanced exploration and development projects. These projects are located across the world in some of the most prolific gold areas.
As of Dec. 31, 2011, Barrick's proven and probable mineral reserves were 139.9 million ounces of gold. It should also be known that it has 1.07 billion ounces of silver contained within gold reserves, and another 12.7 billion pounds of copper. In 2011, it produced 7.7 million ounces of gold at total cash costs of $460 per ounce. For 2012, Barrick Gold is expecting gold production of 7.3-7.8 million ounces.
With all this gold production, one would think that Barrick Gold would have been a great investment over the last five years. It is easy to see how new investors could easily mistake an investment in Barrick Gold as a similar investment in the physical metal itself. Let's take a look at the chart and see.
While investors did make a nice return, it pales in comparison to the return that GLD made.
Let's take a look at another company to see if the same trend exists. For our second company, let's focus on Goldcorp (NYSE:GG). It is one of the world's fastest growing senior gold producers, with operations and development projects located in safe jurisdictions throughout the Americas. These assets include five mines in Canada and the U.S., three mines in Mexico, and two in Central and South America. In addition, the company has other projects in Argentina, Canada, Chile and the Dominican Republic. For this company the name of the game is growth, and that is where it focuses much of its energy and money.
For 2011, Goldcorp produced 2.5 million ounces with a cash cost of $223 per ounce on a byproduct basis. The company's goal is to increase production by 70% in the next five years. That would make for a production rate of over 4.2 million ounces. Surely a company with this much growth and gold production would have been a great investment for gold investors. Once again, let's look as the five-year chart and see.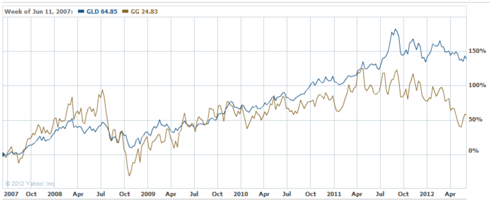 Once again, we see similar results as we did with Barrick Gold. An investment in Goldcorp gave investors an over 50% return in five years. Compared to GLD, though, the Goldcorp investment has not proven to be as robust.
Let's see if a smaller company might fare better than the larger ones. For the next comparison we will focus on Yamana Gold (NYSE:AUY). Yamana Gold was founded in 2003 and is headquartered in Toronto, Canada. It engages in the exploration, development, and production of mineral properties, primarily gold. The company's assets include seven operating gold mines in such locations as Brazil, Chile, Argentina, and Mexico.
In 2011, the company record production of 1.1 million gold ounces. It was able to increase its revenue 29% to $2.2 billion. Needless to say, Yamana Gold was riding the gold wave. In 2012, the company has goals to have production targeted at 1.2 -1.3 million ounces. The question is if this smaller gold producer will fall into the same trend as our larger companies. Here is the chart.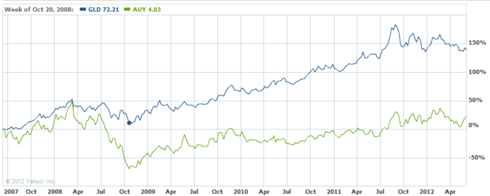 Needless to say, an investment in Yamana Gold fared much worse than investing in the metal itself. Even more interesting was that when compared to the other names above, Yamana still lagged behind in overall returns.
There are so many gold companies that exist that doing a comparison on all of them would be impractical. That being the case, we will focus on the Market Vectors Gold Miners ETF (NYSEARCA:GDX). This exchange-traded fund seeks to replicate as closely as possible the price and yield performance of NYSE Arca Gold Miners Index. This index provides exposure to publicly traded companies worldwide involved primarily in gold mining. The equities held in the fund represent a diversified blend of small, mid-, and large capitalization stocks.
Basically, this fund represents the gold mining industry as a whole. This should be the ultimate test to see whether the mining stocks are able to keep up with the value of the metal itself. Here is the chart.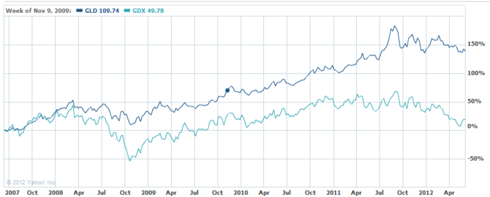 This chart paints an interesting picture. An investment in Market Vectors Gold Miners ETF was clearly not the way to invest in the bull gold market over the last five years. While gold has close to a 150% return over the five-year term, the Market Vectors Gold Miners ETF has barely been able to stay in positive territory.
In conclusion, whether one is new to gold investing or a seasoned professional, it is easy to see that not every investment in gold is the same. If a person wants to invest his or her hard-earned dollars in gold, then doing it via an exchange-traded fund will probably be the best way. Physical gold is great, but it can create its own set of issues to contend with. A closed-end fund is a viable option, but one will have to learn to deal with the volatility that can come about with this kind of investment vehicle.
Finally, the miners are definitely not the way to go as these companies are saddled with a host of issues other than the price of gold itself. Dealing with production and fuel costs, unstable political environments, and risky expansion projects that fail to materialize means that gold investors might look elsewhere to get exposure to the shiny yellow metal. What it basically boils down to is if you want an investment in gold, be sure of what you are buying.
Disclosure: I have no positions in any stocks mentioned, and no plans to initiate any positions within the next 72 hours.