This is the latest in the Seeking Alpha series of interviews with leading companies of interest to our readers. These are interviews with a twist: the executive has agreed to answer questions and respond to comments not from a single interviewer, but rather from our community of readers and contributors.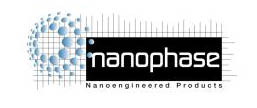 This interactive Q&A is with Joe Cross, President and CEO of Nanophase Technologies (NASDAQ: NANX). Nanophase has sponsored this interview, which works like this:
Joe briefly introduces himself and the issues he's focused on below.
Readers and contributors can immediately start to post questions and remarks using the comment box below (free SA registration required).
Seeking Alpha editors will not filter or edit the questions and comments from readers, except to delete profane or hostile language.
Joe will respond to the questions and remarks beginning Monday, March 3rd. Readers can track his answers and respond to them during that period, with the resulting dialogue remaining on the site.
Readers from external sites may join the Q&A by following this link.
Over to Joe:
Welcome to our interactive Q&A session and thank you for taking a few moments to learn more about Nanophase Technologies, a leading global nanomaterials innovator and commercial manufacturer with a unique, integrated family of nanomaterial technologies.
We produce a variety of engineered nanomaterial products for diverse market segments such as personal care products (sunscreens, lotions); coatings and plastic additives (floor coatings, clear coats), architectural coatings (interior and exterior paints, decking and fence treatments), antimicrobial products and polishing applications (semiconductors, optics). Additionally, new market segments and applications are targeted and continuously developed.
Unlike many nanotech companies still in development, Nanophase is an established publicly held company with a ten year operating and revenue history and established asset base. Nanophase's business model is based on both strategic market partners, who typically occupy a specific market segment and sell Nanophase's products globally, and direct sales to customers.
Market partners include BASF (OTCQX:BASFY) in personal and sun care products; Rohm and Haas (ROH) Electronic Materials in chemical-mechanical polishing [CMP] for semiconductors; BYK Chemie for nanocomposite formulations in paints, coatings, inks, polymers, plastics and sealants. Nanophase has also achieved solid revenue growth selling directly to customers, for example, in architectural coatings, optics polishing, textiles, and biosensors.
In 2007, we reported revenue of $12.21 million, compared to $8.99 million in 2006, representing total year-over-year revenue growth of 36%. During 2007, gross margin on sales increased to 26% of revenue, versus 22% in 2006, due to increased volume. This was the third consecutive year Nanophase has reported 30% plus year-over-year revenue gains.
Our competitive position is strong. As of February 1, 2008, the company owns or licenses 18 US and 49 foreign patents and patent applications. We are one of the few companies able to produce discrete nanoparticles in commercial quality and quantity.
Surface chemistry is a highly critical factor in application performance for nanomaterials. We supply two unique surface-treated nanoparticles to address different cosmetic formulations in the US, Europe and Asia. We also supply highly stable nanoparticles in water or solvents for semiconductor CMP, optics polishing and polymer coatings markets to provide improved coating scratch resistance for "tougher" coatings.
Nanophase's facilities and processes were recertified in 2007 to ISO9001:2000, the internationally recognized standard of manufacturing and quality excellence, and ISO14001:2004, the international environmental management standard. All processes are rigidly controlled under Lean Six-Sigma discipline.
As a responsible corporate citizen, Nanophase operates all manufacturing facilities in compliance with State and Federal hazardous waste [RCCA], air emissions, and wastewater permits, while meeting or exceeding applicable OSHA, TSCA, and hazardous materials requirements. Ending 2007, Nanophase employees reached a new safety record achieving 850,000 continuous working hours without a lost time accident.
Now I'd like to turn the session over to you. I'll respond to your questions as quickly and as fully as possible. Thanks again for your interest in Nanophase Technologies.