Cormark Securities Inc. analyst Jeff Fenwick raised his target price on Fairfax Financial Holdings Ltd. (FFH) to an eye-popping C$400 from C$340. This came after the financial services company more than tripled earnings in the fourth quarter, largely due to a smart bet on a downturn in the U.S. housing and bond insurance markets.
In a note to clients on Friday, Mr. Fenwick wrote: The quarter's performance reinforces our view that Fairfax is one of the best financial services ideas for 2008, offering solid operating fundamentals with significant potential upside remaining in its investment portfolio.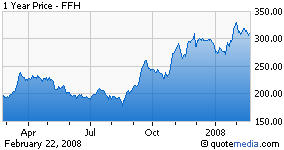 In the first six weeks of 2008, Fairfax generated proceeds of $651-million by selling credit default swaps, which are derivatives that increased in value as the outlook for cash-squeezed monoline bond insurers declined. As spreads on the derivative instruments widened, the value of Fairfax's remaining portfolio of credit default swaps has increased by nearly $600-million since the end of 2007.
In a note to his clients on Friday, Tom MacKinnon, an analyst at Scotia Capital, wrote:
Fairfax's great call is delivering in spades and could continue to propel the company's bottom line.
He says there is limited risk that "counter parties" - those on the other side of the bet on the health of company debt - will fail to pay Fairfax. The contracts are believed to have been written through large U.S. banks and brokerages, most likely including Citigroup (NYSE:C), Bank of America (NYSE:BAC), and Goldman Sachs Inc. (NYSE:GS), who have deposited some $808-million in government securities into collateral accounts "for the benefit of Fairfax," Mr. MacKinnon wrote.
Despite a two-year target price of $380-million on Fairfax stock, Mr. MacKinnon cautions that the momentum in the share price could evaporate "whenever this credit crunch ends." The shares could then be expected to trade down to the company's net asset value, which at this point is about 9% below the current price, he said.