Barron's says Disney (NYSE:DIS) stock as cheap as it's been in the last 20 years. While not immune to a U.S. economic downturn, investors and analysts have overcompensated for the company's cyclical exposure: Only 22% of Disney's revenue is from reception-vulnerable advertising. Theme parks, which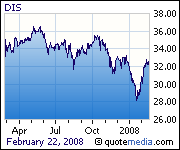 contribute another 30%, continue to see solid booking trends, with an 89% occupancy rate last quarter.
Trading at 14.4 times next years' earnings, shares are at their lowest point in 18 years. The multiple is about equal with that of the S&P 500 average, which sounds ok until you realize Disney normally trades at an average 30% premium. Even better, CEO Robert Iger has succeeded in building a Disney "more diversified, better- managed, less cyclical and more disciplined in its brand development and capital-allocation strategies" than the company Walt built. Iger's 'franchise'-centric philosophy has executives focused on developing brand franchises, such as the exceptionally successful Hannah Montana, whose secondary products become revenue producers for other Disney units.
Morgan Stanley's Benjamin Swinburne gives the company a sum-of-parts value of $43/share ($32.57), which he equates to a $36 stock price after applying a 15% conglomerate discount.