Ship Finance Ltd. (NYSE:SFL) is so far under the radar that the latest earning release and conference call are not listed on either Yahoo Finance or MarketWatch under recent news. These events happened on 2/14, and just today I tracked them down on Ship Finance's website.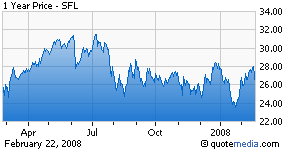 SFL had a very nice 4th quarter. Net income was 71¢ per share and cash flow from ongoing operations was $1.49 per share. The profit sharing agreement with Frontline (NYSE:FRO) chipped in another 22¢. A dividend was declared of 55¢, where it has been for several quarters.
Because of the charter structure and bookkeeping rules of Ship Finance's fleet the cash flow number is a better indicator of the company's profitability. The growing cash flow bodes well for future dividend increases.
SFL had a busy 2007. Several ships were sold to reduce single hull exposure, or just for nice profits. Others were acquired and placed in service on long term charters. Due to the company's strong financial position they are able to obtain financing at very favorable rates and re-lease ships at excellent ongoing cash flow. The size and value of the fleet has tripled over the last 4 years, and should grow by another 1/3 over the next two years.
This company has the unique combination of very conservative financing to protect cash flow and aggressive growth to increase said cash flow. They do not increase the dividend until they are sure they can maintain it indefinitely. And this is a company whose average charter length is over 13 years, so indefinitely is a pretty long time.
With the current yield at 8% it is hard to see much downside to SFL. Of course the market will hammer the stock when it gets a wild hair about shipping or tanker companies, but that will just be a buying opportunity. I consider this stock an excellent long term investment.
Disclosure: I have a long position in SFL.