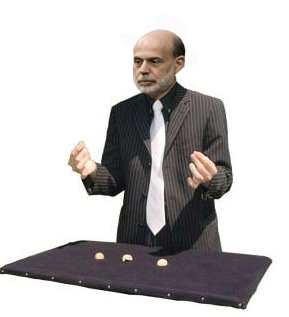 Just how does this little game of Finance 2012 work anyway? To quote our friends at Zero Hedge:
"A month after the U.S. Treasury sold $24 billion in 10 Year bonds at what was then a record low yield of 1.86%, the U.S. government once again approaches that mysterious primary dealer-repo nexus with the latest offer U.S. banks can't refuse: a $21 billion reopening. What is notable about today's auction is that in about 40 minutes, the auction will price at a record low yield of just about 1.63%, or 23 bps lower to the last record yield. Where things get patently surreal, however, is when one takes a look at today's POMO operation conducted by the Fed (remember those). Because as can be seen on the table below from the NY Fed, at 11 AM today, so precisely 2 hours before when the Treasury will complete its own sale, bought $4.8 billion of... wait for it... 10 Year bonds." (And, you thought QE and POMO were over probably.)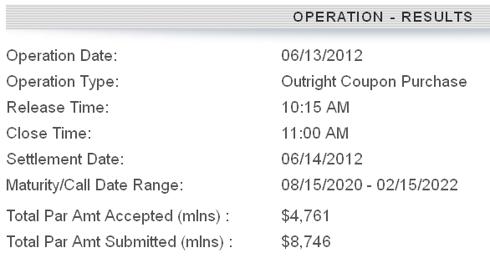 Click to enlarge
Two hours later the Treasury auctioned $21 billion in 10 year bonds at a yield of 1.622%. You can put 2 and 2 together, but this is the type of stuff which for the most part is done behind the curtain and away from the MSM and financial media more absorbed with Jaime Dimon. Call it what you will-three card Monte, Ponzi or just plain manipulation.
Meanwhile the volatility in markets continues at a high level. What's the deal? Clearly we await Jobless Claims (Thursday), Empire State Mfg Survey, Industrial Production, Consumer Sentiment and, of course, Quadwitching (Friday). Then Sunday is another Greek election (ugh) and Wednesday's FOMC Meeting Announcement. So how do you like uncertainty in spades?
This leaves any commentator at a loss to describe the two-way action-down, up and then down again. One day I feel good about being liquid and/or hedged while the next my animal spirits stir. Well, you don't care about that but I'm keeping this commentary short given what lies ahead.
There wasn't much in the way leadership since everything that led the way higher Tuesday reversed. The dollar (NYSEARCA:UUP) was weaker since the euro (NYSEARCA:FXE) is so damn attractive. Gold (NYSEARCA:GLD) rallied some and bonds (NYSEARCA:IEF), as noted, set new record lows in yield.
Volume was average by recent levels and breadth per the WSJ was quite negative.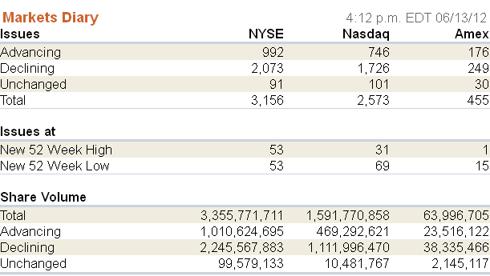 Click to enlarge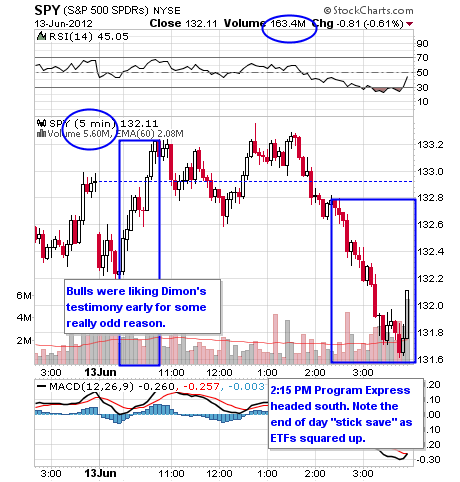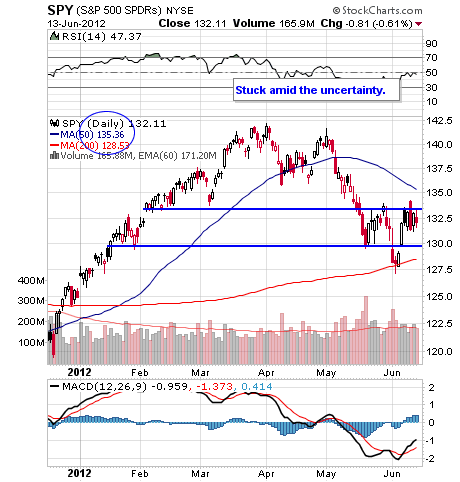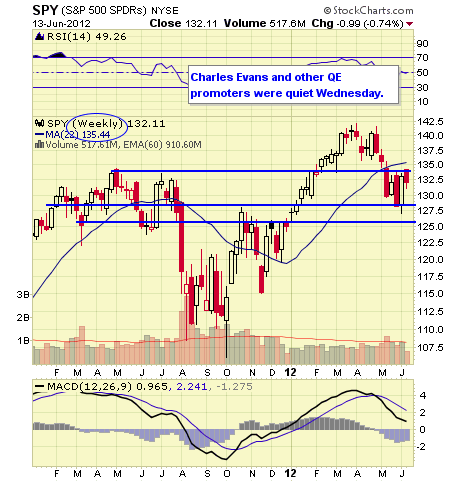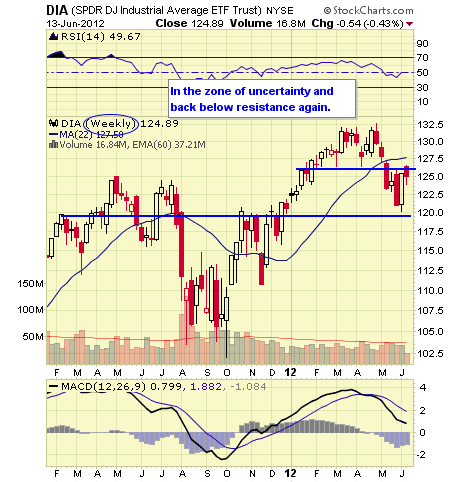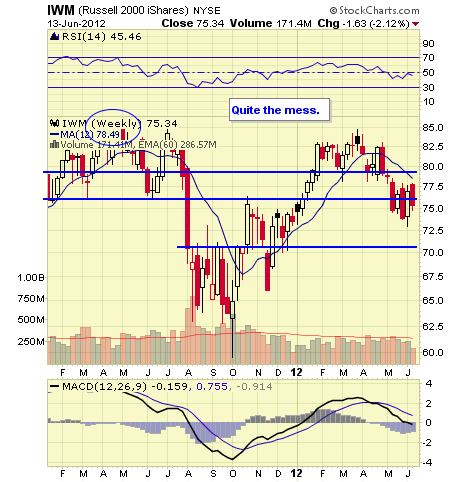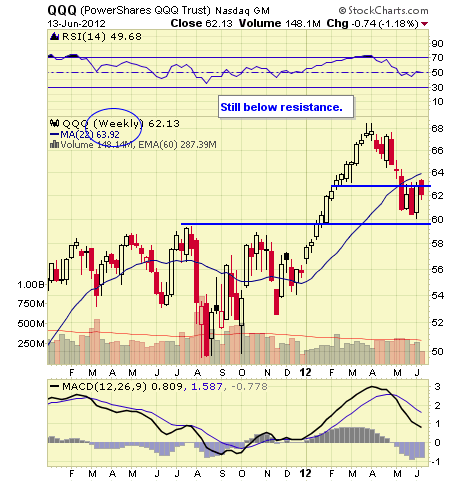 Continue to U.S. Sector, Stocks & Bond ETFs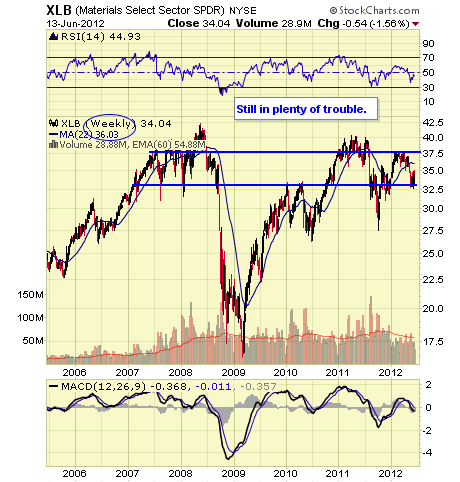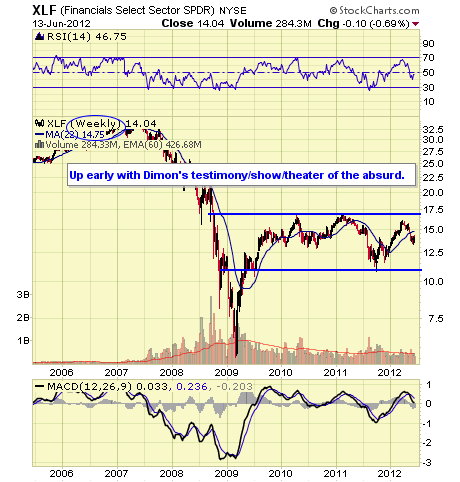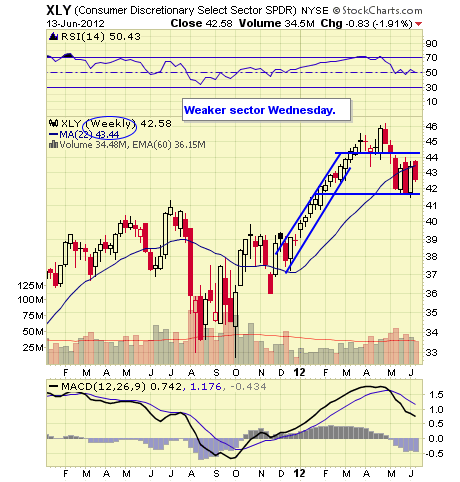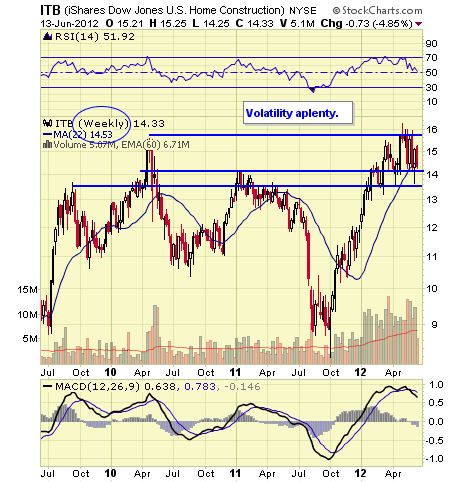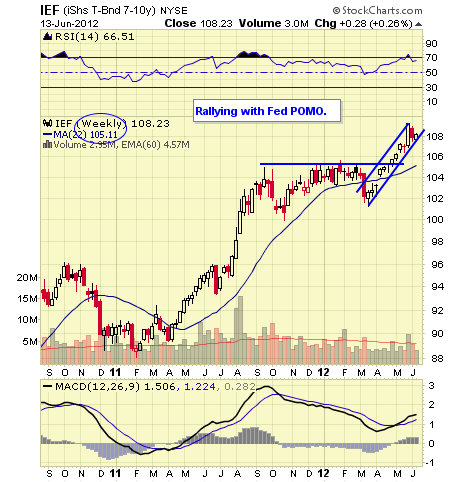 Continue to Currency & Commodity Market ETFs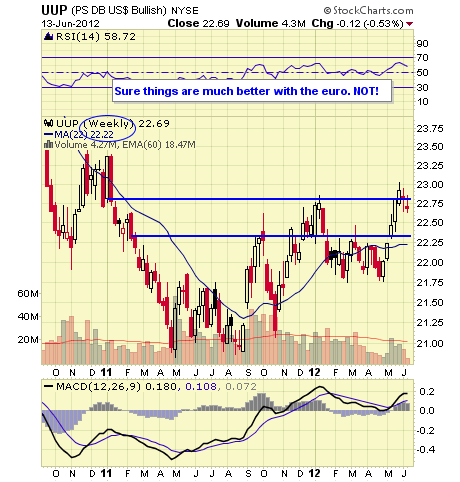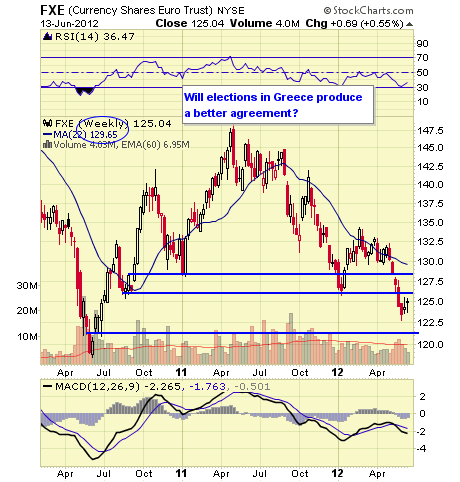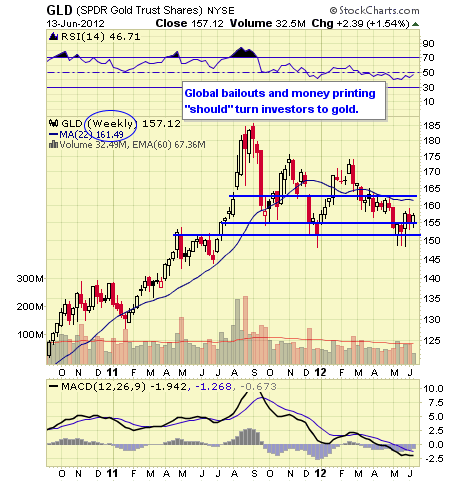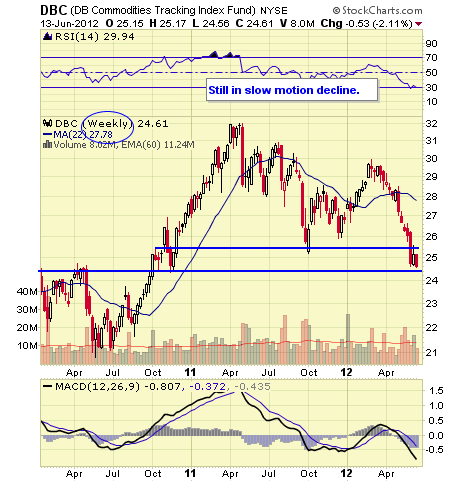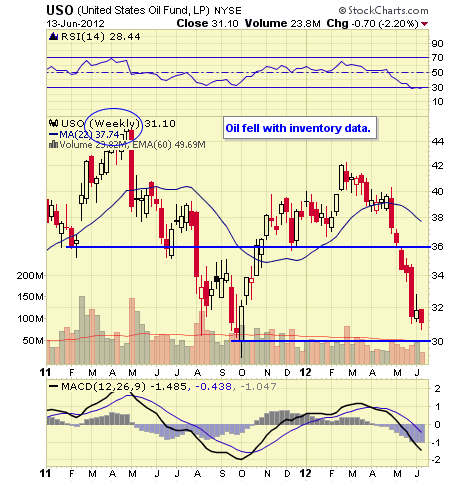 Continue to Overseas Sectors & ETFs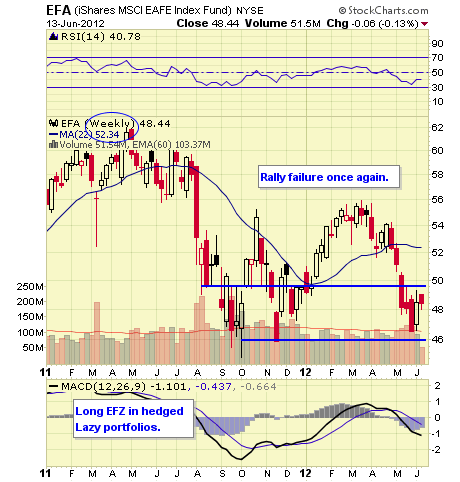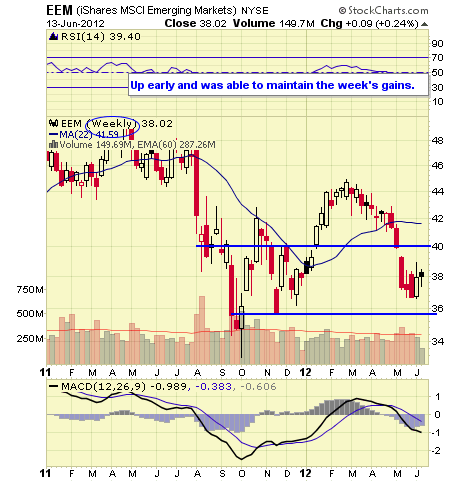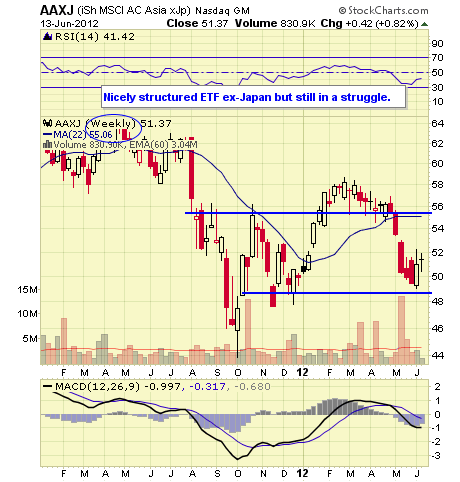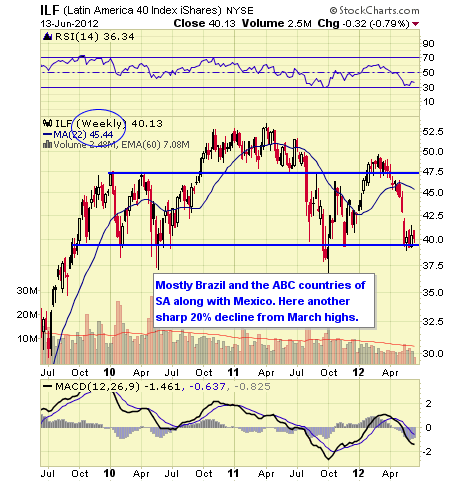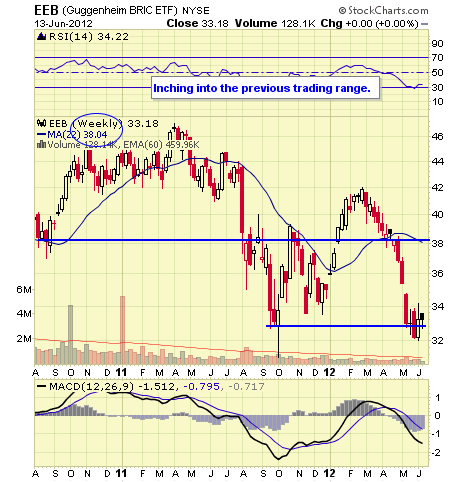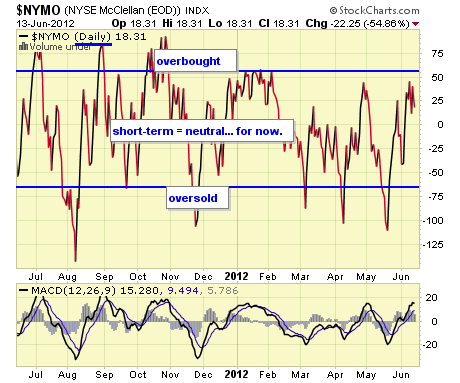 The NYMO is a market breadth indicator that is based on the difference between the number of advancing and declining issues on the NYSE. When readings are +60/-60 markets are extended short-term.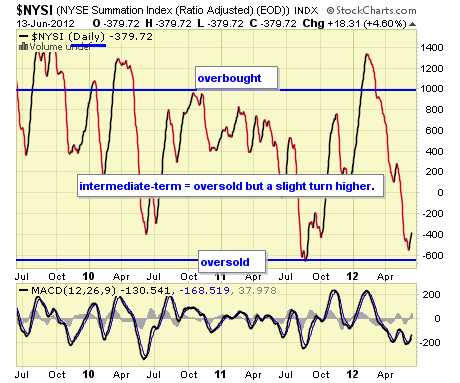 The McClellan Summation Index is a long-term version of the McClellan Oscillator. It is a market breadth indicator, and interpretation is similar to that of the McClellan Oscillator, except that it is more suited to major trends. I believe readings of +1000/-1000 reveal markets as much extended.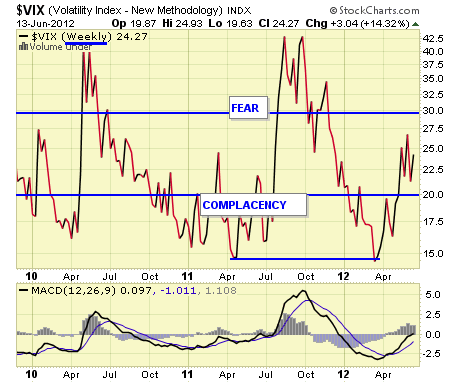 The VIX is a widely used measure of market risk and is often referred to as the "investor fear gauge". Our own interpretation is highlighted in the chart above. The VIX measures the level of put option activity over a 30-day period. Greater buying of put options (protection) causes the index to rise.
This was a much shorter post than usual. Given the uncertainty and unknowable news there is little extra to comment on. We're almost 100% cash in trading accounts and hedged with Lazy portfolios as noted below.
Jobless Claims are estimated at 375K.
Disclosure: I am long EFZ, VT, MGV, BND, BSV, VGT, VWO, VNO, IAU, DJCI, DJP, VMBS, VIG, ILF, EWA, IEV, EWC, EWJ, EWG, EWU.