Transocean (NYSE:RIG) announced normalized 4th quarter 2007 earnings of $862 million on revenues of $2.1 billion (see conference call transcript). These are eye-popping figures from what is, after last year's mega-merger between Transocean and GlobalSantaFe, now the largest offshore drilling contractor in the world.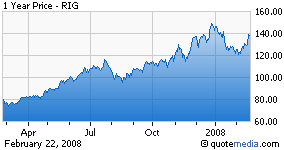 Of course, when it comes to determining what the future holds for this ocean-dwelling behemoth, most observers will likely focus on the long-term demand that exists for technically capable offshore drillers possessing high-spec deepwater rigs. And with leading-edge dayrates for these opportunities in some instances approaching $600,000 per day, one would have to be remarkably indifferent to not be at least partly intrigued by the company's prospects.
Unfortunately, lost in the discussions and analysis of the company's combined fleet, prospects for new builds, plans for asset sales, and impacts of financial leverage will be the merger's impact on customers, some of whom we understand were less-than-enthused to hear of the combination when it was first announced. Not only do mergers concentrate market power in the hands of fewer suppliers –- inevitably causing some providers to feel less beholden to their clients -- they can also be highly disruptive to the operations of the combining companies. As a result, customers can understandably lose confidence in contractors that are more focused on making mergers work than on meeting clients' needs.
Yet, having independently gathered customer satisfaction data on both Transocean and GlobalSantaFe since 2004, we suspect customers might find this particular merger –- at least from a cultural and operational standpoint –- to have a little better chance of enjoying smoother sailing. This is not to say there aren't apparent differences in the two companies' performance and culture. The old Transocean has clearly rated higher than GlobalSantaFe in terms of total satisfaction by respondents in EnergyPoint's past surveys, driven in part by stronger marks for its equipment and technology. Transocean also rated better in deepwater and other more technically demanding applications. However, respondents saw less in the way of differences between the two in areas such as pricing and HSE.
As we see it, the real risk in this case is that the people, practices and culture that caused customers to contract with Transocean or GlobalSantaFe prior to the merger will be replaced with the kind of mediocrity and lack of focus that so often accompany these kinds of category-killer mergers. The reality is companies that acquire the size and scope of today's Transocean need to pay close attention to the level of service, professionalism, flexibility and responsiveness they offer since most customers still prefer to work with contractors that excel in these oft-overlooked areas -- regardless of a supplier's global prowess. One thing is for certain: if the new Transocean is to truly succeed it will need to offer customers something more than simply the opportunity to work with the world's largest offshore driller.
Disclosure: none