I recently ran across Mueller Industries (NYSE:MLI) (29.43, $1.1 billion) on a screen designed to identify companies that have depressed margins and low P/S valuations. Having investigated it, I ended up adding a small position to a charitable foundation that I manage (click here for full list of holdings). For those who aren't familiar with this Memphis-based company (probably 99.5% of the Seeking Alpha readers), here is the elevator pitch:
Not widely followed (1 analyst)
Trading at <2X tangible book value
Low net debt
9.5 PE
4.3X EV/EBITDA
#1 or #2 in all markets (30%-50% share)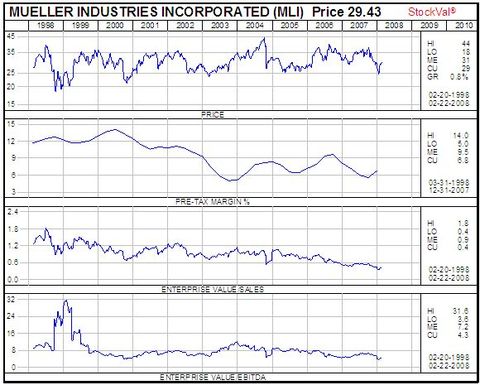 MLI makes copper, brass, aluminum and plastic tubing and fittings that go primarily into new construction residential and commercial HVAC, but other markets as well. As you can see in the chart above, the valuation is at a 10-yr low off of relatively low margins. An EXTREMELY important thing to understand is that the price performance is much better than it appears. In late 2004, the company made a massive one-time dividend of cash and debt ($15 per share). If one adjusts for this dividend, the price performance over the past few years looks much better than the chart conveys.
I spoke to the CFO and discovered that this company isn't too concerned with short-term blips. There are no conference calls or guidance, and the company doesn't attend conferences. Mr. McKee informed me that the company seeks to be the low-cost producer of this commodity and wants their customers to view them as "easy to do business with". I also learned that the company operates on a constant $ margin, which ends up suggesting lower percentage GM (NYSE:GM) when copper is rising in value. What this means is that the higher copper prices go, the lower their profit margins are. Earnings, then, are more related to volumes rather than fluctuations of material prices. When I look at home builders, which are laden with debt and with above-market inventory, I see a disconnect. You can't build a house without the stuff that MLI sells, so it should do well in stabilization. I have a strong belief that there will be growth in certain geographies that will ultimately outweigh the weakness in other geographies, like FL and CA. Unlike the builders, MLI, which does sell into other markets as well, has a great balance sheet – no inventory problems, no liquidity issues.
I can't say that I am excited about this business, and I am hard-pressed to name any catalysts. To me, though, it looks like they know what they are doing. Housing turnover decline and copper prices would seemingly harm a company like MLI, yet their EPS have held up well since the housing market turned in 2005. I like the fact that they stick to their niche and understand what it takes to succeed in providing a commodity product. Because the material costs represent such a high percentage of the overall cost of their products, high shipping costs and the limited ability to benefit from lower labor costs protects the company from foreign competition. I conclude that the stock is worth significantly more than the current price, making it a good candidate for a core holding in the Industrial sector that is unlikely to suffer from margin compression that will be impacting so many other firms. Over the next 5 years, the stock has a great chance of enjoying an expanded valuation off of a higher earnings level. This relatively sleepy stock could actually double if that is the case.
Disclosure: Author has a long position in MLI