Shares of chip-maker Marvell (NASDAQ:MRVL) have fallen by two-thirds to a recent $11 amid an options backdating scandal that played with shareholder confidence and decimated its executive staff. Barron's Bill Alpert says Marvell's outlook is pretty darn good: it is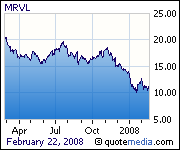 working to stop its management gaps, and recently depressed margins are due to rise as its expenses level off.
Marvell's disk-drive chips -- already a mainstay of almost every hard-drive product, and which generate almost half of its revenues -- are about to get a major upgrade called "iterative decoding" that will allow hard-drive makers to exceed the technology's current size limitations. It has also begun producing similar drive enhancers for Blu-ray DVD drives.
Anxiety over rumored snags with mobile chips that promise to 3G-enable BlackBerrys and other smartphones have also pressured share prices; investors will "rejoice" when the new BlackBerrys roll out.
Marvell is working hard to fill its CFO vacancy after the previous CFO resigned amid options backdating issues. It appears co-founder and wife of CEO, Dai Sutardja, a key mover in the company, may strike a deal with regulators that will allow her to return.
Analysts think Marvell's multiple product cycles could see revenue grow 30-50% annually over the next 3-5 years, during which times earnings, and shares, could easily double.