"You don't know what you're doing," my wife said. "We need to find a broker, someone who's been trained in how to invest. Someone who knows what they're doing." She'd said that before, and I'd let her get away with it. Until last October. That's when I decided that my high-priced broker really didn't have my best interests at heart, and if I didn't want to end up being a Wal-Mart greeter on the graveyard shift just to make ends meet in my Golden Years, that I needed to take matters into my own hands.
This becomes the pivotal moment in my investing life.
After 15 months of neglect and a lot of resulting red ink, I decided that my broker probably felt that my account was "too small to matter" to his firm. I reasoned that I could do a better job managing my IRA money in the approximately 17 years I've got left before I have to retire, but needed some evidence of this to convince my wife that 1) I really do know what I'm doing, and 2) I can do it better than our broker had been doing it for us. After unloading a bunch of positions that had gone horribly awry in the time that my IRA had been in my broker's custody, I split the now-available cash into two groups, one of which I went ahead and took his advice with, the other of which I made my own picks with, after doing a bit of research. A little over seven months later, here are the results:
My Broker's Picks
| | | | | | |
| --- | --- | --- | --- | --- | --- |
| | | | Days | Buy | % Gain |
| Company | Ticker | Yield | Held | Comm | or Loss |
| Alamos Gold Inc. | (AGIGF.PK) | 1.04% | 231 | ($92.95) | -3.47% |
| Contact Energy | | 2.81% | 176 | ($100.95) | -18.06% |
| Keppel Corp Ltd | | 3.87% | 230 | ($246.35) | 3.92% |
| Petrochina Co Ltd | | 4.75% | 213 | ($90.15) | -4.92% |
| Peyto Energy Trust | | 4.00% | 214 | ($95.95) | -19.68% |
| Telstra | | 7.79% | 230 | ($100.30) | 9.59% |
| | Average-> | 4.04% | | Net-> | -3.45% |
No surprise, they're all non-USA positions. Alamos Gold is such a new company I can barely find any information about it. It's part of his strategy to give me some "anchors" in precious metals. In a later discussion he tells me that "gold is more volatile than the stock market". So why am I in gold? At this point, the next time gold surges, I'm selling AGIGF.PK.
Contact Energy is a New Zealand utility that had one problem after another, resulting in it cutting its dividend and hoping for a better second half of 2012. I decided not to wait that long and cut it loose on April 18, 2012 for the loss you see above. If I'd stayed with it until now my loss would be -24.46%, as the price has continued to slip.
Keppel Corporation is a small beacon of hope, and it was actually doing pretty well until the Q2'2012 downturn when most if not all oil and gas-related stocks took a major turn for the worse. In order to get into it I had to invest in 1,000 shares, which is most of the reason why the "Net" number in the table above isn't worse than it is for that group. This one I have high hopes for and will hold onto for a bit longer, waiting for the energy sector to rebound. If it gets up to where it was four months ago and I've got a good profit on the books, I may not wait around for the Q4 dividend that I think, but am not sure, is coming, and sell. Judging by what it cost me to buy it, I can't wait to see what the commissions to sell it will be.
PetroChina has pretty much moved sideways the whole time I held it, and I was waiting for the promised dividend to show up when I lost patience with it and sold it on May 25th. It has since gone up a wee bit, but it moves in terms of a few cents up or down every day, and that's in Hong Kong dollars. I'm also not interested in being in any Chinese national companies at the moment, so no love lost there. I probably should have stuck with it a bit longer to reap the dividend, but I did what I did and now that money has been put to better use.
Peyto Energy Trust ticked me off from day one. Something about it I just did not like at all, and it didn't disappoint in that regard, going steadily downward. I finally decided I'd had enough and on May 25th sold it for the loss you see in the table above. If I'd held onto it my loss would currently be -23.11%, so good riddance.
Telstra, the main telecom in Australia, is the only real bright spot of the bunch, and its dividend, while smaller now than when it was purchased for me, is still pretty hefty. I'll take the 9.59% increase in equity since October, too.
Here's a look at a chart of what I've sold out of these stocks:
(Click to enlarge.)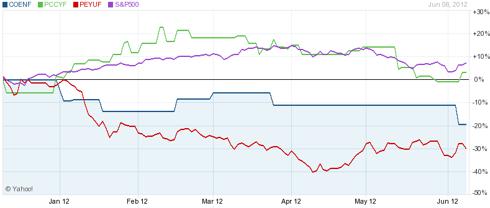 Click to enlarge
And here's a look at what I've held on to: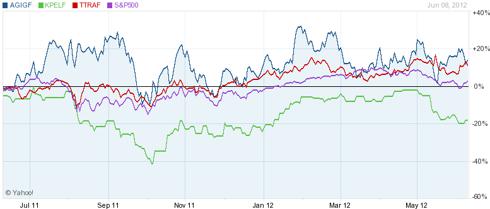 Click to enlarge
Now For My Picks
| | | | | | |
| --- | --- | --- | --- | --- | --- |
| | | | Days | Buy | % Gain |
| Company | Ticker | Yield | Held | Comm | or Loss |
| Abbott Laboratories | (NYSE:ABT) | 3.12% | 231 | ($81.95) | 13.64% |
| Kimberly-Clark | (NYSE:KMB) | 3.45% | 231 | ($81.95) | 14.92% |
| McDonald's | (NYSE:MCD) | 3.04% | 213 | ($81.95) | -2.18% |
| United Parcel Service | (NYSE:UPS) | 3.01% | 231 | ($81.95) | 5.72% |
| | Average-> | 3.16% | | Net-> | 8.12% |
It was at a relatively early stage in my understanding of picking investments that I made these choices, and for the most part I went with them because 1) they all have decent yields and low payout ratios, and 2) they're household names, and one piece of advice I got early on was "invest in what you know". I picked Abbott Laboratories over Johnson & Johnson (NYSE:JNJ) because of the recall problems that JNJ was having, and because that stock really doesn't move that much up or down. ABT has generated a nice equity return, and the yield is solid. I didn't know at the time I bought it that it was going to be split up into its pharma and non-pharma parts, and I'm still not sure what I'm going to do with what I end up with. But so far, I'm very pleased with the results.
I chose Kimberly-Clark over household goods peers Clorox (NYSE:CLX) and Procter & Gamble (NYSE:PG) literally on a hunch. I know that's not very scientific, and I can't recall all the details of why I chose KMB over the other two, and JNJ, but I'm glad I did. KMB has appreciated nicely since October, while CLX has only gone up about half as much and PG and gone down about -3% since then. Guess I just got lucky on this one.
McDonald's seemed like a no-brainer to me at the time, but I think I got a bit caught up in their 2011 performance and jumped the gun a little bit. I like that they hold so much real estate in terms of the land and buildings that their franchisees lease from them, and I think they'll do well in expanding in China. But then I got to thinking about their ability to actually own the land and buildings in the Middle Kingdom, and the bad record the Chinese government has had in terms of personal property rights, and started having second thoughts. I sold my position in MCD on May 24th, 2012 at exactly the same price that I'd bought it at, so I was really only out the commissions, less the one dividend payment I'd received, and that's the number you see reflected in the table above. If I'd held onto MCD I'd be down -7.9% right about now, so I'm feeling pretty good about how things turned out there. I'll be looking to get back into MCD at a later time and, hopefully, lower price.
With the tectonic shift in retail spending away from brick-and-mortar establishments and into the coffers of Amazon.com (NASDAQ:AMZN) and their ilk, UPS seemed like a solid choice, as someone has to deliver all of those goods that are being bought online, and I see more of their trucks rolling around than I do of FedEx's (NYSE:FDX). At a 5.72% increase in value since I bought it, UPS has kept just ahead the S&P500 (NYSEARCA:SPY), and I think the future's still bright for "Brown".
(Click to enlarge.)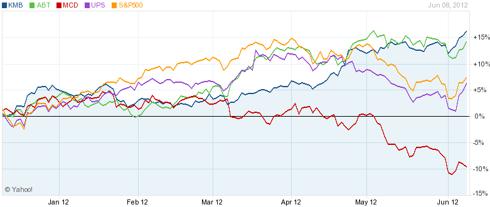 Click to enlarge
One thing that struck me as I pulled these numbers together was how much more I had paid in commissions to buy those foreign stocks that my broker picked out for me than I did for each of the American stocks that I'd picked out. Well, I guess the old joke about the wolf and the rabbit applied there, and he was just running for his lunch while I'm running for my life.
Am I smarter than my former broker? I don't know, and maybe it hasn't been long enough to really tell, but it sure looks like I made better choices than he did. In the end, my results convinced my wife that I really had learned how to do this investing stuff well enough for her to trust me with our life savings. I've changed brokers for everything but three positions that I continue to maintain at the old firm, including Keppel and Telstra, as well as Duet Group (OTCPK:DUETF), which is an Australian utility with a nice 8% yield and which has increased in value by about 10% since they first got me into it in July of 2010. Since I switched brokers I haven't paid more than $2.23 on any one trade, including options, and most trades have only cost me a buck. As of this writing my new portfolio is ahead of SPY's year-to-date results by a scant 2.15%, but for a newbie investor who's still learning how to manage his money, I'm pretty pleased with that lead.
If you're trying to decide whether you should take control of your portfolio and your destiny, I recommend giving it a shot. After all, it's your money, your future, and your retirement, not your broker's.
(There's more to this story, or at least to the introduction of this story. To keep this article to the appropriate length for the Seeking Alpha Editors' purposes, I've shortened the beginning of it, but I will be posting the story's entire intro (just a few more paragraphs) in an Instablog. I hope you'll venture over there and read the rest of what led up to my "life changing moment", and see if you have any similar stories about your broker, current or former…)
(All graphs courtesy of Yahoo! Finance.)
Disclosure: I am long ABT, AGIGF.PK, OTCPK:DUETF, JNJ, KMB, OTCPK:KPELF, OTCPK:TTRAF, UPS.
Additional disclosure: I am not a professional investment advisor or financial analyst; I'm just a guy who likes to crunch numbers and can make an Excel spreadsheet do pretty much whatever I want it to do, and I'm doing my best to manage my own portfolio. This article is in no way an endorsement of any of the stocks discussed in it, and as always, you need to do your own research and due diligence before you decide to trade any securities or other products.