The Solar Industry.
A market that had so much promise just two years ago...now does not. Tariffs, lack of demand, Europe's demise, and a collapsing market have all led to the demise of the solar industry. The companies in it are hanging on by a thread with extreme levels of debt, lack of operating income, and lack of upside. These stocks have very little catalyst, and until this market corrects itself, for the most part, should be avoided. We wanted to take a closer look at the solar industry once again as we hit the summer time and the heat turns up. We have coverage of twelve solar companies.
Here are our most updated price targets, ratings, and buy/sell ranges: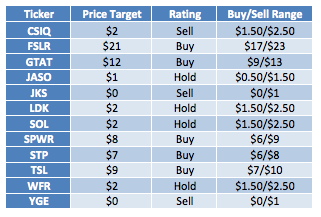 Buys:
The companies we like right now as investments are First Solar (NASDAQ:FSLR), GT Advanced Tech (GTAT), SunPower (NASDAQ:SPWR), Suntech Power (NYSE:STP), and Trina Solar (NYSE:TSL). For all of these companies, though, we foresee these investments as at least twelve month investments. The top ones we like are Trina and GT Advanced. Trina leads the way as one of the cheapest manufacturers of crystalline silicon. Further, we believe the company has some of the most upside when the market corrects. We want to be invested in the best names in the industry that offer the best opportunity on a rebound in the market. Along with Trina, we like GTAT because the company works within both the solar industry and LED industry. We believe that GTAT has a lot of upside as it remains profitable during the general downturn and has tons of value at current levels. FSLR, SPWR, STP all have solid niches in the market and have strong value. We like that FSLR and SPWR have strong American ties that are protected by tariffs now. STP has done well to manage the diminishing market, and it looks to breakeven in 2014 again.
Holds/Sells:
The companies we do not like are Canadian Solar (NASDAQ:CSIQ), JA Solar (NASDAQ:JASO), JinkoSolar (NYSE:JKS), LDK Solar (NYSE:LDK), ReneSola (NYSE:SOL), MEMC Electronics (WFR), and Yingli Green (NYSE:YGE). There is going to be consolidation in the industry at some point and some companies going bankrupt. Right now, we see very little value in any of these companies, and they have all dealt very poorly with the market conditions. All have seen rising capital expenditures, have not been able to pay off debt due to negative cash flow, and do not seem to have upside any time soon.
In addition to our long-term analysis, we also took a look at how these companies have performed in the summer in the past ten years. We wanted to compare the companies we like long-term with the companies that tend to perform well in the summer to see if any will be solid investments for the summer. Our results, however, were fairly inconclusive. Here was what we found for % of times the companies went up in the June 1 - August 31 period: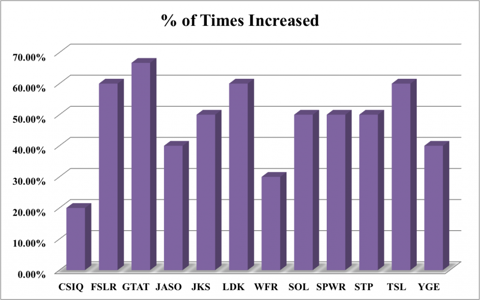 Click to enlarge
As we can see, none of the companies shine in this area. GTAT, FSLR, and TSL are all solid at above 60%, but its not showing a strong pattern. The companies all have seen extremely wide ranges of gains and losses as well. From this information, we could not conclude anything.
Overall, that pattern seems to be the way for solar. Right now, the industry is in a rut. If you believe that solar will exist in the future as a viable energy source, invest in some of the strongest names like TSL, GTAT, and FSLR. If you do not, then avoid this sector altogether.
Good Investing,
The Oxen Group
Disclosure: I am long TSL, GTAT.