We had earlier commented that last week's trading action was suggestive of an 'inside week' formation - a consolidation after recent steep losses. This week's action was similar, with the front-line indexes staying confined within last week's trading range, forming a 'double inside week'. Inside weeks are continuation patterns, with double inside weeks being even more so. Bears have certainly taken a breather after the sharp blood-letting in January.
Despite the ups and downs during the week, bulls can probably claim a semblance of victory at the end, considering multiple negative news-flow (dismal Philly Fed data, sharp rise in inflation, crude rising to over $100 a barrel), finishing the week with less half a percentage gains. Other markets, however, did much better, with Bovespa closing the week with 7% gains.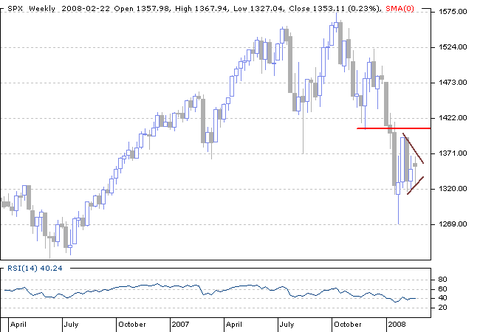 The trading action from the panic January lows can be likened to that of a bearish pennant. A bearish pennant occurs because prices seldom decline in a straight line for an extended period of time. Prices will typically take brief pauses, seemingly to 'catch their breadth', before resuming their trend. The lead-in phase (the pole of the bearish pole & pennant formation) occurs as the market adjusts to unfavorable events/news-flow pushing prices sharply lower, with nervous sellers and fresh short-sellers being quite willing to sell even at lower prices. As prices drop, early sellers who had sold short at higher levels look to cover their positions even as some others start bargain-hunting.
The forces are now balanced between those who are willing to support the market in anticipation of a rebound and those who believe the negative economic/fundamental developments warrant lower prices going forward. The stock begins to consolidate in a narrowing range on decreasing volume, even as the bearish news-flow and negative market sentiment persists. Things finally come to a head, when a negative news trigger comes out that leads a secondary collapse in prices through the lower line of the pennant formation. This phase (lead-out phase) is marked by a noticeable increase in volume as sellers - new and old - outnumber the bargain-hunters and the profit-takers. Prices decline sharply in this period - usually as much as the height of the pole - albeit at a slightly more gradual pace.
While the action over the last few weeks fits this description rather nicely, it is important to remember that patterns that everybody looks at and recognizes tend to have a high failure rate. Everybody seems to have an opinion on what this consolidation means for the market. As with any chart pattern, the challenge is not how to trade the break, but what to do once the break occurs.
Interestingly, the indexes witnessed a phenomenal rebound (as much as 250 points on the Dow Jones Industrials) in the last half hour on Friday after CNBC reported that a bailout plan for troubled bond insurer Ambac Financial could be announced next week. As had occurred on Wednesday as well, investors at times set aside existing concerns and snap up stocks either to cover bets that stocks would fall or amid genuine, if tentative, optimism that policy makers could help right the economy. Wall Street's bursts of optimism haven't proved to be long-lasting though. A government-backed plan to aid bond insurers could nevertheless help boost confidence in the bond market, where a lack of confidence has choked the flow of money.
We dissect the Philly Fed manufacturing survey this week. Manufacturing has been reasonably resilient thus far; but as the survey reveals, chinks are developing on that front as well. We will keenly watch whether the ISM Manufacturing index, that measures manufacturing activity on a national scale, comes along similar lines. We next review the looming prospect of stagflation that has been further emboldened by this week's CPI data. It is a catch-22 situation for a Fed that is caught between two evil damaging forces. This should make for an interesting read.
The Economy Continues To Slide
The Philadelphia Federal Reserve's general business conditions index - a widely used gauge of the health of the region's manufacturing sector - plunged to a reading of minus 24 in February, from minus 20.9 in January. Negative readings indicate a contraction in activity, while positive readings denote expansion. This was the third straight negative reading for the index and its lowest level since February 2001. The sudden slide into negative territory is reminiscent of the plunge seen in the Dec 2000 - Mar 2001 period, just before the 2001 recession.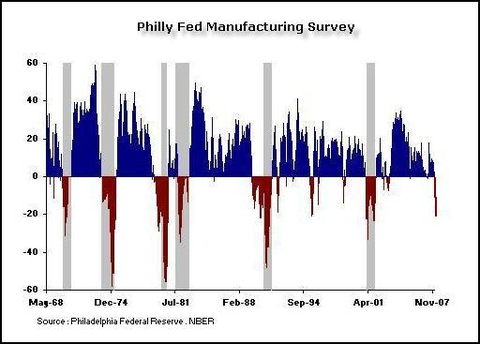 The Philly Fed index, whose history dates back to May 1968, has proved to be a fairly reliable gauge of business cycle turning points and often - but not always - a prelude to the ISM index, the most prominent of survey-based manufacturing indicators. The Philly Fed survey, however, differs from the ISM in that it is not a composite of separate metrics of activity; if an ISM-type of weighting of the Philly Fed sub-indexes were done, it would indicate a reading of 45.9 in February from 46.6 the prior month (source: Bear Stearns Research). This, coupled with the recent Empire State Survey raise the chances that the national ISM index, which has held fort thus far, will dip below 50 for the month of February (slated for release on March 3).
S For Stagflation
We have pondered earlier if inflation was the joker in the pack that could potentially restrain the Fed's rate-cutting spree. Certainly inflation fears did not prevent the Fed from lowering the benchmark Fed funds rate by a whopping 225 bps in just six months. But this week's data will certainly force the Fed to rethink the magnitude and pace of subsequent rate cuts.
The Bureau of Labor Statistics reported this week that seasonally adjusted consumer price index jumped up 0.4% in January and is up 4.3% over the past 12 months, near a 16-year high. This is a sharp jump from the 2% reading in August, despite the economy slowing significantly in the fourth quarter. Even after stripping out surging food and energy costs - the Fed's preferred so-called 'core' inflation - prices rose 0.3% in January, up 2.5% from the prior year, a 10-month high. This was the biggest seasonally adjusted one-month jump in core CPI in 19 months.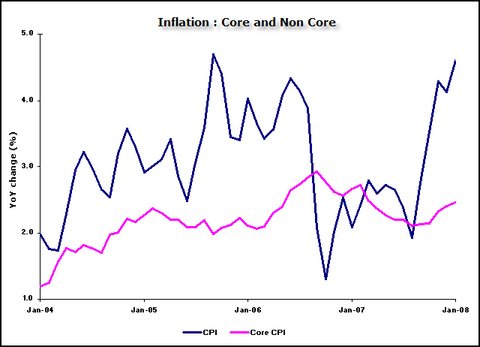 This should not have come as a complete surprise at all. Crude oil crossed the much-watched $100 mark this week, much to the chagrin of pundits on Wall Street. Gains in prices of industrial materials and higher prices of grains, soybeans and other soft commodities pushed the CRB index to near record highs this week. Gold surged by another $40 this week to a phenomenal $948; not to be left behind, other precious metals have seen similar jumps over the past few weeks. Bond traders had certainly seen the future early, having pushed the yield at the long end of the curve almost 50 bps over the last few weeks.
A simultaneous rise in unemployment (Dec and Jan) and inflation, coupled with dwindling growth has the market wondering whether we are headed for 'stagflation' - a period of rising inflation despite slowing or stagnant growth. Stagflation, a term coined by British Parliamentarian Iain Macleod in 1965, came to define the US economy between 1970-1981. The economy suffered three recessions in that period, with inflation soaring to 15% and unemployment rising to 9%. It took a very severe hand from the toughest of central bankers, Paul Volcker, to finally conquer inflation by dramatically raising interest rates. The monetary tightening did have its repercussions, leading to a severe recession in 1981-82.
The seeds of the 1970s stagflationary phase were actually planted in the late 1960s, when President Johnson spurred growth by the frantic spending on the Vietnam war, helped by a complying Fed which failed to sufficiently rein in that growth. Things came to a head in the early 1970s when the Arab oil embargo dramatically drove up oil prices and overall inflation levels. President Nixon, in conjunction with the then Federal Reserve Chairman, Arthur Burns tried to rein in inflation by raising rates and imposing controls on wage and price increases. However, despite pushing the economy into a severe recession in 1974-75, inflation and unemployment failed to revert back to the levels of the previous decade. Political pressure finally led to the stepping down of Burns in 1978.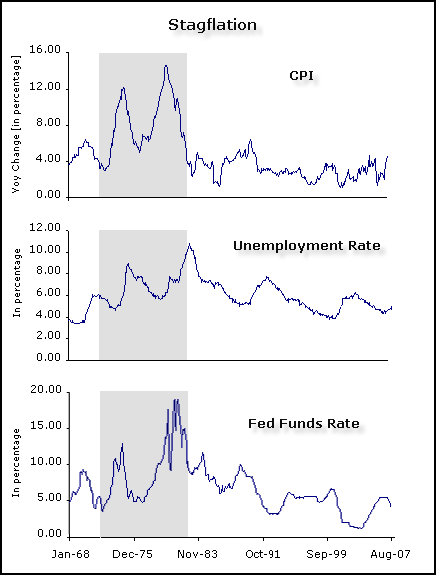 Stagflation is a scary word for most economists; it is almost the sum of all fears. Having said that, as with anything that scary, fears of stagflation have actually been more common than instances of actual stagflation. The beginnings of the past two recessions (1990-91 and 2001) have typically seen a brief rise in inflation, that subsequently trended down as unemployment kept rising. The current situation, although carrying a similar title, differs significantly in its contents. Sure, the current pace of inflation is a problem. In a speech in June 2006, Bernanke indicated that core inflation, then running at 3.2% over the prior three months and 2.8% over the prior six months, was at the upper end of his tolerance level. The 3-month and 6-month core CPI now works to 3.1% and 2.7% respectively, just shy of what Bernanke had deemed to be too high. Either we have reached the limit of what the (current) Fed has been willing to tolerate in recent years, or else they have moved the bar.
It is important to note that a persistent escalation of inflation would occur only if workers and the firms that employ them come to expect the elevated inflation to persist into the future and set their wages and prices accordingly. Expected inflation is an important determinant of future inflation. If the public expects higher inflation, workers demand higher wages, prompting employers to raise the price of their goods, which results in higher actual inflation.
Fixed-income securities markets usually provide timely information about inflation expectations. The expected inflation rate - implied by the gap between the yield on 10-year nominal Treasury bonds and that on bonds whose coupons and principal are indexed to rise with CPI [TIPS] - has remained largely unchanged over the last year. Further, the median consumer expectations of price change over the next 12 months, as indicated by the University of Michigan survey, has risen modestly over the past few months but remains well short of danger territory.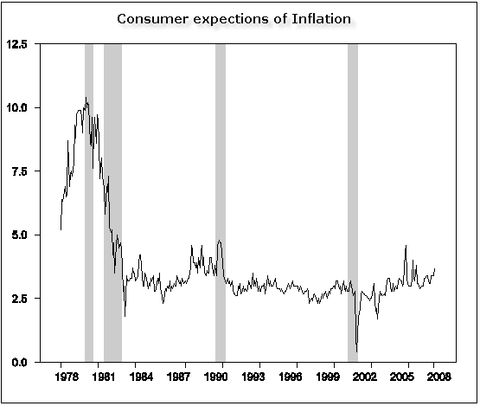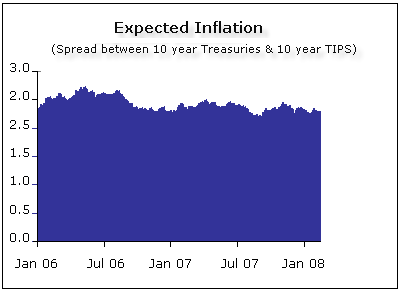 The Fed's U-Turn
In this context, it is also worthwhile to review the minutes of the January 30-31 meeting. We quote:
Most participants viewed the risks to their GDP projections as weighted to the downside and the associated risks to their projections of unemployment as tilted to the upside.... The possibility that house prices could decline more steeply than anticipated, further reducing households' wealth and access to credit, was perceived as a significant risk to the central outlook for economic growth and employment... The potential for adverse interactions, in which weaker economic activity could lead to a worsening of financial conditions and a reduced availability of credit, which in turn could further damp economic growth, was viewed as an especially worrisome possibility.
The Fed also revealed details of its inflation outlook, stating that,
several participants pointed to the possibility that real activity could rebound less vigorously than projected, leading to more downward pressure on costs and prices than anticipated. However, participants also saw a number of upside risks to inflation. In particular, the pass-through of recent increases in energy and commodity prices as well as of past dollar depreciation to consumer prices could be greater than expected. In addition, participants recognized a risk that inflation expectations could become firmly anchored if the current elevated rates of inflation persisted for longer than anticipated or if the recent substantial easing in monetary policy was misinterpreted as reflecting less resolve among Committee members to maintain low and stable inflation.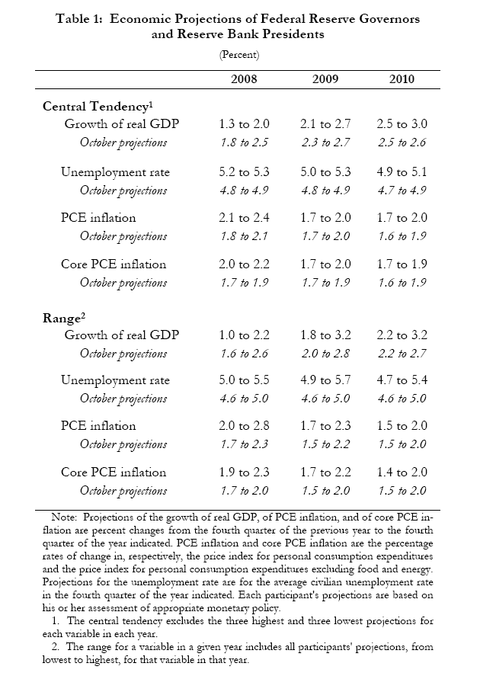 That said, the Fed's recently introduced three year projections for economic growth, unemployment and inflation are worth a mention. The average Fed member is now considerably more bearish as compared to October. The Fed forecast is for 1.3-2.0% growth in 2008 and 2.1-2.7% growth in 2009, a significant drop from October estimates that called for at least 0.5% faster growth. Also, interestingly, Fed members project inflation for the year to be between 2.1-2.4% with core inflation coming in at 2.0-2.2%. This is in stark contrast to what is currently being experienced. Clearly, for inflation to meet that projection, it will have to slow significantly in the latter part of the year.
This contention is not intellectually inconsistent; recessions are generally disinflationary. The Fed remains concerned about inflation as it should. But their forecasts reflect the logical effects of a slowing economy. The minutes reveal a projection, that is as subtly bearish as would be politically and socially acceptable. A forecast that anticipates an outright recession or a persistently high inflation or a 6% unemployment rate would cause panic on the Street and a loud call for the Fed chief's head. Having said that, missing a recession entirely would cause people to lose confidence in their projections entirely. It will be interesting to see how the forecasts change over time as the new data gets factored into the projections. We believe that the forecasts, at least the GDP projections, still remain fairly optimistic in light of recent data releases.
Catch-22 For The Fed
The latest frenzy over the multiple, repeated sightings of the dreaded stagflation enemy is perfect fodder for the media. Fear is the primary staple of financial journalism. Expect to see a lot more debate on stagflation in the coming days. Our take on this is fairly simple: the booming period of growth, in any meaningful sense of the term, is over. Whether we are technically in a recession or merely on the cusp of one is immaterial; there is growth only in isolated sectors and pockets of the economy. Further, there are compelling reasons to believe that a contraction this time around would be more severe and more protracted than the previous two recessions. The significant slump in demand should prove to be a sufficient douse to the inflationary fire. The peeling of the sub-prime onion has led to a collapse in residential real estate prices, on a scale not witnessed since the 1930s, a remarkable unraveling of the dangerously over-leveraged and reckless - yet all-important - banking system and a dramatic increase in household insolvency. This has created an economic Lernaean hydra, not seen since the Great Depression.
Having said that, it is important to appreciate the risks as they are. A persistently weak dollar (the dollar has lost 37% of its value in the past five years) raises the price of all dollar-denominated commodities, such as oil and other raw materials, as well as imported goods. Even if consumption of products falls in the United States, resilient demand from emerging markets such as China and India could cause prices of many goods to remain persistently high. Counter-intuitively, the only malaise for a stagflationary scenario is a significant recession in the US that also takes down global growth with it.
The Fed is in a Catch-22 situation, caught between a possible stagflationary environment versus the serious risk of a general deflationary collapse and onset of a protracted, depression-like economy. The Fed now knows which is the greater of the two evils. A 125 bps rate cut in January signaled beyond doubt where the Fed's concerns lie. The sharp plunge in economic indicators over the last few weeks is consistent with an economy that is rapidly spiraling towards a recession. An expected slowdown which requires monetary easing of that magnitude will surely pull demand down with it.
We believe the Fed will cut rates at least another 25 bps at its March 18 meeting (and quite possibly 50 if we get another dreadful unemployment report) We would not be surprised to see the target Fed funds rate at 2% by the middle of the year. But, having said that, there will certainly be more reluctance to follow the easing path here on.