We have always admired Jamie Dimon's leadership and we think the one mistake Sandy Weill made in his career was firing Dimon, because Dimon did not promote Jessica Weill Bibliowicz at the Travelers Group. We respect the excellent job he did in restoring Bank One's profitability and arranging for its sale to JPMorgan Chase (NYSE:JPM). With his performance at Travelers Group and his ability to turnaround Bank One, it was no surprise that he was slated to succeed William Harrison as CEO of JPMorgan Chase in 2006, after serving a stint as President and Chief Operating Officer. In 2007, the year before the crisis, JPM's EPS had reached $4.38, up 35% cumulative from 2003 (the year before JPM acquired Bank One). JPM even increased its EPS in 2011 by 2.3% versus 2007 despite dealing with the following headwinds:
A multiyear global financial crisis

An increased share count due to rescuing Bear Stearns and WAMU and being forced to issue stock and take TARP by the U.S. government

Dealing with limitations on buying back stock and paying dividends
Click to enlarge: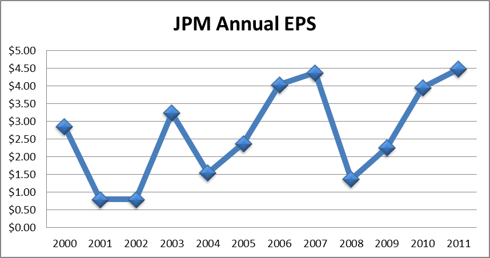 Click to enlarge
Source: JPMorgan Chase Annual Reports 2000-2011
Jamie Dimon has received rave reviews for his shareholder letters, including from Warren Buffett himself. We also like the robust reporting of JPMorgan Chase's business line performance in JPM's annual reports, quarterly reports and earnings press releases. We believe that other diversified financial services holding companies would do well to emulate it for the annual reports that are released to those companies' shareholders.
Click to enlarge: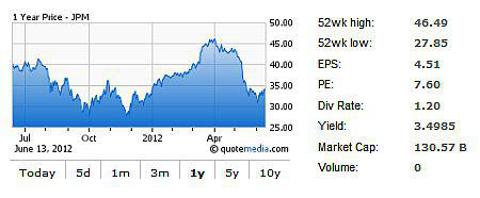 Click to enlarge
JPM has been in the news because its Chief Investment Office had engaged in trades that intended to reduce risk-weighted assets in anticipation of the new BASEL requirements. Instead, it channeled the spirit of Rube Goldberg and engaged in a complex strategy that entailed adding positions that it believed would offset the existing ones. This strategy, however, ended up creating a portfolio that was larger and ultimately resulted in even more complex and hard-to-manage risks. We like to think that when Dimon confronted Ina Drew, she probably told him that "our intentions were for hedging and to reduce risk", to which he probably replied "Did you think that if this strategy resulted in a $2B loss, your intention could help rectify it?"
We admire Dimon's handling of this matter. When it came to his attention, he held the people who caused this loss responsible for their actions and replaced them with new leadership. The new leadership in the CIO revamped risk governance and instituted more detailed limitations across that unit to ensure that appropriate risk measures are in place. Dimon was also able to honestly and candidly analyze and articulate what exactly when wrong. In Hagstrom's The Warren Buffett Way, the author quoted Buffett as saying that "The CEO who misleads others in public may eventually mislead himself in private. Having observed Jamie Dimon's 30 year legacy of outstanding achievement in the diversified financial services industry, we don't have to worry about him misleading others in public or misleading himself in private.
When Dimon appeared before the Senate Banking Committee, we think that Senator Richard Shelby (R-AL) said it best when he said that while JPMorgan Chase CEO Jamie Dimon has candidly and perspicaciously discussed $2B in private losses, the executives of Fannie Mae and Freddie Mac are engaging in Mark Twain's Doctrine of Silent Assertion by refusing to testify about $154B in taxpayer losses to bail out those putrid edifices of crony capitalism.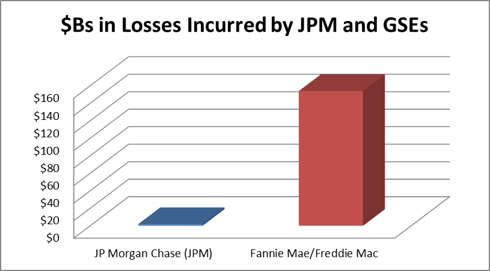 Click to enlarge
Source: Senate Banking Committee hearings
When asked about his remarks that the trading strategy was a tempest in a teapot, he pointed out that he relied on what the former head of CIO Ina Drew and the risk officers told him and who assured him that things were ok. He pointed out that as CEO of a large multinational, multi-division banking institution; he had the right to rely on them because he thought that they were doing their jobs. We expect that good CEOs are willing to give responsibility and accountability to their subordinates; after all, if we were CEOs, we wouldn't want staff that we need to babysit. When he realized that their judgment was flawed, he not only replaced them, he pointed out that the departed officers will be subject to pay clawbacks.
When asked about his opinion about what role regulators can play, he couldn't have said it better when he said that JPM is a better company because of auditing criticisms but added that regulators need to be given realistic tasks. "They can't stop something like this from happening. It was purely a management mistake," Dimon said. Dimon elaborated further when he said regulators should make sure there are high capital levels and good liquidity, proper disclosures, proper governance and proper risk committees. "That won't stop mistakes but it will make them smaller and fewer and far between."
When Rhode Island Senator Jack Reed asked if JPM's strategy would have been prohibited under the Volcker Rule, Dimon pointed out that the Volcker Rule hasn't even been written yet.
We agree with Dimon that a bank's biggest risk is in its loan portfolio. We agree with him wholeheartedly to the point where we have written glowing reports about banks which are willing to sacrifice yield in favor of credit quality. We believe this because a bank typically earns the highest gross interest income on its loan book and we believe it is because nearly all of its loans are to individuals and institutions that probably can't access the bond markets for financing.
When Senator Bob Corker of Tennessee asked Dimon what would happen if JPM was not allowed to hedge risks in its $700B loan portfolio, Dimon pointed out that a bank might then reduce risk, make fewer loans and increase the price of loans. Furthermore, a bank couldn't protect itself against systemic events and systematic risks. When asked for his advice on fixing the U.S. economy, Dimon candidly pointed out that the U.S. has serious issues but you policy makers need to acknowledge them to fix them.
In conclusion, we believe that despite the $2B in losses associated with the trades, we believe that JP Morgan is a top-tier diversified financial institution and we believe that bank has taken the necessary steps to ensure that it still has its fortress balance sheet. Even though we don't have a position in JPMorgan Chase, we have a strong respect for Jamie Dimon and his leadership of the company. Jamie Dimon said he is proud of JPM and proud of JPM's employees and we believe that Jamie Dimon has earned the right to be proud of JPM, its employees and his career in the industry. We also liked that when asked by Senator Shelby what he learned from the incident, he said "No matter how good you are, never get complacent."
Click to enlarge: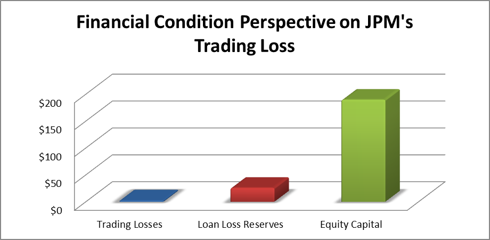 Click to enlarge
Source: Senate Banking Committee hearings, and JPM's Q1 2012 10-Q, Amounts in $Bs
Disclosure: I have no positions in any stocks mentioned, and no plans to initiate any positions within the next 72 hours.
Disclaimer: Saibus Research has not received compensation directly or indirectly for expressing the recommendation in this report. Under no circumstances must this report be considered an offer to buy, sell, subscribe for or trade securities or other instruments.