If you could invest in a country fund where the aggregate price of the included companies was a mere 1 and 1/2x the value on paper (a.k.a. book value), might you give the country fund a look? What if the current price-to-earnings ratio for that country was 25% lower than the average for the region? Would that entice you? And if you could pocket a yield that was commensurate with intermediate U.S. treasuries... just for participating in the country investment... would you be persuaded to bring in cash from the sidelines?
The iShares Belgium ETF (NYSEARCA:EWK) is significantly under-appreciated by any fundamental valuation model. Yet there are plenty of undervalued investments in existence, and the public is still scared off for a variety of reasons. For example, the S&P Select Financial Spider (NYSEARCA:XLF) has a P/B of just 1.5, a P/E of 10.5, and a commensurate yield with intermediate treasuries.
And therein lies the problem. The subprime crisis/financial system breakdown has ripped apart banks and insurers around the globe. EWK has a narrow focus of just 23 companies where financials comprise 50% of the total holdings. Ergo... Belgium has not been one of Europe's darlings in the last 3 months.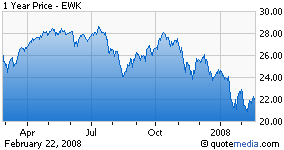 Belgium also struggles as an importer of commodities. As a resource-poor country, the commodity boom may be taking a bit of a toll.
Yet let's be clear: It's pretty much a global credit crunch issue. For those who may be willing to look beyond the immediacy of the world banking turmoil, EWK gives a healthy helping of global banking exposure. And it is less volatile than most of its peers in the single-country ETF arena.
I have criticized single-country ETFs in the past. From the unruly affect of one or two top holdings to sectors that dominate far too much of the country's pie, I tend to favor regional allocations. That said, for those who know how to protect themselves with stop-losses, and for those who believe in a worldwide recovery for financials, the iShares Belgium ETF (EWK) stands to benefit more than most.