Goldman Sachs has recently reiterated its BUY rating on McDonald's (MCD) while lowering the price target from $105 to $100. That comes in the midst of the recent sell-off which has seen the world's largest restaurant chain's stock price tumble from around $100 to $86.71 in a three month period ending last Friday.
Percentage change of McDonald's stock vs the S&P since December 2 2011: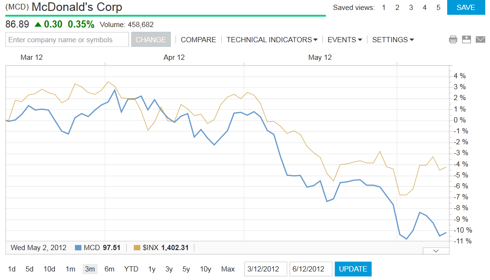 Click to enlarge
The newly minted billionaire Mark Zuckerberg recently took his Chinese bride Priscilla on a honeymoon visit to McDonald's in Rome and all Warren Buffett connoisseurs will remember how the Sage of Omaha has a card that lets him eat free at McDonald's restaurants in Omaha for the rest of his life. According to this article, the Buffett family has their Christmas dinner at McDonald's and Bill Gates owns a similar card, only its valid worldwide. In the article, Buffett gloated that the former president Bill Clinton has been denied the honor of such a card.
Jim Cramer has called McDonald's the place to eat in Paris and he has also branded McDonald's the Apple of food. It is the most valuable global non-technology brand, preceded globally only by Apple (NASDAQ:AAPL), IBM (NYSE:IBM) and Google (NASDAQ:GOOG).
I call McDonald's one of my 'Tyrannostocks'; it is a Tyrannosaurus Rex of the corporate world. There is no way another global restaurant chain will arise to dominate the market, and meanwhile, the stockholders of McDonald's shall reap the dividends of the hordes of tourists and travelers rushing into McDonald's joints in Europe, Asia and America every year. Also, and this is the ultimate accolade, it is a rich man's stock, as attested by the significant stake in the company held by Bill Gates through his charitable foundation: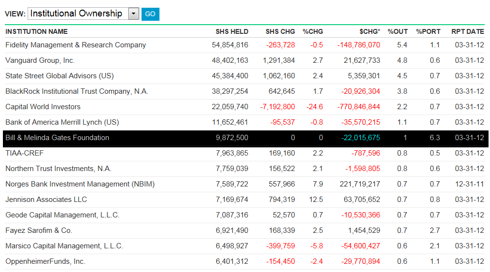 Click to enlarge
McDonald's' stock price has been sluggish during the 1st half of the last decade, but has safely beaten the S&P since 2006: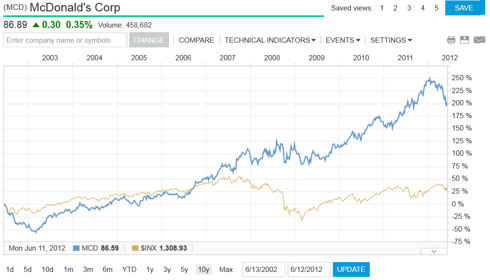 There was a public outcry against McDonald's during the first half of the decade, mainly influenced by the ridiculous Morgan Spurlock movie Supersize Me and the promotion of Subway sandwiches by Jared Fogle on Oprah as the sure way to lose weight. All these efforts by competitors didn't impair McDonald's profitability, so its financial performance is little short of stellar:
MCD INCOME STATEMENT: 10-YEAR SUMMARY
DATE

SALES

EBIT

DEPRECIATION

TOTAL NET
INCOME

EPS

TAX RATE
(%)

12/11

27.01 Bil

8.01 Bil

1.42 Bil

5.50 Bil

5.27

31.30

12/10

24.07 Bil

7.00 Bil

1.28 Bil

4.95 Bil

4.58

29.30

12/09

22.74 Bil

6.49 Bil

1.22 Bil

4.55 Bil

4.11

29.80

12/08

23.52 Bil

6.16 Bil

1.21 Bil

4.31 Bil

3.76

30.00

12/07

22.79 Bil

3.57 Bil

1.21 Bil

2.34 Bil

1.93

34.60

12/06

20.90 Bil

4.15 Bil

1.25 Bil

2.87 Bil

2.29

31.00

12/05

19.12 Bil

3.66 Bil

1.25 Bil

2.58 Bil

2.02

29.60

12/04

18.59 Bil

3.20 Bil

1.20 Bil

2.28 Bil

1.79

28.80

12/03

17.14 Bil

2.35 Bil

1.15 Bil

1.51 Bil

1.18

35.70

12/02

15.41 Bil

1.66 Bil

1.05 Bil

992.10 Mil

0.77

40.30
The above table implies a growth in EPS of 20% per year for the decade.
Current dividend rate: 3.2%

Number of shares compared to 2007: 87%
The above numbers imply that at the current dividend yield (if the dividend grows merely at the rate of inflation, which is unlikely as another at least 10% dividend increase is expected this fall) you shall recoup your investment in 30 years and be left owning a world class brand with all your investment returned. Also, the company consistently repurchases stock so there's a healthy percentage growth of your stake.
Out of a cash flow of $4.4 billion in 2011 McDonald's has spent $2.6 billion on dividends, giving a dividend coverage ratio of 1.7 times. Also, the corporation has spent $3 billion on stock repurchases bringing the total 'return to shareholders' to $5.6 billion- so the company had to raise funds externally to repurchase own shares. McDonald's has spent more on stock repurchases than on dividends in 3 of the last 4 years.
The recent sell-off in the markets has initiated a period of an opportunity to buy. I would not mind at all buying McDonald's at these prices though I'm sure that we will see another collapse of the stock markets like the one we have seen in 2007 in the next four years. Crisis will only enhance the value of McDonald's as food prices fall enlarging the company's margins and more people are attracted by the brand's value menus.
Disclosure: I have no positions in any stocks mentioned, and no plans to initiate any positions within the next 72 hours.