As we have posted about many times in the past, the word on the street is that Gilat Satellite Networks (NASDAQ:GILT) is for sale. After Thursday's strong earnings report, the big question is whether it or not should accept a potential offer? In fact, the company has rejected past offers.
Gilat reported very strong earnings and had good things to say about the rest of 2008. Gilat's Chief Executive Officer and Chairman of the Board Amiram Levinberg said:
The quarterly and annual results show a thriving core business, with record quarterly and annual revenues. We met our management financial objectives for 2007 with double digit revenue growth of 14% and, excluding the non-cash impairment, an expansion of our operating margin to 6.2% and net income margin to 7.9%.
Gilat chairman and CEO Amiram Levinberg said:
Our board of directors continues to evaluate a strategic transaction for the company. We expect our board will reach resolution in the coming weeks.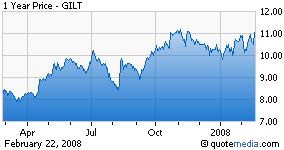 With a "thriving core business" the question is why sell? Why not keep growing the company organically? With potential acquisition prices rumored to be at the $11.50 level, and the stock currently trading above $11, investors wouldn't see much of a premium. Only in the case of Gilat receiving a price that it can't refuse, should the company accept a takeover bid. Otherwise, it should keep up the good work they are doing, keep signing deals, and grow the company. If you do that, the stock price will take care of itself.
Disclosure: The author's fund holds a position in GILT. He has no position in any other stock mentioned as of February 22, 2008.