Alloy Steel (OTCPK:AYSI) is an Australian maker of alloy wear plates primarily serving the Australian mining market. Wear plates are used to prevent or slow abrasion in many areas, including bins and chutes used in the mining process. The company offers a compelling investor proposition on several fronts
1. Enormous growth
2. Prudent management
3. Competitive advantage
Growth
AYSI has been on an organic growth tear for the last year, growing revenue from 3.4 million for all of fiscal 2006 to 8.7 million for fiscal 2007 an increase of 155% year over year. During that period, net income increased from a loss of $270,000 to annual net income of 1.3 million for 2007. The impressive growth rate for the company continued into fiscal 2008 where revenues for Q1 were 3.1 million for an annual run rate of over 12 million dollars again all organic. Q1 is in fact typically somewhat slower as end of year holidays and vacations come into play. The implied run rate could be quite a bit more. Earnings per share for 2008 came in at .08. The first quarter of 2008 came in with earnings of .03/share. There are few places you can buy sales growth of 100% for a forward PE around 12.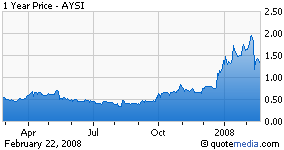 So what is leading that growth number and why will it continue? Three words: mining mining mining!
Much has been written about the boom in mining going on in Western Australia with BHP Billiton (NYSE:BHP) and Rio Tinto (RTP), among others. These are the customers that AYSI serves. The mining boom is being fueled by demand in China and other emerging economies that are demanding more and more production and where possible are investing directly to get iron ore and other minerals out of the ground. The trend shows no sign of abating and is actually accelerating.
The chart below from the Australian Bureau of Statistics lays the case out quite nicely: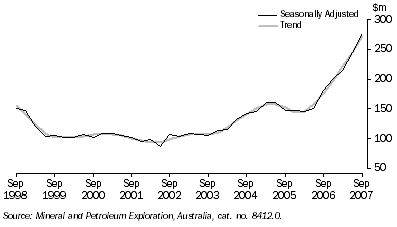 Mining exploration activity in Western Australia is currently growing at a near double digit rates sequentially, which translates to annual growth of almost 40% in exploration. It can take years to go from exploration to actually bringing a mine on-line so the macro-picture is already baking in growth levels even greater than what we are currently seeing as these exploration dollars come online and as mining operations near term and years down the road begin production. The company invested $500,000 in new plant and equipment in 2007 with over $300,000 of that coming in Q4 alone. By contrast, there was less than $100,000 in capital expenditures for all of 2006. The company indeed seems to be tipping their hand that there is growth ahead.
Prudent Management
AYSI struggled for years to get their product accepted in the industry. Wear plates are crucial components in mining. If the plates don't perform and have to be replaced, a mining operation can face significant and costly downtime. Building the needed level of trust took time. Their tight cash levels had prevented much spending on marketing and advertising while they worked on market acceptance. For 2007, the company spent a mere $11,000 on advertising for the entire year. The company had relied in large part on word of mouth to build product awareness during the lean years. This not only speaks to careful money management, but is indicative of the competitive advantages of the product itself. AYSI generated almost 9 million in sales in 2007 on a mere 11 thousand in advertising. Their ability to pull that off implies that either the product is very special, the management is very special or both. You can bet that now that the company is flush with cash they will be looking to ramp up sales in both Australia and in a largely untapped international market.
Despite these difficulties, the company has managed to move along without dilutive financing or burdensome long term debt. In fact, the share count at the end of 2007 was identical to the share count when they first went public back in 2001. No dilution at all, even with the large ramp in organic growth recently. This prudent fiscal management is further illustrated by their control of SGA expenses. Despite their 155% sales increase, SGA expenses grew at less than 25% for 2007. This is a company that clearly cares about both the top and the bottom line and treats its shareholders well. That should become obvious as sales continue to grow, more potential customers worldwide become aware of the benefits of the product line, and their organic sales growth and high margins continue translating into increasing bottom line profits.
Competitive Advantage
One real advantage for AYSI is that they have a patented process for applying layers of alloy to their mild steel backed plates. They can do this in a single pass, which gives them an advantage over competitors who require multiple passes to achieve the same thickness. The advantage of this single pass technology is that extra layers often create uneven thickness as well as planar weakpoints that a single pass does not.
In addition, the company is maintaining its technical advantage. They recently announced a new wear plate product called super-arcoplate that can apply a 3/4 inch thick alloy on a 1/2 inch mild steel backing in a single pass. To my knowledge, no other competitor has managed to accomplish close to this thickness on a single pass operation. The result should be a considerably better plate with more even wear, less planar weakness and an even distribution of alloy material. This, in turn, should provide not only greater sales, but stronger pricing power, as well. Customers will benefit from this upstream service by having less downtime.
Summary
AYSI is a rare company in today's microcap market. They are growing their sales organically at a triple digit clip annually. They are doing this growth with ZERO shareholder dilution. They have a macro-picture that supports further large-scale growth in their business for some time. They have a competitive advantage in their industry, with the thickest one pass plate soon to be in production, and they have a management team heavily invested in common shares that puts shareholder value first. I believe the stock is a compelling buy in the 1.30s and I believe there is room for continued significant sales growth and price appreciation going forward.
Disclosure: Author has a long position in AYSI.OB