Two weeks ago I said I might select a short stock pick for my weekly stock picks. Well, this is the week, and I just might be picking more shorts from now on too. I do want to look for long picks but after some review and analysis, I'm thinking it might start getting harder and harder to do that going forward for awhile. Simply said, I'm becoming bearish much more now.
Here's my analysis as to why I'm picking the short side a bit more now. I looked at the market this weekend from the very long term point of view. It's possibly looking like the 1966 – 1973 time period possibly. I'm comparing this to the recent 2000 to 2007 move in the markets. Possibly the decline in real value of stocks started in 1999, and not last year at the recent market top. The expected crash in real estate now a reality, an unprecedented debt bubble is now imploding, the delayed response by the fed when the markets get into trouble, the record duration and extent of optimism in the market, and the continuation of high stock valuations.
This week's short stock pick of mine is Tredegar Corp. (NYSE:TG). It's based simply on my explanation above, the fundamental information below, and running scans on my trading software looking for low risk high reward long and short trade setups.
Trade Setup on TG: Sell Short
Sell Stop at $15.30
Stop-Loss at $16.02
Take Profit Regions: $13.86 - $13.14, $12.63 to $12.19, and $11.35 to $11.76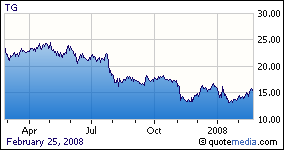 Fundamentally, earnings from continuing operations fell to $7 million, or 19 cents per share, from $9.8 million, or 25 cents per share, for the same quarter in 2006, and Sales fell 8.1 percent to $208.5 million from $227 million in the year-ago period company officials said that demand for extruded aluminum shapes was down significantly in most U.S. market segments. Sales from continuing operations in aluminum extrusions fell 21 percent to $73.5 million, while volume from continuing operations dropped 21 percent to 32.2 million pounds. Sales of film products rose 1.6 percent to $130.6 million, while volume fell to 6.5 percent to 58.6 million pounds, Tredegar said. For the full year 2007, the company earned $15.2 million, or 39 cents per share, compared with $38.2 million, or 98 cents per share, in 2006.
Tredegar Corporation (Tredegar) is engaged, through its subsidiaries, in the manufacture of plastic films and aluminum extrusions. Tredegar Film Products Corporation and its subsidiaries (together, Film Products) manufacture plastic films, elastics and laminate materials primarily for personal and household care products and packaging and surface protection applications. Film Products is a supplier of apertured, breathable, elastic and embossed films, and laminate materials for personal care markets, including apertured film and non-woven materials for use as topsheet in feminine hygiene products, baby diapers and adult incontinent products (including materials sold under the ComfortQuilt and ComfortAire brand names); breathable, embossed and elastic materials for use as components for baby diapers, adult incontinent products and feminine hygiene products, and absorbent transfer layers for baby diapers and adult incontinent products sold under the AquiDry and AquiSoft brand names.
Disclosure: Short TG