It seems as if many brokerage websites have been slow to adjust to the ConocoPhillips (NYSE:COP) spinoff in their earnings reports. A quick look at the earnings per share report for Phillips 66 (NYSE:PSX) on E*TRADE demonstrates this clearly:
Click to enlarge image.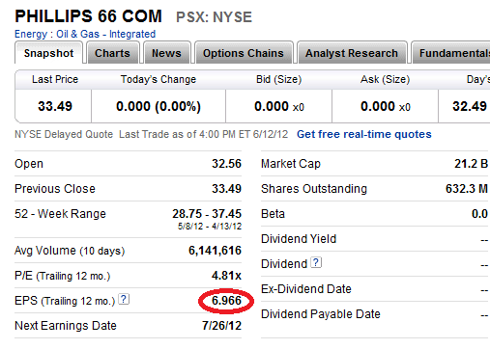 Click to enlarge
According to E*TRADE, Phillips 66 has a record of earning $6.97 over the previous 12 months, which is odd considering that Phillips 66 has only been in existence for about two months. By E*TRADE's account, Phillips 66 is currently trading at a P/E multiple of 4.68. In reality, the Value Line estimate is that Phillips 66 will be earning the equivalent of $4.65 for 2012. At $33.49 per share, that works out to a P/E multiple of 7.20 instead of 4.68.
For comparison with refiners, Marathon Petroleum (NYSE:MPC) is trading at a P/E of 5.5 and Valero Energy (NYSE:VLO) trades at a P/E of 7.86. For comparison with the integrated oil majors, Chevron (NYSE:CVX) is trading at a P/E of 7.35 and Exxon Mobil (NYSE:XOM) is trading at a P/E of 9.69. Whether you prefer to compare Phillips 66 to refiners like Valero and Marathon Petroleum or Chevron and Exxon depends on how much weight you give to the major non-refining assets in the Phillips 66 portfolio, like the joint venture DCP Midstream (with Spectra) or CPChem (with Chevron).
As for the dividend policy of Phillips 66, the expectation is that the firm will pay out $0.20 quarterly starting in the third quarter. CEO Greg Garland mentioned that he targets 5% annual dividend growth. On Slide 30 of the Phillips 66 spinoff presentation, management had this to say about dividend expectations:
Initial quarterly dividend of $0.20 per share. Expect annual increases. [It should be] affordable. The 2013 expected dividend cost will be ~500 MM. That is 20% of 2009-2011 cash from operations.
While I think it's a shame that E*TRADE does not provide accurate information about Phillips 66 earnings, the buck does stop with us as investors to engage in due diligence and make sure that we have the facts right before acting. In particular, anytime I see a stock trading with a P/E ratio below 10, I go to extra lengths to find out why that is. I remember looking at shares of Eli Lilly (NYSE:LLY) last year when it was trading at eight to nine times earnings, and then doing further research to determine that future earnings could be lower due to the patent expiration of Cymbalta and Humalog in 2013, as well as earnings pressure from the exclusivity expiration of Zyprexa in 2011.
When earnings look cheap, there's often a reason why. The E*TRADE numbers for Phillips 66 are yet another reminder that if it looks too good to be true, it probably is.
Disclosure: I have no positions in any stocks mentioned, and no plans to initiate any positions within the next 72 hours.