The dividend growth investor's pursuit of yield within the financial sector is typically fraught with risk with many scouring for the best banks to own with the lowest risk of experiencing a dividend cut. A somewhat overlooked sub-segment within the financial sector is asset managers that carry similar yields and have a lower exposure to dividend cuts. One of the best in the sub-segment is BlackRock.
I. COMPANY OVERVIEW
Per Google Finance:
BlackRock, Inc. (NYSE:BLK) is an independent investment management firm. The company provides a range of investment and risk management services. The company serves its clients as a fiduciary, and derives all of its revenues from client business. BlackRock's clients include taxable, tax-exempt and official institutions (including pension funds, endowments, insurance companies, corporations, financial institutions, central banks and sovereign wealth funds) as well as retail investors and high net worth individuals. The company's product range includes single- and multi-asset class portfolios investing in equities, fixed income, alternatives and/or money market instruments. BlackRock offers its products directly and through intermediaries in a range of vehicles, including open-end and closed-end mutual funds, iShares exchange-traded funds (ETFs) and other exchange-traded products (ETPs). In March 2012, it acquired Claymore Investments, Inc. from Guggenheim Partners, LLC.
II. CAPITALIZATION
BlackRock's capitalization leaves a bit to be desired. The company has a high level of debt in an absolute sense, but that is mostly offset by a large cash position. This off-setting positions result in a net leverage multiple of ~1x EBITDA (which is reasonable, if not a bit lower than I would prefer). All told, the high level of both cash and debt create a drag as the cost for its debt is higher than the return the company is getting on the cash it is holding, but that is the cost to have "dry powder" available for acquisitions or other capital investments. Focusing on valuation, BlackRock has a fair enterprise value of ~9.4x TTM EBITDA which is inline with industry peers and other low capex industries and businesses.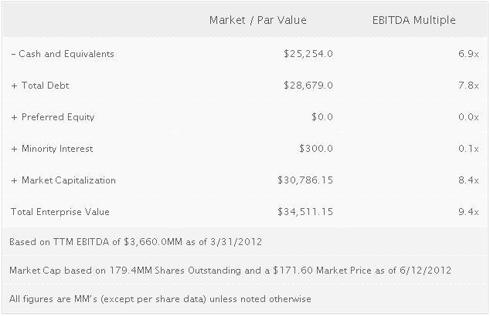 Click to enlarge
III. HISTORICAL OPERATING RESULTS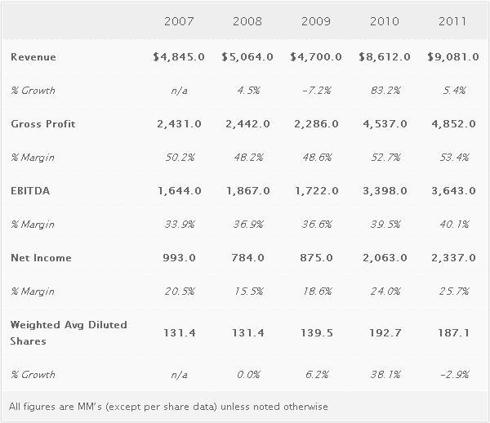 Click to enlarge
Historically, BlackRock has preformed very well, even through the recession where EBITDA declined only 8% between 2008 and 2009. Over the past five years it is difficult to draw trend conclusions at the company level due to the acquisition of iShares from Barclays (in 2010). That is why it is important to focus on pro-forma results or share level data (see below).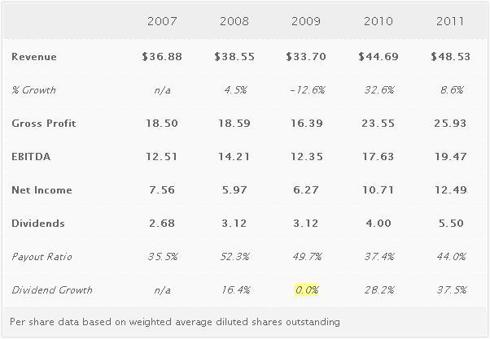 Click to enlarge
Looking at the performance on a per share basis, we see a slightly clearer picture of how BlackRock has performed net of stock dilution. Revenue, Gross Profit and EBITDA are all higher since 2007 and have demonstrated significant growth. EBITDA per share has grown from $12.51 to $19.47 (a 56% increase). BlackRock's dividends per share have been growing rapidly as well from $2.68 per share in 2007 to $5.50 in 2011 (105% increase) with a modest increase in the payout ratio from 36% of earnings to 44% of earnings. Note: the Company failed to increase its dividend in 2009.
IV. PROJECTIONS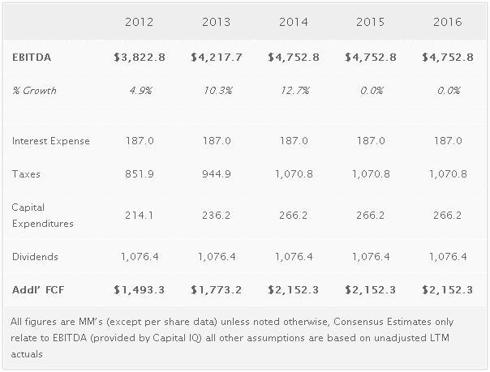 Click to enlarge
The consensus estimates for BlackRock are moderate and achievable, in my opinion, projecting a growth rate between 5% and 13% annually at the EBITDA line through 2014 (no estimates for 2015 or 2016). Under the consensus case, BlackRock is projected to have significant additional free cash flow available to reinvest in the business, repurchase shares (always assumed for ease in modeling), or increase their dividend.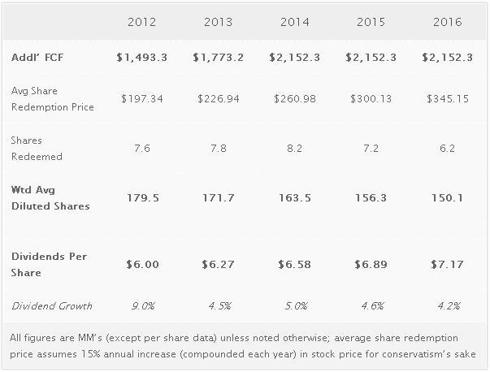 Click to enlarge
The share redemptions are assumed to be at a 15% annually compounded price. I believe that this is structured very conservatively. If the weighted average redemption price exceeded this threshold, the investor would have ample opportunity and time to re-evaluate their position and consider selling off their position for a gain from today's price. The company's share redemptions would allow for an increase of approximately 4%-5% annually in the dividend by the share redemptions alone. Additionally, BlackRock's payout ratio would decline as the dollar amount of dividends paid would not be increasing while the Company earnings (using EBITDA as a proxy) would be increasing.
If the company performs in line with the consensus estimates and pays dividends / redeems shares as outlined above, the company would achieve the IRR / Cash on Cash returns below based on the outlined Terminal EBITDA Multiples.

Click to enlarge
V. CONCLUSION
BlackRock is a fairly compelling investment opportunity at this point in time. The company is the market leader in asset management across a diversified pool of asset classes. Furthermore, the 3.5% yield and payout ratio of <50% is very attractive. BlackRock should be able to continue its impressive dividend growth given the low capital requirements for the business and low payout ratio.
Which bring us to the question, should we forgive BlackRock for not raising its dividend in 2009? I think that is up to each individual investor to decide for themselves. In my view, I am willing to overlook the missed hike given where they are positioned today for dividend growth, their historical growth record (outside the missed increase), and the fact they were operating on the front lines of the economic crisis and choose conservatism over growth (i.e. they had the ability to increase but didn't. There's a difference between being well managed and forced to cut or keep the dividend flat).
Disclosure: I am long BLK.
Additional disclosure: I may add to my existing BlackRock position within the next 72 hours.