Kaydon Corp. (NYSE:KDN) handily beat its earnings estimate when the company released its 4Q numbers on February
21st. Earnings per share [EPS] came in at 70 cents per share beating analysts estimates of 59 cents. Even if we add in the 9 cents per share one time gain from the sale of part of its friction control unit, Kaydon still beat the estimate by 2 cents.
The market initially reacted positively with Kaydon gaining as much as 8% but the stock gave up all of its gains and closed the day in red. The stock is basically sitting at where it was before the earnings report on Thursday. I am looking at this week to see how the stock reacts in the short term. Kaydon has been severely punished since the the start of the year with the overall market and in particular the alternative energy sector.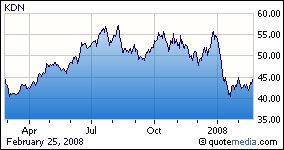 The long term story continues to develop nicely for Kaydon and it remains a compelling long term opportunity.
The near term downside remains if the Renewable Energy tax credits are not extended by Congress beyond the year 2008. However, the wind energy demand and record backlog has the company sitting pretty despite what happens with the current law.
Nevertheless, the alternative energy sector could use a boost by congress with the extension of tax credits beyond 2008.
Both Friedman, Billings, Ramsey &Co. and Robert W. Baird came out with 'Outperform' ratings on Friday. Deutsche Securities already has a 'Buy' rating on the stock from January. The price targets range from $57 to $58.
S&P meanwhile has a 'Sell' rating and $40 price target.
I continue to remain bullish on the wind sector. Unites States is now the second largest wind market in the world after Germany. A recent article from the NY Times continues to paint a bright picture for the wind sector.
If you are optimistic about the overall market then you should put Kaydon on your watchlist.
Full Disclosure: I am long Kaydon.