Just about everyday I hear investors and traders alike vent their dislike for General Electric (NYSE:GE). Whether it is their management, their politics or the more recent history of underperforming the market as well as their own past.
The fact of the matter is that this lumbering giant has not performed anywhere near it's own glory days when Jack Welch was steering the ship.
From Wikipedia:
John Francis "Jack" Welch, Jr. is an American chemical engineer, business executive, and author. He was Chairman and CEO of General Electric between 1981 and 2001. During his tenure at GE, the company's value rose 4000%."
Let's be honest here, even since I penned this article way back in February, the share price has not done much more than bounce around almost sideways.
I suppose there is something to be said for a stock that is up slightly from earlier this year till now. After all the stock market has had plenty of hiccups and the S&P has gone from the 1420 level down to the 1270 level and back up a bit to the run of the mill 1300-1320 level.
We are paid a dividend to sweat it out of course, and the current yield of 3.70% would look much better at 4.0%. Yet as we bemoan the days gone by, and long for the beloved Jack Welch management, we still have what we have and sometimes a behemoth of a company will finally emerge from it's slumber and begin to pay off in more than one way.
GE Is More Than Light Bulb
It is much easier to place an intrinsic value on a company that makes a product, sells a product, bills its customers and gets paid. For a conglomerate that is virtually part of every facet of human existence it is just a bit more difficult.
Let's review the parts of our lives GE affects:
Technology
Business Services
Financial Services
Nuclear Energy Facilities
Natural Gas Development
Alternative "Green" Energy
Aviation, both commercial and military
Healthcare Equipment of virtually every kind
Information Technology for any business, especially in the medical field
Railroads, marine engines, credit cards, personal loans, leases, retail credit programs, manufacturing credit programs, automobile fleet management programs
Plus those small appliances, large appliances, and light bulbs
The one area that everyone loves to throw darts at is GE Capital, the financial services (banking) business that has outgrown much of it's usefulness to all other sectors that GE plays in.
Not that it is an underperformer to be sure! The business is enormous and even passed the stress test by the Fed recently. It also paid the parent company a dividend, but as this Wall Street Journal article points out, that is not necessarily what stakeholders are looking for:
Now top executives are looking at going further, including possibly selling businesses in GE Capital's consumer-finance portfolio, such as private-label credit cards or showroom financing for products like snowblowers or lawn mowers, according to three people familiar with the company's thinking.

Those cuts could reduce the size of GE Capital's loan portfolio by as much as 16%. No decisions have been made, and such moves would have to wait until market conditions are more attractive, which could take some time, the people said.
Pretty heady stuff considering that GE Capital has been adding more revenue and profits to the company as a whole, even since the debt crisis.
Take a look at this chart from the Wall Street Journal: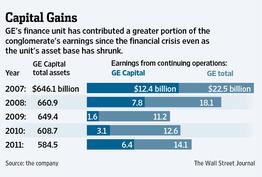 A bold step to be sure, however, as the article notes:
GE investors do not value its financial-company earnings as highly as they do its industrial-company earnings," said Bob Spremulli, an equity analyst at TIAA-CREF, GE's 16th largest shareholder, according to FactSet. "Investors, including ourselves, want GE to de-emphasize the earnings contribution of GE Capital to the total and want them to demonstrate growth in the industrial earnings," he added.
Listening to shareholders and investors? How unique! All joking aside it actually does make sense if the company as a whole can begin firing on all cylinders rather than being dragged along by just one "wheel".
GE this year has taken steps that would make it more feasible to slice off chunks of GE Capital. Most notably, GE has put a premium on building the lending unit's base of customer deposits-a more stable source of financing than the commercial market and one that will reduce GE Capital's reliance on its parent for support.

"The more able GE Capital is to fund itself as a stand-alone company, then it does give the board some optionality," GE Capital's Mr. Neal said. The article notes.
Focusing on the rest of the business will give strength to the overall brand which is considerable as it stands. If shareholders both individual and institutional alike embrace this (as they seemingly desire) then General Electric could potentially rise in value and share price significantly. It was not that long ago that GE's share price was over $41.00 (back in late 2007) just before it's precipitous drop below $20.00/share which has basically flat-lined ever since.
My Opinion
If GE can deliver shareholder value from their other business sectors, and reduce inherent risks within the financial sector, this just might be the tipping point for GE and the share price.
I might even say that it looks quite undervalued now and is a buying opportunity that will pay you to wait.
I can see a $30.00 share price in 12-24 months realistically, as well as an increase in dividends. Will it get back to the "glory days"? That remains to be seen.
Disclosure: I am long GE.