Kroger (NYSE:KR), the largest grocery store chain in the U.S., has increased its EPS guidance for fiscal 2012 from $2.28-2.38 to $2.33-2.4 per diluted share. The company expects same-store growth in the range of 3% to 3.5%. The first-quarter profit is nearly $440 million, or $0.78 per share, whereas in the same period last year, it earned $432.3 million, or $0.7 per share. In addition, the company recently announced a$1 billion stock buyback.
In its filing today, it said that the strong free cash flow of the company has allowed itself to return more than $1.6 billion to shareholders through share buybacks and dividends over the last four quarters. During the first quarter, Kroger has purchased 14.6 million common shares for around $345 million. Furthermore, the company announced today that the board of directors authorized a new $1 billion repurchase plan to replace the prior authorization exhausted on June 12, 2012.
The total debt increased more than $660 million from a year ago, to $7.8 billion. It mainly resulted from the debt issuance to fund pension plan consolidation. Over the years, Kroger has been earning a profit, but the performance has been not very steady and consistent. Since 2003, its revenue keeps going up at the annualized rate of 6.4%. However, net income and free cash flow have been up and down. The stock price for the last 5 years has stayed in the range of $20-$30 per share.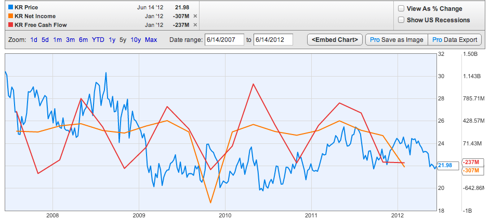 ycharts.com
At the current price, Kroger is valued at 21.1x P/E, 3 times its book value and 4.8x its operating cash flow. This valuation level is compatible to the 5-year historical valuation of the company.
It seems to be fairly valued at the current price on its historical basis. Even with the announcement of $1 billion repurchase plan, it would not excite me to initiate a position.
Disclosure: I have no positions in any stocks mentioned, and no plans to initiate any positions within the next 72 hours.