France Telecom (FTE) is the French incumbent telecom operator, operating through its Orange brand. The main shareholder is the French state, with an equity stake of 27%. As I discussed in my previous article, "5 European Telecom Companies With Yields Higher Than 9%," it has one of the highest dividend yields in the telecommunication industry in Europe. However, as the European debt crisis has hurt consumer demand, FTE is under pressure to cut its dividends to preserve cash.
FTE's share price has been under pressure over the last year, in a move similar to other European peers due to Europe's well-known woes. FTE shares tumbled by 25% over the last year, increasing the dividend yield to very attractive levels but also increasing concerns regarding its sustainability. Currently, FTE's dividend yield is 14.4% based on the last dividend paid (€1.4/$1.75 per share).
Click to enlarge image.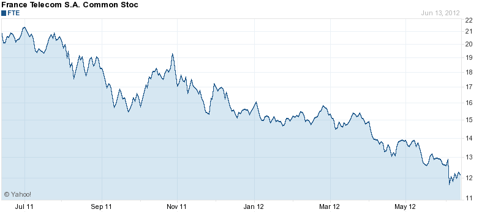 Click to enlarge
Source: Yahoo Finance.
Business Performance
FTE's recent share price weakness reflects concerns about earnings in light of a worsening operating environment in France and, to a less-relevant extent, Spain. The EBITDA margin has been under pressure due to the entry (in 2011) of a new competitor in the French mobile market, Iliad. FTE's management indicated during its Q1 2012 conference call that negative EBITDA margin pressure should continue during the rest of the year.
This operating environment is very negative for FTE's dividend sustainability, taking into account that France and Spain represent between 50% and 60% of FTE's revenues and EBITDA. The company has also been losing subscribers even though it lowered prices, which is negative for profitability in the medium term.
Dividend Policy
Since 2008, FTE has paid dividends twice per year. Over the last four years the annual dividend was unchanged at €1.40 per share, and this level has acted as a floor. But given FTE's weakness in the domestic market, management has guided for a smaller dividend going forward.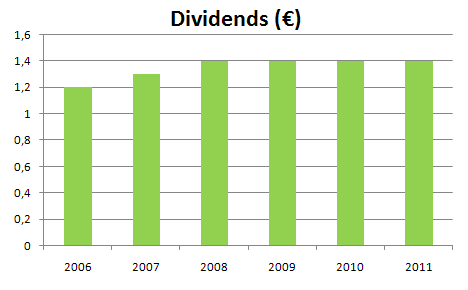 Source: France Telecom.
France Telecom guidance is for a payout of 40%-50% of Operating Cash Flow (before capital expenditures). Recently, the company reiterated its 2012 operating cash flow guidance of close to €8 billion ($10 billion), which means that its 2012 payout will be in a range of €1.20 ($1.51) to €1.35 ($1.70) a share.
Recently, an investment fund representing workers who are also shareholders proposed to cut the 2011 dividend to 1€ ($1.26) per share from the proposed €1.40. The majority shareholders, including the French state, rejected the proposal, but the pressure to lower shareholder remuneration is clear.
Dividend Sustainability
The dividend payout ratio, based on a per share basis (DPS/EPS), was 95% last year. This is the highest ratio since 2009, when earnings decreased and resulted in a higher payout ratio at 123%. Since 2006 the average payout ratio is high at 85%, increasing over the recent years toward unsustainable high levels and making the dividend payment vulnerable to weakness on earnings.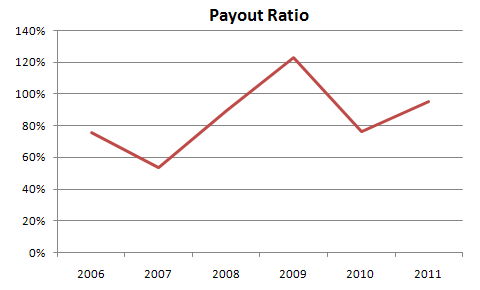 Source: Bloomberg.
The free cash flow generation comfortably exceeded outflows linked with dividend payments over the last few years. However, the recent trend of smaller cash flow generation is alarming, even more within the current context of a challenging operating environment in France and Spain, the latter due to macroeconomic concerns.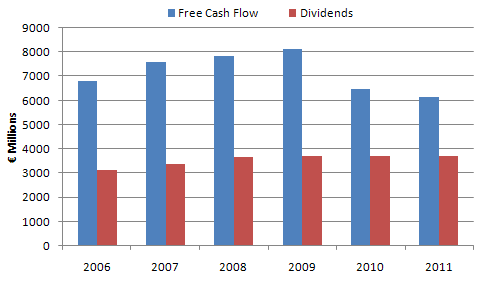 Source: Bloomberg.
France Telecom wants to preserve a strong financial structure and is targeting a net debt-to-EBITDA ratio of around 2.0 in the medium term. Over the recent years, France Telecom has been able to maintain the ratio near its medium-term target.
France Telecom could also sell assets to reduce debt, but it recently reviewed its portfolio and didn't identify any significant non-core asset disposal. With a credit leverage ratio near its medium-term target and the need to save cash due to the ongoing credit crisis in Europe, the pressure over dividends should remain over the medium term.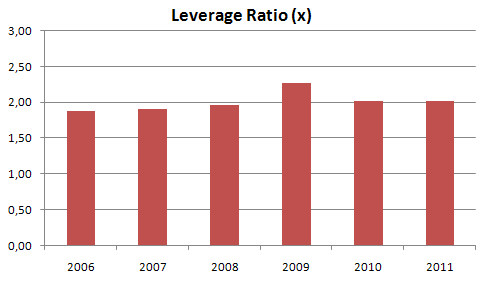 Source: Bloomberg.
Conclusion
For income investors the current yield looks tempting, but FTE's dividend quality isn't strong at this level of remuneration. Moreover, if FTE's operating environment deteriorates further, dividends will certainly be lowered even more.
However, even if the company slashes the dividend to €1 ($1.26) per share, as proposed by the employees' investment fund, the yield would remain above 10%. Additionally, a dividend cut for this year is already priced in, as management already lowered expectations. France Telecom is trading around 7.5 times forward earnings, which means many of its fundamental problems are already in its stock price.
So what should investors do? I don't expect management to cut the dividend aggressively, but there are obvious downside risks that will put pressure on them to lower it. I think more negative news flow is likely and a bigger dividend cut will ultimately be delivered. A better entry point will be offered to investors when that happens.
Disclosure: I have no positions in any stocks mentioned, and no plans to initiate any positions within the next 72 hours.