Crumbs Bake Shop: Current State of the Business
Crumbs is the only national cupcake chain in the United States. Crumbs Bake Shop (NASDAQ:CRMB) sells a wide assortment of cupcakes, cakes, pies, and baked goods, along with hot and cold drinks. The company has 51 locations, with 33 located in the New York area. Six stores are on the west coast, with five operating in Washington D.C. Crumbs Bake Shop has a limited history as a public company as it only went public a year ago. For shareholders, the results so far have been, well, crummy (you knew it was coming didn't you?).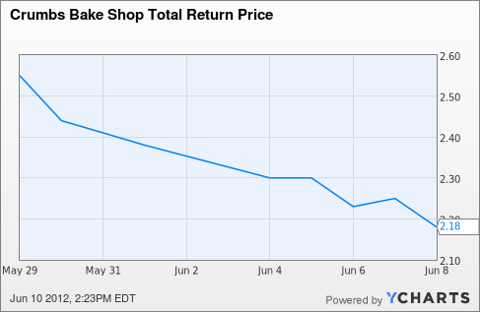 CRMB Total Return Price data by YCharts
Most Recent Quarter Results
On May 10, 2012, the company reported first quarter 2012 results. Sales increased 16% to $11.3 million from $9.72 million in the first quarter of 2011. Net loss was (.5) million or (.09) cents per share, versus net income of .1 million or .01 cents per diluted share in 2011. Adjusted EBITDA, which adds back depreciation, amortization, deferred rent expenses, stock options, abandoned lease costs, and non-recurring expenses to net income, was a loss of 145K versus a positive 529K in 2011.
Company President and Chief Executive Officer Julian Gieger announced his 6 goals for 2012 during the announcement:
Improving the company connection with its customers.

Restructuring the organization to optimize efficiency and productivity.

Changing and enhancing the supply chain for better inventory management across the entire enterprise.

Creating a clear and rational real estate strategy.

Building a unique corporate culture which defines responsibilities and roles.

Controlling expenses.
Crumbs believes the results of these efforts will start to show up in the second half of 2012.
Current and Future Initiatives
Crumbs has spent the last couple of quarters making investments which should help improve the overall performance of the business. Here are some of the areas management is working on:
New company brand image with emphasis on human capital improvements in hiring better managers.

Inventory and product tracking to have real time data on how products are performing and so the data can be shared across the business, with better forecasting of product demand. Implementation in the first Boston store has been successful so far, and plans are to integrate centralized ordering in upcoming store openings.

Consolidation of marketing, human resources, and management personnel.

Choosing a new coffee partner to double beverage sales across the business, as well as increase orders of baked goods.

Creating a new and improved web site.

Choosing and opening new mall locations which enhance growth. Management is working on terminating bad leases and extracting rent concessions from landlords to reduce expenses in locations which are not performing well.
Valuation
Crumbs has 5.505 million shares outstanding and with a current price of $2.18, the market capitalization is now $12.0 million. Crumbs has $4.2 million of cash on the balance sheet versus $3.3 million of deferred rent and $2.4 million of long term payables to a related party. If we subtract the cash from the deferred rent and payables, we would add $1.5 million to the total market capitalization to arrive at a total enterprise value of $13.5 million.
On the cash flow side, I use the cash flow from operations of $3.36 million in 2010 and the valuation would be= market cap/ cash flow from operations or 12.0/3.36=3.57 x cash flow from operations.
You could also annualize one quarter of operations and use adjusted EBITDA from the 1st quarter of 2012.
You calculate a figure of 529K*4= $2.116 million to come up with a valuation multiple of EV/EBITDA= 13.5/2.116= 6.37.
With respect to valuation, there are very few similar companies to Crumbs Bake Shop because the company operates its own stores. Many similar companies use a combination of company owned and franchised stores. Starbucks (NASDAQ:SBUX) is a company which has a heavy concentration of company owned stores. I know from past research that company owned stores at SBUX typically have operating margins of 20-25%.
Crumbs would certainly love to have those operating margins, but I want to be conservative in valuing this enterprise, so let's say they could achieve 10% operating margins. With annual revenues of $40-45 million, operating profits would come in at $4-4.5 million per year. The price you would be paying for CRMB would be lower- 12/4=3 x operating cash flow.
Let's look at Krispy Kreme (KKD) and Einstein's Bagel Shop (NASDAQ:BAGL), other companies in the same industry of baked goods. The difference is these companies operate using more of a franchise based model with less reliance on company owned stores. Both of these businesses have larger scale than CRMB as well.
(All data provided by Yahoo Finance as of 6/10/2012)
Krispy Kreme
Profitability
Operating Margin: 6.68%
Income Statement
| | |
| --- | --- |
| Revenue (TTM): | 407.11M |
| Gross Profit : | 56.78M |
| EBITDA 6: | 35.97M |
| Net Income Avl to Common : | 163.12M |
| Diluted EPS : | 2.28 |
Cash Flow Statement
| | |
| --- | --- |
| Operating Cash Flow: | 39.16M |
Valuation Measures
| | |
| --- | --- |
| Market Cap : | 421.52M |
| Enterprise Value: | 397.01M |
| Trailing P/E: | 2.78 |
| Forward P/E: | 20.42 |
| PEG Ratio: | 0.74 |
| Price/Sales: | 1.02 |
| Enterprise Value/EBITDA: | 11.04 |
Einstein's Bagel Shop
Profitability
Operating Margin:6.71%
Income Statement

Revenue:

427.22M

Gross Profit:

81.27M

EBITDA:

48.17M

Net Income Avl to Common:

15.24M

Diluted EPS:

0.90
Balance Sheet
| | |
| --- | --- |
| Total Cash: | 9.60M |
| Total Debt: | 72.32M |
Cash Flow Statement
| | |
| --- | --- |
| Operating Cash Flow: | 42.73M |
Valuation Measures
| | |
| --- | --- |
| Market Cap: | 298.40M |
| Enterprise Value: | 361.13M |
| Trailing P/E: | 19.62 |
| Forward P/E: | 14.48 |
| PEG Ratio: | 0.83 |
| Price/Sales: | 0.69 |
| Price/Book: | 3.27 |
| Enterprise Value/EBITDA: | 7.50 |
Here are the key statistics for CRMB:
Profitability
Operating Margin: -15.38%
Balance Sheet
| | |
| --- | --- |
| Total Cash: | 4.18M |
| Total Debt: | 0.00 |
Cash Flow Statement
| | |
| --- | --- |
| Operating Cash Flow: | -3.49M |
Valuation Measures
| | |
| --- | --- |
| Market Cap: | 12.55M |
| Enterprise Value: | 8.38M |
| Trailing P/E: | N/A |
| Forward P/E: | N/A |
| PEG Ratio: | -0.16 |
| Price/Sales: | 0.31 |
| Price/Book: | 1.35 |
| Enterprise Value/Revenue: | 0.20 |
With valuation, you always want to have companies which are generating positive cash flow. However, in this case that is not currently happening. If you believe management will be successful in improving the operations of the business, to get another comparison of what you are paying for a similar kind of business, the best metric to use would probably be the price to sales ratio.
On that ratio basis, CRMB is definitely cheap as its P/S ratio is currently .31, versus .69 and 1.02 for the other two companies.
However, the key issue is whether CRMB can consistently generate positive operating cash flow, which goes straight to the effectiveness of their new turnaround initiatives.
Other Important Considerations
Crumbs Bake Shop is heavily owned by insiders as they own 31% of the shares outstanding. The CEO Julian Gieger, was also awarded 799,000 common shares and 79,900 preferred shares when he took over the job in November of 2011. The preferred shares convert at a ratio of 10-1 into the common stock. 50% of the awards vested immediately, and 50% of the shares vest in November of 2012.
A potentially interesting issue is the value of the warrants which CRMB issued when it went public.
(From the Crumbs 2011 Annual Report)
In addition, in the event that CBS common stock achieves trading prices of $15, $17.50 and/or $20 per share and/or CBS achieves adjusted EBITDA (as defined in the Business Combination Agreement) of $17.5 million, $25.0 million, and/or $30.0 million at particular points in time during the period beginning May 6, 2011 and ending on December 31, 2015 (such period referred to as the "Earnout Period"), certain members of Holdings will be entitled to receive additional securities, which it refers to as "Contingency Consideration", exchangeable for up to 4,400,000 shares of CBS common stock.
The warrants are convertible into 4,400,00 shares of common stock based on a much higher stock price and/or higher levels of adjusted EBITDA. The reality of this situation is common stock holders would be exceptionally pleased to incur huge dilution if the stock prices goes from 2 to 15, or if adjusted EBITDA were to rise up to $17.5 million or more per year.
A potential concern is the commitment of the company to leases in the future.
At December 31, 2011, the future minimum rental payments due under these operating leases is as follows:
Year Ending

December 31,

Amount

2012

$

6,740,000

2013

6,826,000

2014

6,935,000

2015

7,158,000

2016

7,304,000

Thereafter

33,056,000

Total

$

68,019,000
Many specialty retailers get into trouble because they commit to long term leases in locations which are not profitable. Crumbs has already done that, and they are currently trying to clean up that mess.
In looking at the future commitment to leases, nearly $70 million is allocated to lease expenses, although much of it is 5 years away. Still, it is concerning to appropriate that much money to further expansion when the current financial performance is unsatisfactory.
I have spoken to friends and family members who are very familiar with Crumbs Bake Shop. In New York City, it is an institution people know and love. The company has a very strong following and lots of customers in New York and other parts of the country.
Finally, management has a huge incentive to turn the company around. If new management can operate the business more efficiently, shareholders might enjoy owning the stock as much as customers delight in having a cupcake.