Winnebago Industries (NYSE:WGO) reported quarterly results before the bell Thursday, June 14, of $0.13 per share, beating estimates by a penny. However, these estimates have been taken down from $0.14 per share 90 days ago, and estimates for fiscal year 2013 have fallen from $0.32 to $0.26 over that time period. Revenues, on the other hand, missed by $9 million, coming in at $155.7 million.
At best, Winnebago looks fully valued here, and at worst overvalued. The company is trading at about 19 times next year's earnings. Overall, the company is not growing very fast, with analysts looking for a 14.7% increase in revenues this year and 5.9% next year. Analyst estimates for next year's earnings might prove a little high, as analysts are currently looking for earnings to grow 88% next year. While estimates for this year have been taken down 19% over the past 90 days, fiscal year 2013 estimates have remained unchanged. The closest competitors to Winnebago are Thor Industries (NYSE:THO) and Drew Industries (DW). Thor trades at 10.7 times next year's earnings and Drew trades at 12.2 times next year's earnings.
You might think that Winnebago would be doing better with falling oil prices over the past few months, but over the past two years the stock has a 43% positive correlation with WTI crude oil. This is because people need a strong economy to buy RVs and to get the financing for RVs, and if the economy is strong, oil is going higher.
Winnebago has also received a buyout offer from private equity firm North Street Capital for $11 per share that Winnebago management has said is not a creditable proposal. I don't believe this buyout will be successful, nor does Morningstar analyst David Whiston, who follows the company. North Street would use Winnebago's additional capacity to manufacture "kit" cars from Asia. However, on this quarter's conference call, Winnebago said that it was not clear its capacity could be used to manufacture cars. Winnebago only used about 45% of capacity this quarter; however, management pointed out that this does not mean parts of the business are not a full capacity. Capacity utilization is based on final assembly. To get to full capacity utilization it would have to hire and outsource some parts of manufacturing. Full capacity would be around 10,000 units a quarter.
Click to enlarge image.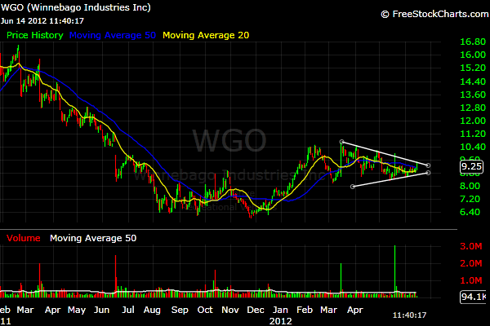 Source: Freestockcharts.com.
When looking at Winnebago's chart, there appears to be descending resistance over the past three months. The stock also appears to be consolidating here, and if today's move after earnings does not take it above the descending trendline, Winnebago could be headed lower. It will also be important to see if Winnebago can hold above the 50-DMA, which is currently at $9.10. If the stock heads lower from here, I think the first level of support would be around $8.30, followed by support at $6.25.
Winnebago is a heavily shorted stock, with over 13% of the stock sold short. Given this, tight stops should be used if shorting this stock. The other possible way to get short Winnebago would be buying the October $10-$7.50 put spread for $1.25 that is already $0.70 in the money, and would need Winnebago to move to $8.75 to start making money. This spread has a maximum gain of 100%, or $1.25.
Data sourced from Yahoo Finance and company filings.

Disclosure: I have no positions in any stocks mentioned, and no plans to initiate any positions within the next 72 hours.