Reading through proxy statements and annual reports of conglomerates can get particularly tedious. Indeed, after perusing just a few 10K's of Liberty Interactive Corporation (LINTA), (NASDAQ:LINTB), my head started to spin.
Liberty Interactive, one of John Malone's media mini-empires, is again embarking on a split up of the company via two new tracking stocks. Next month, holders of Liberty A shares will receive 1 share in a new entity, Liberty Ventures, for every 20 shares they own of Liberty A stock. Plus they will get rights to buy more Liberty Ventures stock, as well as over-subscription rights on the rights offering.
Confused yet? Perhaps that is what management wants. But despite the deal's complexity, breaking apart Liberty tells me that the stock is quite cheap. So cheap in fact that you can create QVC, arguably one of the best retailers in the US, for around 5.5x earnings.
Even better, I think the new tracking stocks will illustrate to the market how cheap you are buying QVC, providing a catalyst for 20-30% upside potentially in the next few weeks.
Summary
Company: Liberty Interactive Corp
Ticker: LINTA, LINTB
Price: $16.50
Shares: 559mm (530mm LINTA, 29mm LINTB super-voting aka Malone's shares)
Market Cap: $9,220 (NYSE:MM)
Debt, net of cash: $5,275
TEV:$13,545
Company
Liberty Interactive Corporation is one of a number of media companies built by John Malone. Liberty Interactive generally is comprised of QVC and a 34% stake in the Home Shopping Network (NASDAQ:HSNI), as well as a handful of majority-owned eCommerce businesses.
In addition, Liberty Interactive owns minority stakes in 7 other public companies, including Expedia (NASDAQ:EXPE), TripAdvisor (NASDAQ:TRIP), Time Warner (NYSE:TWX) and Time Warner Cable (TWC) to name a few.
The convoluted structure and weak trading level of LINTA shares has lead management's decision to break up Liberty Interactive (for the umpteenth time if you follow Liberty at all). Generally, the company will create two tracking stocks next month, one called Liberty Interactive, which will keep the LINTA ticker. This tracker will be made up of the home shopping channels (QVC and the stake in HSNI), plus a handful of their consolidated small eCommerce businesses. $2.9BB of net debt will be allocated here.
The other company, Liberty Ventures, will be comprised of their equity stakes in a variety of publicly-traded media companies. The new ticker for Liberty Ventures will be LVNTA and LVNTB. Malone owns most of the LINTB shares (with 10 votes per share), and hence will own most of the LVNTB shares too. $1.4BB of net debt will be allocated to Liberty Ventures post split.
Valuation
It's pretty straightforward valuing the parts of Liberty. For the publicly traded pieces, I took stock prices as of June 11th. See below for the value of these which essentially is $5.0BB.
I haven't don't much work on these names, except to determine that they are not trading at egregious P/E multiples, and they are fairly liquid, billion dollar plus companies in all but one case (Tree.com).
Expedia is growing its topline by 13+%, and TripAdvisor's revenue is forecast to grow by over 30%. All of these names will end up in Liberty Ventures, except for the Home Shopping Network.
Excluding QVC, the consolidated companies (i.e. the majority owned) companies in Liberty's portfolio include the following:
There are a few others like Gifts.com and Evite, but couldn't tell if there was significant value to them. I used a 7x EBITDA multiple to value these, as they are growing and generate solid free cash flow, but there just wasn't enough information to be anything but conservative.
So, the public companies, plus eCommerce quickly gets you $5.0BB plus $861mm in value. That totals $5.8BB in value.
If you divide that by the outstanding share count of 559mm, then that gets you $10.44 in value per share of Liberty, before adding in QVC (and the debt).
QVC
First, QVC is a retailer, selling a variety of goods such as apparel, electronics, home good, and jewelry. Given that they do not sell through bricks and mortar locations, their operating costs tend to be much lower than the typical retailer. In addition to product costs, they pay costs to the cable networks to carry their channel, hosting costs, and distribution costs.
Also, since they do not sell low end products, but rather higher priced value products, the profit margins are higher than say a Target or Wal-Mart.
Here is QVC's operating performance over the last few years:
So, if the stock is at $16.50, and you exclude the $10.44 in value from non-QVC assets, then that means you are paying $6.06 per share for QVC.
Now, you do have all the debt in this exercise, so let's do the math on valuing QVC assuming all the interest is borne by that subsidiary (or those subsidiaries).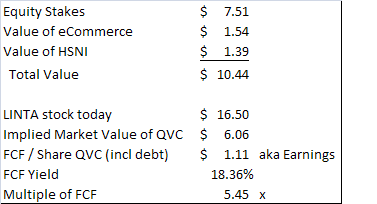 This is quite interesting. Essentially you are paying $6.06 per share of Liberty, for a very high margin, and high ROE retail business that did $1.11 in cash earnings last year! That is an 18% FCF yield, or a 5.5x P/E ratio.
For the record, I assumed that all the debt belonged at QVC, which isn't exactly true. But looking at it on an EBITDA basis is also valid. $6.06 per share X 590mm shares equals $3.4BB. Add in $5.275BB of debt, and that means you are paying $7.7BB for QVC, or a mere 5.0x EBITDA. That is 2011 EBITDA too. EBITDA should grow by 7% in 2012.
Given the implied cheapness of QVC, or the discount to the sum of the parts, Liberty has been repurchasing tons of stock. Since August 2011, management has bought back 45mm shares at a price of $16.77 a share, a little higher than the stock trades today. That is a 7% reduction in shares outstanding.
Comparable Companies
So, perhaps the market gets it, and simply thinks that QVC isn't that great a business. I don't think that is the case here however. In fact, I'd suggest the QVC is one of the most compelling business models in retail land.
I used a diverse set of comparables, obviously the best one being the Home Shopping Network . Other retailers like Amazon (NASDAQ:AMZN), Kohl's (NYSE:KSS), Target (NYSE:TGT), and Nordstrom (NYSE:JWN) make sense to me.
What kind of EBITDA margins do these guys do?
QVC seems to rank at the top.
What about Returns on Tangible Assets?
QVC and Home Shopping Network are very similar, and higher than the comps by a fair margin.
So where is the implied multiple of QVC?
While Kohl's trades at a meager 9.3x 2012 earnings, its business is suffering same store sales declines right now that are spooking investors. Amazon trades at a ridiculous 175x 2012 earnings, it is literally off the charts here. Amazon also sports atrocious EBITDA margins and subpar returns on capital too. It's amazing what the marketplace will pay for unprofitable sales growth.
The best comp by the way, Home Shopping Network , trades at 16x 2012 earnings, and 8.5x EBITDA. Both are growing at similar rates, although QVC trades at 5.0x EBITDA.
So, by the numbers QVC is quite an impressive retailer. Strategically they are well positioned for continued growth in the future too. Management announce that they are entering the Chinese market this summer, and existing businesses in Japan and the US are seeing high single digit growth rates today. Without any bricks and mortar stores, QVC simply operates at a more profitable level than their peers. Shouldn't a stock like this trade at a premium to the comp group?
Tracking Stock
Well, this is exactly why management is embarking on creation of two tracking stocks. I won't get into too many details here, this diatribe is already too long. But Liberty A shareholders can expect to receive 1 new share in Liberty Ventures (NASDAQ:LVNTA) for every 20 shares of LINTA they hold. The deal is expected to happen next month after shareholder approval.
In addition, Liberty A holders will also receive 1/3 rights per share of Liberty Ventures. Each right enables them to purchase one share of Liberty Ventures, at a 20% discount to the 20 day weighted average trading price leading up to the deal.
The rights deal is important to realizing value too. If you own 1000 shares of LINTA, and then receive 50 shares of LVNTA, you can expect the newco Liberty Ventures to trade around $100 per share (if it trades around its NAV). Then you have the rights to buy 17 more shares (50 divided by 3 rounded up) at $80 per share (20% discount). So, expect to either sell your rights when they are issued to you, or expect to add about 8% more capital to your investment so as not to be diluted by a rights issue below the initial trading price.
I didn't get into the oversubscription rights on the unexercised rights either. You can opt to pick up expired rights from investors not exercising their rights, an option put in the doc's that will effectively cheat a few unwary widows and orphans out of their valuable rights. Read the proxy! It's actually quite interesting.
Conclusion
There could be significant upside if the stock traded to its sum of the parts. If QVC is worth 8.5x EBITDA, the same as Home Shopping Network's multiple, then that implies around $17 in QVC value per LINTA share.

Add in the $10.44 from my math on the other parts above, and you have total value to Liberty A holders of around $27.50 per share. That is upside of 67%.
And giving zero value to a handful of internet businesses here like Evite perhaps means there is optionality too. Maybe Mark Zuckerberg would like to pay $1BB for Evite to incorporate into Facebook?
Risks
I know, there are major risks to this valuation. The portfolio of stocks is essentially like owning a closed end mutual fund. The new tracking stock may trade at a big discount to NAV. Given the Malone ability to successfully invest in media companies, I somehow think anything more than a tax adjusted NAV discount would be excessive. But who knows.
Speaking of taxes, I didn't adjust for the deferred taxes that may be due in the event that some of these stocks are sold. I calculate $550mm of long term capital gains taxes that they may owe (on Expedia, TripAdvisor and Home Shopping Network), which would ding the valuation by perhaps a buck a share.
There are also $2.8BB of deferred taxes (DTLs) on the balance sheet to be about evenly split between Interactive and Ventures. That means higher tax rates compared to book for the next thirty or forty years. The present value of their DTL's likely would be far lower it should be noted, but the timing is quite uncertain, and I am no tax expert.
Finally, the stocks at Ventures may simply trade down. Expedia and TripAdvisor have had big runs, and more European financial crisis bad news or a weakening economy could send them south. Recessions are particularly bad for the travel industry.
Most importantly, don't buy the stock, and let your rights expire worthless. Dilution would hurt you by around 10% at least. I think the convoluted deal is good for smart institutional investors and in-the-know managers, but not so good for the part time retail investor who doesn't do his homework.
Disclosure: I am long LINTA.