By Brendan Gilmartin
FedEx (NYSE:FDX) is scheduled to report 4Q 2012 earnings before the bell on Tuesday, June 19. The results are typically disseminated at 7:30 a.m. EST and will follow with a conference call at 8:30 a.m. Profits from FedEx are widely seen as a proxy for economic growth and tend to heavily influence the broader market gauges, including the equity index futures.

Outliers & Strategy
Key measures:
Earnings Per Share: FedEx previously reported it projects EPS to be $1.75 to $2.00 in the fourth quarter. The consensus is $1.92. (Source: Yahoo! Finance). Note that FedEx reported on June 4 it was taking a 4Q charge of $0.26 related to aircraft retirements. Therefore, EPS Ex-Items is more likely to produce the comparable value.
Earnings Per Share Guidance (1Q 2013): Note that FedEx tends to offer fairly conservative guidance. The current estimate is $1.70 for 1Q 2013.
Earnings Per Share Guidance (FY 2013). Keep a close eye on earnings guidance for 2013. The current estimates range from $7.00 to $8.00 with a consensus of $7.44.
Last quarter, FedEx shares slipped, despite a significant beat on EPS, as revenues came in shy of consensus and guidance for the 4Q 2012 period was toward the low end of Street forecasts.
Recent News
06/05: Citigroup reiterated a Buy rating on FedEx, but lowered the price target from $110 to $100, according to a post on Benzinga.com. The price target reduction comes in response to a series of domestic restructuring efforts.
06/08: FedEx Freight will increase shipping rates by 6.9% effective July 9, 2012. This rate change applies to North America.
06/04: FedEx Corp plans to permanently retire from service 18 Airbus A310-200 aircraft and 26 related engines, as well as six Boeing MD10-10 aircraft and 17 related engines. As a consequence, a non-cash impairment charge of $134 million ($84 million, net of tax, or $0.26 per diluted share) was recorded in the fourth quarter.
05/11: According to an article in Fortune, FedEx CEO Fred Smith indicated the company is the largest international transporter of goods by air in and out of China. With recent chatter that growth in China may be slowing, coupled with forecasts for slower growth in the U.S., look for a potential impact on the forward outlook.
Technical Review
Since the lead-up to its previous earnings release (March 22), FedEx shares are off close to 10%. Despite the pullback, the shares held key support just above $86 - a level going back to the end of last year. Should earnings and guidance surprise to the upside, look for resistance near the 50-Day SMA at $88, followed by $90. Conversely, support is at the 200-Day SMA near $85 (50-Week SMA), followed by the recent intraday low of $84, and $80. (Chart courtesy of StockCharts.com).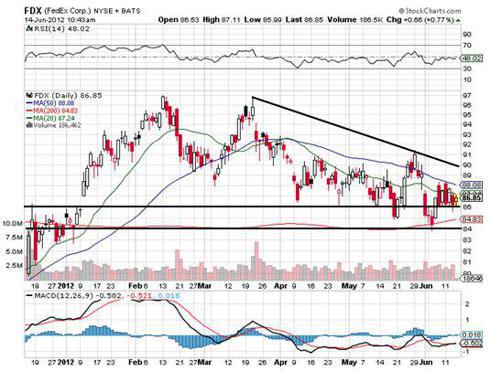 Click to enlarge
(Click to enlarge)
Summary
FedEx shares are off about 10% since the previous release, while the consensus for 4Q 2012 EPS has slipped from around $1.98 to $1.92, implying both analysts and the market have priced in recent economic concerns. Meanwhile, recent restructuring efforts, a slight boost in the dividend, a solid stand at $86 technical support, and price increases in North America are positive indications pointed toward a possible rebound if results top estimates. Also, keep an eye on UPS (NYSE:UPS) as a sympathy play off the FedEx numbers.
Disclosure: I have no positions in any stocks mentioned, and no plans to initiate any positions within the next 72 hours.
Disclaimer: By using this report, you acknowledge that Selerity, Inc. is in no way liable for losses or gains arising out of commentary, analysis, and or data in this report. Your investment decisions and recommendations are made entirely at your discretion. Selerity does not own securities in companies that they write about, is not an investment adviser, and the content contained herein is not an endorsement to buy or sell any securities. No content published as part of this report constitutes a recommendation that any particular investment, security, portfolio of securities, transaction or investment strategy is suitable for any specific person.