Rockwell International Corporation's Remnants
In 2001 Rockwell Automation (NYSE:ROK) was spun off from parent company Rockwell International. Rockwell International "disolved after the end of the Cold War," and the remaining businesses became Rockwell Automation and Rockwell Collins (NYSE:COL).
In January 1998 Rockwell International issued $200 million in century bonds (CUSIP 773903AC3). The bonds are now attached to Rockwell Automation. These 5.2% bonds are listed as "non callable," however there are conditional calls based on 'tax events.'
"Rockwell International Corporation 5.20% Debentures due January 15, 2098 ... a corporation duly organized and existing under the laws of the State of Delaware ... January 15, 2098, and to pay interest, semiannually on January 15 and July 15 of each year, on said principal sum at the rate of 5.20% per annum ... Upon the occurrence of a Tax Event (as defined below), the Company will have the right to shorten the Maturity of the Securities to the minimum extent required ..."
In recent years Rockwell Automation stock has made great leaps, only to fall back to an upper mid level range.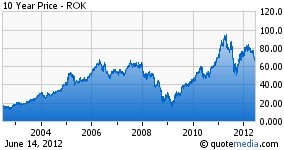 The company stock has a $1.88 dividend (2.7%).
The Nature of Business
When considering near or long term bonds it is very important to research
Credit Rating
Financials (Revenue / Income / Debt)
The business, products and diversification
Rockwell Automation's credit rating has been raised and lowered frequently since the company split from Rockwell International. Currently Moody's rates their bond A3, having lowered it from A2 in July 2009.
Rockwell Automation makes industrial electric equipment, including software to control automated machinery. The company has a $9.8 billion dollar market cap. Additionally Rockwell Automation has $1.1 billion in cash and $1.1 billion in debt. Annual net income applicable to common shares is $730 M.
The NYSE company description is as follows:
"a global provider of industrial automation power, control and information solutions. The Company has two segments: Architecture & Software, and Control Products & Solutions. Products for both segments are marketed primarily under the Allen-Bradley, A-B, Rockwell Software, ICS Triplex and FactoryTalk brand names. Major markets served by both segments include food and beverage, transportation, oil and gas, metals, mining, home and personal care, pulp and paper and life sciences."
Bond Price / Yield
Though Rockwell Automation stock seems less than stable at this point in time, some of the basic financials appear positive. Low cash to debt ratio, a gain in net income of the past few years; from $1.5 B in 2009 to $2.3 B in 2011.
The bond is currently being offered in minimum quantity lots of one bond for near par, 101.57 per bond with a 5.1% yield. Prudential Total Return Bond Fund holds 1,500,000 of the Rockwell Automation 2098 bonds.
The company's shareholder services department had to do some digging to inform me that there is currently "no action," being made by the company on these bonds. A manager in their legal department / shareholder services called the Rockwell Automation treasury and they informed me that it would be "prohibitively expensive," for the company to "make a whole call," I replied that the SEC filing does include the "tax event," condition.
Currently it would seem to make more sense for an investor who likes Rockwell Automation to consider a very small position in the company's long term debt, over the company's equity. Investors must wait and see if Rockwell Automation's well paid leadership can get the job done; do what is necessary to satisfy credit rating requirements and return to a better credit grade.
Rockwell's Century
The Rockwell Automation 2098 Century bonds illustrate what happens when a company that is about to dissolve in three years issues long term debt. That said Rockwell did not go away, it became two companies that operate very complex and advanced projects.
While today Rockwell's bonds may be some of the higher yielding long term bonds, Wall Street Journal reports:
"Before Caltech's deal, the lowest-ever coupon, or nominal interest rate, on what is known as a century bond in the U.S. was 5.2%, paid by Rockwell International in January 1998, according to data provider Dealogic."
In today's market what was once the lowest coupon now offers one of the higher yields. This is due to the credit rating cuts. No investor would be able to tell definitively how well or poorly a stock or bond will perform; however the direction of a company's credit rating is pivotal.
Investors and institutions may consider around 4.5% of assets in long term fixed income; for instance 3.25% in 30 yr. bonds and 1.25% in century bonds for the fixed income. A very important consideration is the fact that if rates go up, a 5.2% coupon could be unattractive and the price of the bond can fall.
If you have any additional considerations about Rockwell Automation equity or debt please comment below.
Disclosure: I am long COL. I am considering a long position in Rockwell Automation, formerly Rockwell International's 5.2% 2098 bonds.