I this article, I will run you through my quick analysis for Phillip Morris International (NYSE:PM), which I believe is a quality dividend play given its high dividend yield, robust free cash flow margin, stable business, and reasonable valuation. The following information serves as an introduction and your further research is warranted.
I am bullish on the stock as a solid dividend play based on the following reasons:
Stability
PM is the second largest global tobacco company behind China National Tobacco. The tobacco industry has traditionally been a very defensive industry as people are usually addicted to smoking despite moderate income fluctuation. With a strong portfolio of internationally-recognized brands, PM enjoys substantial customer loyalty, which enhances its top line stability, especially during an economic slowdown. PM does business globally. It generates revenues from various markets including EMEA, Asia, North American, and Latin America. The geographical diversity helps reducing the risk from region-specific economic uncertainties and somewhat mitigates the currency impacts. Overall, PM is a relatively more stable firm compared to its major competitors in the sector, and stability is one of the key value propositions for a dividend stock play.
Reasonable Valuation
PM has enjoyed a solid upward price momentum over the past 12 months. The stock has returned 26.91% on 1-year basis and is currently trading at very close to its 52-week high of $91.05. At the current price of $85.70, PM is trading at 16.3x the current fiscal year estimated EPS and 11.1x the LTM EBITDA. Based on the comparable analysis below, PM's revenue and EPS growth prospects are in line with its peers' estimates, but the firm has demonstrated superior profitability and free cash flow generating ability relative to its peers. Given the firm's excellent financial performance and sizable market share, I believe a valuation premium of 10-20% to the average peer P/E and EV/EBITDA multiples should be warranted. With a 15% valuation premium, the following relative valuation model yields a fair stock value of $88.36, suggesting that PM is currently trading at a reasonable valuation level.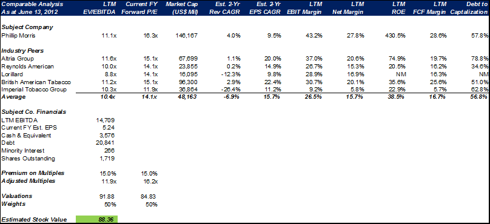 Click to enlarge
Sustainable Dividend Yield
PM's robust free cash flow margin is expected to continue supporting its current dividend payout. At present, the stock has a dividend yield of 3.7% and a payout ratio of 59%. The table below is my dividend projection over the current and next fiscal years. The highlighted areas are the assumptions that drive all other calculations. EPS is estimated to increase by 8.2% and 10.8% in the current and next fiscal years, and those are exactly the consensus estimates. Free cash flow to net income ratio has a 4-year historical average of 1.12x, which is then applied to project the FCF per share for the current and next fiscal years. In 2011, dividend paid is approximately 50% of the FCF generated, and the same rate was used for dividend projections. With those assumptions, I predict the dividend will rise by 7.7% in the current fiscal year and 10.8% in the next fiscal year. Based on the current stock price of $85.70, the estimated dividend yields for FY2012 year-end and FY2013 year-end are 3.4% and 3.8%, respectively, which are in line with the current dividend yield at 3.7%.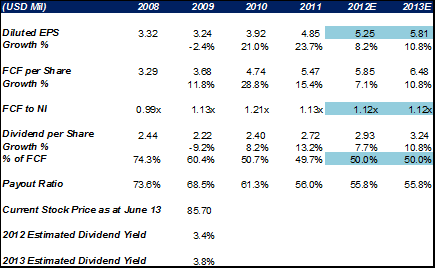 Continued Share Buybacks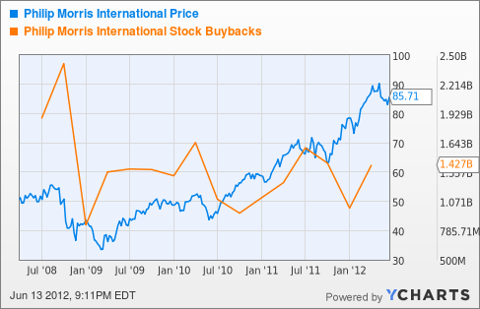 Click to enlarge
PM has been repurchasing shares since 2008. According to my dividend projection table, only 50% of the FCF is needed to support the current dividend yield assuming stock price is stable, thus there remains ample room for continued share buybacks in the future.
Insider Transactions
Insiders have shown confidence in the firm as YTD there has been 2 insider buy transactions at an average cost of $82-$86. The current stock price lies between this range.
Tables are created by author, stock chart is sourced from YCharts, and financial data is sourced from company 10-Q, 10-K, press release, Yahoo Finance, YCharts, Wall Street Journal, Thomson One, Bloomberg and Morningstar.
Disclosure: I am long PM.