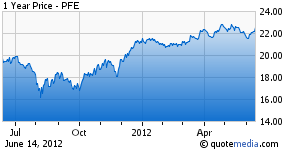 Pfizer (NYSE:PFE) announced last Thursday that it plans to spin off its animal healthcare business. It will be a stand-alone company and will be named Zoetis. The plan is to do an initial public offering of Zoetis before July 2013.
Zoetis focuses on the discovery, development and manufacture of animal vaccines, medicines, biopharmaceuticals and generic tests. It has sales of $4.2 billion last year and it operates in more than 120 countries. It provides comprehensive solutions to veterinarians and livestock farmers in both developed markets and emerging markets. It has leading market positions in different geographies, including North America, Asia-Pacific, Europe, Africa and Middle East.
Initial estimates point to a business valued at $15 billion. This market capitalization will make the company one of the biggest listed animal healthcare stocks. Heska (NASDAQ:HSKA) has a market cap of $61 million, Idexx Laboratories (NASDAQ:IDXX) is valued at $4 billion and Abaxis (NASDAQ:ABAX) has a market cap of $705 million. This initial public offering plans seems timely as the market has been optimistic about animal healthcare stocks. Over the last 6 months, the industry has performed better than major indices.
The current economic prospects support these valuations. According to Global Animal, Americans spend $41 billion a year on their pets. This amount is expected to reach $51 billion over the next 2 years.
Pfizer's plan is to offer 20% of the total estimated $15 billion market capitalization. This implies an initial public offering of $3 billion in cash. This cash will go directly through Pfizer's chest and will be used to repurchase its own shares. The other 80% will be used as a share exchange in which current shareholders turn in their Pfizer shares for Zoetis at a discount. This will also reduce the total outstanding of the Pfizer stock.
In terms of valuation, Zoetis will be trading at 27 times earnings. This assumes a net profit margin of 13% from the $4.2 billion sales. This valuation seems in line with its industry peers which trades between 17 to 35 times earnings.
The company is expected to announce the details of this spin-off on its next quarterly report. Overall, I believe this is good news for investors as this transaction will maximize the values of Pfizer and Zoetis.
The Recipe for Successful Investing in Spin-offs
There are two ways to play the spin-off game. The first is to buy the shares in the parent company and wait for the company to announce a spin-off. The company will then distribute the shares to its current shareholders through a property dividend. These shares will be listed in the stock exchange.
Another route will be an announced spin-off through an initial public offering. The parent company will be able to raise money from the transaction when it sells its holdings in the spin-off company. Such is the case of Zoetis.
The first scenario is ideal. It creates an opportunity from the spin-off as institutional investors try to get rid of a smaller sized company from their portfolios. Another investment merit is when the parent company still holds a sizable stake in the company.
In the case of the Zoetis spin-off, Pfizer will only have minority interest in the company. It appears to me that Pfizer's agenda to get rid of this unit is to unlock its own value rather than Zoetis. This also gives the market a signal that it will continue to spin off businesses that have no impact on their future plans. In fact, it has recently sold its nutritional business to Nestle (NSRGY,PK) for $11.5 billion. Also note that it sold its Capsugel unit to private equity firm Kohlberg Kravis Roberts (NYSE:KKR) for $2.375 billion. The company mentioned that these divestitures will give them the opportunity for share repurchases and invest in business development opportunities.
How will this impact Pfizer's valuations
The stock price has lagged the market over the last 5 years. The problem with Pfizer is that it faces significant headwinds from the generic drug business. Investors have also questioned the rationale of its recent acquisitions.
At present, the stock is currently trading at 9 times 2012 earnings. It also has a dividend yield of 4%. Over the last 5 years, it has traded between 14 to 20 times earnings. This means that current valuation suggests that the future earnings growth will be slower relative to its past performance. Analysts expect the company to grow its earnings by 2% a year, lower than the industry's average growth rate of 7%.
In contrast, Merck (NYSE:MRK) trades slightly higher at 10 times earnings and has a dividend yield of 4.40%. Abbott Laboratories (NYSE:ABT) is valued at 13 times earnings and carries a dividend yield of 3.30%.
I'd like to believe that there is a need for Pfizer to do some catching up with their valuations. I believe that these valuations do not fit the world's largest pharmaceutical companies with market leadership in various spaces that it operates. However, the company is also moving into the right direction in terms of strategic pursuit.
I also believe that the market puts so much value on a pharmaceutical company that has leaner research and development and overall operations. For example, investors have cheered the decision of Abbott to spinoff its entire pharmaceutical division under the name Abbvie.
This is the same case that investors want to see in Pfizer. There are expectations that Pfizer will use the proceeds to build up its patent portfolio of generic drugs and combine it with off-patent products such as Lipitor and Effexor. Investors will have to wait and see whether the recent spinoff moves are really signs that Pfizer is brewing something that will enhance shareholder value. Moving forward, investors will definitely be happy if the company continues its focus on building its product portfolio rather than merely acquiring companies.
Disclosure: I have no positions in any stocks mentioned, and no plans to initiate any positions within the next 72 hours.