Many investors in Quidel Corporation (Nasdaq: QDEL) appear to have caught the short-sighted flu following Thursday's release of disappointing fourth-quarter results and tossed the stock aside like a used Kleenex.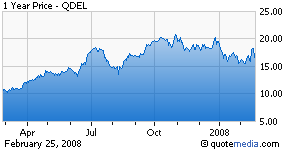 Shares of the San Diego-based health-care-testing maker plummeted 12% in after-hours trading to $16 on heavy volume Thursday. The stock didn't fare much better Friday, opening at $16.24 and ending the day at $16.55.
The headline numbers culled from the Quidel press release made many investors ill: net income for the quarter ended Dec. 31, 2007 dropped to $8.1 million, or $0.25 per share, from $18.3 million, or $0.54 per share, the year before. Quarterly revenue also declined slightly, to just under $38 million from $38.8 million in the final quarter of 2006.
The diagnosis: a delay in the flu season cut into sales of Quidel's test kits.
The consensus estimate of analysts polled by Thomson Financial had expected Quidel to post earnings of $0.27 a share, and revenue of $44.8 million.
While not a miss of epidemic proportions, it does leave Quidel investors wondering if this signals serious problems. Ahead of the release, Thomson Financial showed that two analysts rated Quidel a "buy," one had it a "strong buy" and another had it at "hold."
Still, it's unlikely that analysts are going to significantly alter their view of Quidel going forward because of its failure to accurately calculate when the flu was going to strike hardest. Flu-test sales missing from last quarter are likely to show up in the current one, after the Centers for Disease Control reported Friday that the flu is "widespread" in 49 states.
Quidel's specialty is rapid-diagnostic products at the point of care for infectious diseases and reproductive health. The company has developed a line of testing kits for the professional and consumer markets, including pregnancy, influenza, strep and Chlamydia, with many sold under its QuickVue brand. The Quidel products also are used in oncology and in testing for inflammatory diseases and bone health.
Quidel began in 1979, launching its first products in 1984 — dipstick-style pregnancy tests. Quidel, a public company for 25 years, saw its shares peak at an all-time high of $21.07 on Oct. 30; its 52-week low of $10.12 was hit last March 5.
Of note when comparing the final quarter of 2007 with the year before, the 2006 period included a tax benefit contributing a one-time net boost of $5.9 million, or $0.17 a share.
The flu season doesn't follow the calendar and Quidel's expectations based on historical patterns failed to materialize in the quarter. The flu season's deepest impact fled into early 2008, and Quidel says it's ready to meet late-blooming demand for its flu tests.
On Thursday's conference call with analysts, CEO Caren Mason said that Quidel entered the fourth quarter "with great momentum."
Mason told analysts that "The company was poised to generate several million dollars in additional revenue from our influenza line domestically. … We were all very surprised, that for the first time since we began selling our influenza tests, influenza incidence for the last month of the year … did not materialize in the United States."
"Many of our investors and our analysts have become armchair prognosticators regarding influenza seasons and severity," she said. "…We expected a strong flu season this year based on what was reported in the Southern Hemisphere — a more severe flu season than what had been seen for several years."
Just wait, Mason said. "Although there was a seven-week delay in the season, we are experiencing very strong demand for our flu tests, and we are well-positioned to capitalize on our readiness and our market-leading positions."
While much of Quidel's business depends on the seasonal impact of influenza, this is not a one-trick pony. For all of 2007, Quidel reported its infectious-disease revenue (including flu tests) increased 24%, while revenue from reproductive-health products grew 11%.
Full-year operating income increased 41% to $19.5 million, or 17% of total revenue. Full-year earnings fell to $13.6 million, or $0.41 a share, compared with $21.7 million, or $0.63 a share, the year before. Revenue grew to $118.1 million from $106 million in 2006.
To lessen the flu bug's seasonal impact, Quidel has taken such steps as entering into a strategic alliance with BioMerieux Inc. [EPA: BIM], which will distribute QuickVue products outside the United States and help give the brand a stronger global presence. The company has alliances in place with Abbott Laboratories (NYSE: ABT) and Swiss giant Roche Holding AG [Xetra: RHO.DE], with the latter teaming up Quidel's test with Tamiflu in Germany and in U.S. testing.
The tone of analysts who participated in last week's conference call did not reveal any alarm over the late flu season. Analyst Jeffrey Frelick of Lazard Capital Markets on Friday reiterated his "buy" rating on Quidel. Frelick had initiated coverage in November with a $27 price target. The recent Thomson Financial median price target was $22.50.
The late flu season did interrupt Quidel's (QDEL) momentum — but it could present investors with a buying opportunity.
Disclosure: none