Company Name- Geodrill
Ticker- GEO.CN, GDLLF
Market Cap- $90M
Auditor- Deloitte & Touche
Summary
Geodrill is a profitable small cap metals drilling business operating out of West Africa. The company operates in one of the most lucrative areas of the drilling industry and is led by a results-driven, shrewd businessman who has over 20 years of drilling experience. Overall industry conditions face increasing global metals demand, in addition to declining ore grades and reserves, which puts Geodrill in a favorable long term position. Although more profitable on a percent basis and better capitalized, Geodrill sells on the low end of many competitors, providing an attractive risk adjusted opportunity for individuals to participate in the company's continued growth and profitability.
Overview
Geodrill provides exploration and development drilling services to mining companies through a fleet of multipurpose, core and air-core drill rigs. The company began operations in 1998 with two rigs located in Ghana, and under the leadership of CEO David Harper has since grown to a fleet of 33 with expectations to end 2012 around 40, representing a 25% CAGR of its productive asset base. Operations are primarily in Ghana and Burkina Faso, with a majority of revenues coming from gold contracts. Operating in West Africa for close to 15 years, the company has successfully built its presence, developed solid client relationships, and expanded its offerings to a mix of majors, intermediates, and juniors, many of which repeatedly use GEO's services; over 90% of current revenues are derived from continuous programs by repeat clients.
Demand continues to be strong even as juniors have scaled back, and as such Geodrill increased its rig base by roughly 50% this year and ramped up recruit for talent. The company has also commented on adding an additional 8 to 12 rigs in 2013, reinforcing planned fleet CAGR of around 25%.
CEO David Harper
David Harper is a seasoned player in the drilling industry and his story of success epitomizes early day pioneers. A motor mechanic by trade, Harper began working on rigs in his early years and moved up the ranks from mechanic, to driller, to manager. Much of Harper's previous experience comes from Stanley Mining Services. Entering Ghana around 1990, Harper served as operations, exploration, and general manager responsible for expanding drill rig fleet and developing new markets. Stanley went public in 1997 and was acquired by Layne Christensen within less than a year. According to Harper, "I was a victim of my own success. The big American company that bought us replaced me with some MBA graduate." As a result, within less than a year of being acquired, Harper was back in business, and this time leading the way.
Mr. Harper is a firm believer of his company, owning roughly a 40% stake held within various controlled trusts.
Investment Thesis
Geodrill has carved out a profitable niche for itself. Operations located in Africa consistently command some of the highest margins worldwide and GEO has benefited by establishing its base early. Gross margins have steadily improved from 45% in 2009 to 54% in 2011, and net margins currently sit around 17.5%. The company has targeted annual EBITDA margins at 30%, considerably higher than many competitors, and has been consistent with passing along cost increases in order to maintain these margin targets.
The company maintains a centralized location for repair and storage, and promotes its optimal productivity and high operational efficiency reflected by annual average income per rig. Management has determined that operations are 3 times as efficient as the industry average, $3M per company rig versus $1M per industry rig.
Demand remains solid, and even as juniors have scaled back on financing the company has every new rig booked and is being solicited for additional projects located in nearby countries.
Given GEO's continued growth, high profitability, and skilled management, the company sells for just around 2.3X forward EV/EBITDA, which is on the lower end of the industry.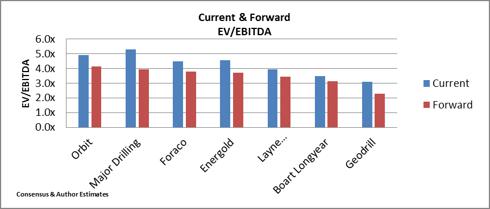 Additionally, the company is more profitable, better capitalized, and operating in a more lucrative market than similar sized drillers.
Opportunity
Revenues and growth among contract drilling service companies are predominantly driven by exploration for and development of particular substances, in GEO's case gold. Exploration for gold is driven by a number of factors including gold prices, as well as financing capabilities and the need to replenish reserves. Recently much of the gold sector has performed poorly. Miners and drillers have fallen in lockstep under the pressures of declining gold prices, difficulties juniors have recently faced in the capital markets, European problems, and a slowdown in China.
Looking beyond the market's myopic perspective, however, long term fundamentals are strong. Banks continue to anticipate higher gold prices, safe haven securities in which many governments park their money are beginning to look less safe and often provide unattractive returns, China continues to show healthy demand, and as incomes among emerging nations rise demand for gold will very likely continue its upward trend.
Additionally, gold reserves continue to decline, as do ore grades and the amount of significant discoveries. Mine production has underperformed gold demand for a number of years, and as miners work to counter this issue drill programs will be required.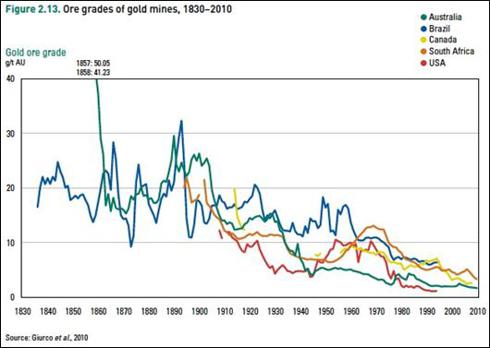 As quoted by Major Drilling (OTCPK:MJDLF) CEO Francis McGuire, "while current financing difficulties for junior mining ventures will moderate our rate of growth over the short term, it also provides a strong upside potential when exploration activities pick up, as they must, if the mining industry is to provide the world with the resources it needs towards the end of the decade. As we look to the future, not only do mineral reserves continue to deplete but the world population grows and urbanizes relentlessly."

Risks
Country Specific
Supported by world-class mineral belts, a pro-mining, stable government, and a knowledgeable and burgeoning middle class, Ghana is often viewed as a paragon of political and economic reform in Africa. The country recently held elections with a smooth transition and it can be expected that political stability will remain in order. It has been noted that social pressures are increasing due to a decline of the country's agricultural sector and difficulty of providing jobs to a growing workforce.
Surrounding countries, such as Burkina Faso and Cote D'Ivorie, in which Geodrill currently operates or anticipates business, are known to be less stable than Ghana. According to the World Bank, these areas suffer from political unrest and low incomes, and rank low on the scale of ability for corporations to conduct business. Geodrill previously conducted operations in Cote D'Ivorie but left the country due to instabilities; the company plans to re-enter this year. Going forward, many of the countries will remain risky. However, Mr. Harper is quite experienced in West Africa and is capable of navigating these risks.
Global
The macroeconomic environment has put recent pressures on the exploration, development, and drilling industries. Continued stress is not out of the question and these industries could certainly be subject to more pressure. However, as outlined above, longer term the fundamentals are strong and Geodrill is well equipped to weather an economic storm. The company has no long-term debt, working capital equal to roughly 20% of enterprise value, a young fleet, and a workforce that is primarily contract based.
Key man
CEO David Harper is the single most influential figure behind Geodrill, and as such material changes in health, motivation, and similar factors would very likely have a negative outcome on GEO's future. Aside from an unanticipated event that would degrade Harper's abilities, I feel confident David will steer his company in the right direction. Harper holds a large ownership stake, understands the operations well, and is a shrewd businessman.
Competition
High margin, profitable operations almost always attract competition. It is no secret among drillers that Africa is a very lucrative place and many are increasing their presence. When thinking about competition, however, here are two things to consider. First, locations such as Ghana and Burkina Faso have been competitive for years. Harper successfully competed with two drills in 1998 and he continues to fire on all cylinders with his 30+ fleet. I imagine he would be able to do the same with an 80+ fleet. Second, many drillers are voicing their intentions to do acquisitions, a trend that can be seen among both large and small companies. Given Geodrill's long term presence, good relationships, efficient operations, and low price I imagine an acquisition offer is presented before a competitor attempts to steal business.
Conclusion
According to the Metals Economics Group, the largest dollar increase in exploration expenditures throughout 2011 were led by Latin America and Africa, with Africa having the biggest YOY percent increase of all regions. In terms of planned spending, Burkina Faso has risen from 12th in 2009 to third in 2011, primarily in the area of gold explorations. These and other factors bode well for the success of Geodrill. The company is well positioned and priced low. As a high profit company in an opportunistic environment, with potential catalysts on the horizon, GEO offers an attractive risk adjusted return.
Disclosure: I am long OTCPK:MJDLF, OTC:GDLLF, OTCPK:EGDFF.