Market Recap: The market saw yet another positive day to confirm a pattern of back-to-back-to-back-to-back triple digit days. Yet, interestingly, it has been down, up, down, up. The market is definitely trying to put in a bottom but has a lot of real concerns that continue to threaten it along with low volume. The big catalyst was early thoughts that the Fed may look to provide QE next week that was then backed by a huge spike in the late afternoon as central bankers announced they were ready to move on some form of QE if Greek elections went poorly. This news is definitely a game changer as it means that the market has some very tangible plan to help shore up issues. Yet, at the same time, we have the Greek elections on Sunday.
The market has been up, down, and all around. Its tough to really predict where we go on a daily basis, but if you look at it over a longer period...we are flat. We now have somewhat of a potential catalyst for the market, and if the Fed chooses to make a move next week, we have two reasons. It may be time to start to get a little more bullish if these reports become truth.

Two Trades:
Two trades we are watching right now are Garmin (NASDAQ:GRMN) as well as United States Oil (NYSEARCA:USO). We like Garmin puts right now and added some to our Options Portfolio as the company continues to see their business line dwindling. They remind us very much of a Research in Motion (RIMM) type situation where the company did not change with the times and now are seeing their business line dwindle. Apple (NASDAQ:AAPL) announced that they are prepared to develop and move on their Apple Maps business line, which will definitely provide a negative for Garmin. Further, they are going to use TomTom for help with their maps. Things are not looking good for GRMN, and they are breaking key MAs and trend lines with little support now below them. If these QE rumors are true, easy money has been very good for oil. Oil has held $80 very well, and the lack of a break of that line shows a lot of strength. We like selling a bull put spread at the USO equivalent of the $80 line.
Trade #1: GRMN, Jul21, 38 Puts
Trade #2: USO, Jul21, 30/29 Bull Put Spread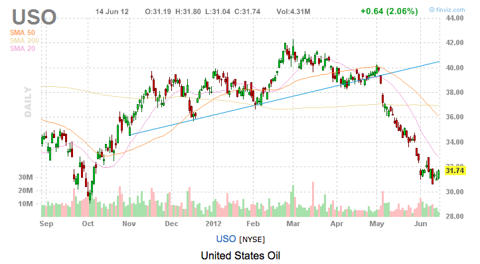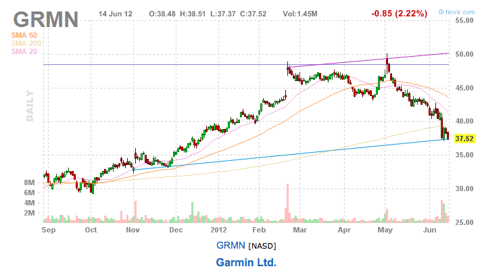 Tomorrow's Outlook:
Tomorrow should be an interesting day. We got strong news today about central banks getting together, and we have QE rumors speculating. Yet, we also have Greek elections this weekend as well that should keep the markets in check tomorrow. Data is not super strong tomorrow and should take a backseat to the "free money" and Greece discussions, but we do have some points to watch. We have the Bank of Japan rate decision for Asia and Great Britain Trade Balance. For the USA, the big reports are going to be Net Long-Term TIC Flows, Industrial Production, and University of Michigan Consumer Confidence report. The combination of all three do have some definite influence on the markets, but we will see how the situation with Greece and central bankers unfolds. No major earnings tonight.
Oxen Group Moves:
We had a solid day in the markets as we were able to enter and exit a long American International Group (NYSE:AIG), short Apollo Group (NASDAQ:APOL) pair trade for a solid 2% gain for 1/2 of the position from our Short-Term Equity Portfolio. We also saw a long from our Goldman Sachs Paper Trade portfolio in McDonalds (NYSE:MCD) move for a 1.5% gain. We were stopped out, however, on our Sanderson Farms (NASDAQ:SAFM) long, Tyson (NYSE:TSN) short we had entered for a 3% loss.
We have the following positions. In our Short-Term Equity Portfolio we are long Charter Communications (NASDAQ:CHTR), Apple , AIG, Bed Bath & Beyond (NASDAQ:BBBY). We are short SPDR S&P (NYSEARCA:SPY), APOL, Molson Coors (NYSE:TAP). In our Options Portfolio, we are long AutoZone (NYSE:AZO), Comcast (NASDAQ:CMCSA), Monster Beverage (NASDAQ:MNST). We are short GRMN, Aflac (NYSE:AFL), Priceline.com (NASDAQ:PCLN), Sina (NASDAQ:SINA), and General Dynamics (NYSE:GD). We have a reverse iron condor on Apple . In our Earnings Alpha portfolio, we are long Marriott (NYSE:MAR), Bed Bath and Beyond , Discover (NYSE:DFS), Western Digital (NYSE:WDC) and Dollar General (NYSE:DG). We are short CarMax (NYSE:KMX), Adobe (NASDAQ:ADBE) and Walgreen (WAG). We have a reverse iron condor in Verifone (NYSE:PAY) and reverse iron butterfly in Joy Global (NYSE:JOY) and Decker's Outdoor (NASDAQ:DECK).
Chart courtesy of finviz.com.
Disclosure:
I am long DG.