Monday's announcement from China Pharma (NYSEMKT:CPHI) confirms what I have reported earlier - its flu drug PuSenOK has been doing gangbusters in the recent snow storm.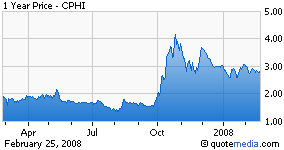 According to the company:
"Since mid January, several of the worst snowstorms in decades struck most of central and southern China. As a result of this and other factors related to the colder weather and lower temperatures in China, the incidence of flu and cardiovascular diseases surged dramatically, and has increased the demand for China Pharma's cold medicine Pusen OK, the only generic version of Aleve-D(NYSE:TM) brand with an antihistamine in China. Compared to other cold medicines in China's market, Pusen OK is among the most effective with 12-hour relief and does not cause sleepiness as a side effect."
PuSenOk, launched in 2005, is the only Chinese flu preparation that has Pseudoephedrine Hydrochloride as an ingredient, differentiating itself with a non-drowsy, decongestant formula. While it is expected to contribute $4.1 million in revenues in 2007, CPHI has already received an order worth $5.6 million this year.
The drug grew by over 200% in 2007 and I am expecting it to top 300% in 2008. There is much more room to grow - Aleve, its equivalent in the U.S., has an annual revenue of over $100 million. Plus, the most recent report indicates that the Chinese OTC drug sales has been growing at a CAGR of over 60% over the last few years.
Hidden in Monday's press release was also the expectation that the company will launch two new products in the first half of 2008, although it did not identify which. One of these must be its generic Bumetanide injection product which received SFDA approval in January. The company has previously announced that it expects this drug to contribute $2 million to its 2008 revenues. This is again evidence of the resumption of activity at SFDA, which is great news, for due to SFDA management issues CPHI only managed to launch two new drugs in 2007. Happily, this will not be the case in 2008.
My Position: Long.