Peter Lynch wrote more than 20 years ago that investors should buy the stocks of companies that make products they like. Last night, we got a taste of some pretty nice Mondavi wines made by Constellation Brands (NYSE:STZ) at an American Institute of Wine and Food party, and a financial advisor jovially recommended, "Buy the stock." Lynch is right, if the stock's going up and looks good technically and fundamentally. But it seems awfully early to be barreling into STZ, even though it looks undervalued in some ways. Interestingly, only a couple of the wine snobs at the Opus restaurant in Littleton, CO, had tasted Mondavi wines recently, and we were pretty pleasantly surprised by the wines served with an incredible multi-course gourmet meal created to replicate the menu featured on Julia Child's first TV show back in about 1960. But this morning reality sets in.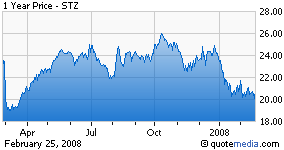 Technicallly, the stock's charts are very weak with the point and figure charts pointing to a $12 price, down from this morning's $20.67, which is up about 3% from Friday's close. Click on this chart to see daily, weekly and point and figure charts.
Then look at what's been published on Seeking Alpha over the last year, starting with this bearish comment by managers of the Oak Value Fund:
The Constellation Brands (STZ) that we recently sold is a much different company than the company we originally purchased in the Fund portfolio more than five years ago. Though the company's growth plan has benefited its shareholders during this period, we have found ourselves challenged by the evolved landscape in which it operates. ... In our opinion, the combination of increased competitive, operational and financial risks no longer justified this allocation of capital in the Fund portfolio.
A couple of screens by Bespoke Investment Group published on Seeking Alpha recently suggest STZ is a value. STZ's low book to value ratio of 1.33 is noted here. And STZ's low relative PE of 0.66 is noted here. But STZ's been a disappointment since last May when Barron's predicted a great future for the company and predicted it "could easily jump 25% over the next year."
The options markets are giving moderately bullish views of STZ. Near term, the July 20 call options suggest the stock may touch $22.40 before they expire, while the July 20 put options suggest the stock could fall back to $18.65. Longer term, the January 09 25 calls point to $26.30 while the January 20 puts point to $17.75. The January 20 25 calls point to $27.80 while the January 10 20 puts point to $16.40. Historical and implied volatility charts suggest STZ options are fairly priced. Think of moderate-priced wines as alcoholic Starbucks (NASDAQ:SBUX) coffees. In the face of economic uncertainty and rising energy and food costs, consumers are cutting back on the "luxury" items such as $5 coffees. What does this mean for the wine business? The bouquet may be losing something here, which suggests that investors should look out below.
Disclosure: I don't hold a position in STZ