The iPath DJ-UBS Coffee Subindex TR ETN (NYSEARCA:JO) is a single-commodity tracker that currently consists of one futures contract on the commodity of coffee. JO is down 50% since September.
Click to enlarge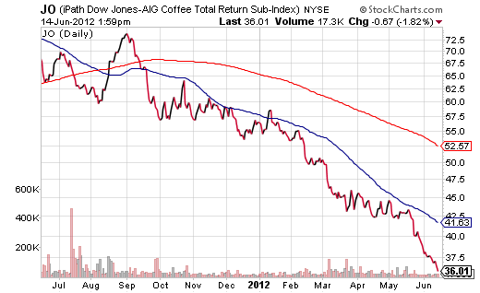 Click to enlarge
Granted, I wouldn't expect to pay 50% less for my cup of caffeine simply because the beans are cheap. Yet I might expect some of our most beloved establishments to pass on a tiny bit of savings, if only due to price wars with competitors.
As far as I can tell, however, none of the food giants have reduced retail coffee prices. Might the higher margins help the upcoming earnings prospects for the likes of McDonald's (NYSE:MCD), Starbucks (NASDAQ:SBUX) and Yum Brands (NYSE:YUM)?
There are two ETFs with large exposure to restaurants, including PowerShares Dynamic Food & Beverage (NYSEARCA:PBJ) and PowerShares Dynamic Leisure and Entertainment (NYSEARCA:PEJ). I recently wrote about the latter. (Review "3 Dynamic ETFs For A Risk-Off World.")
Both PBJ and PEJ have fared relatively well during the May-June market swoon. The former is roughly 2% below the late April peak, while the latter is down a more noticeable 6.5%. Even PEJ's slide is a bit better than the broader U.S. market.
Click to enlarge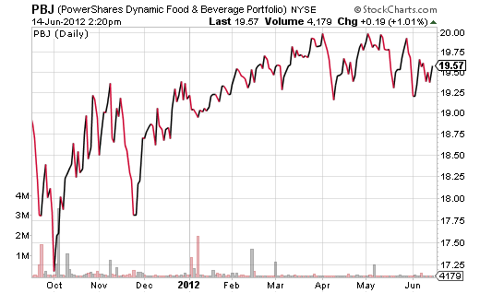 Click to enlarge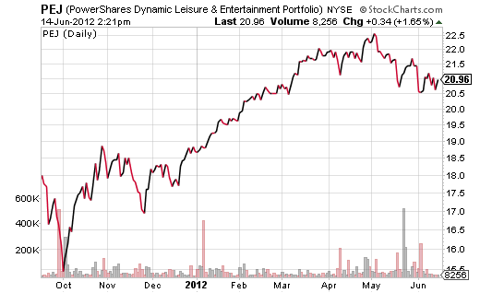 Click to enlarge
Clearly, the declining cost of coffee beans (and the stable price of coffee drinks) may not be enough to justify a "dynamic" purchase. Nevertheless, I am keeping both investments on a "watch list."
As for what I continue to own and continue to hold for clients at my Registered Investment Adviser, Pacific Park Financial, Inc., it's still about the yield spreads over comparable treasuries. iShares High Yield Corporate Bond (NYSEARCA:HYG), iShares Preferred (NYSEARCA:PFF), iShares Mortgage REITs (NYSEARCA:REM) and iShares High Dividend Equity (NYSEARCA:HDV) figure prominently. In fact, HDV hit a new 52-week high today.
Click to enlarge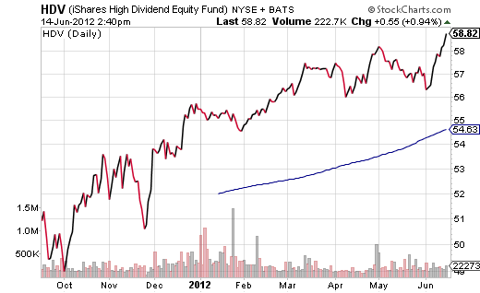 Click to enlarge
Disclosure: Gary Gordon, MS, CFP is the president of Pacific Park Financial, Inc., a Registered Investment Adviser with the SEC. Gary Gordon, Pacific Park Financial, Inc, and/or its clients may hold positions in the ETFs, mutual funds, and/or any investment asset mentioned above. The commentary does not constitute individualized investment advice. The opinions offered herein are not personalized recommendations to buy, sell or hold securities. At times, issuers of exchange-traded products compensate Pacific Park Financial, Inc. or its subsidiaries for advertising at the ETF Expert web site. ETF Expert content is created independently of any advertising relationships.